It's the middle of Summer, and although the weather has been relatively cool, shorts and dresses, corals and mints are and will still be in at least until Fall rolls around.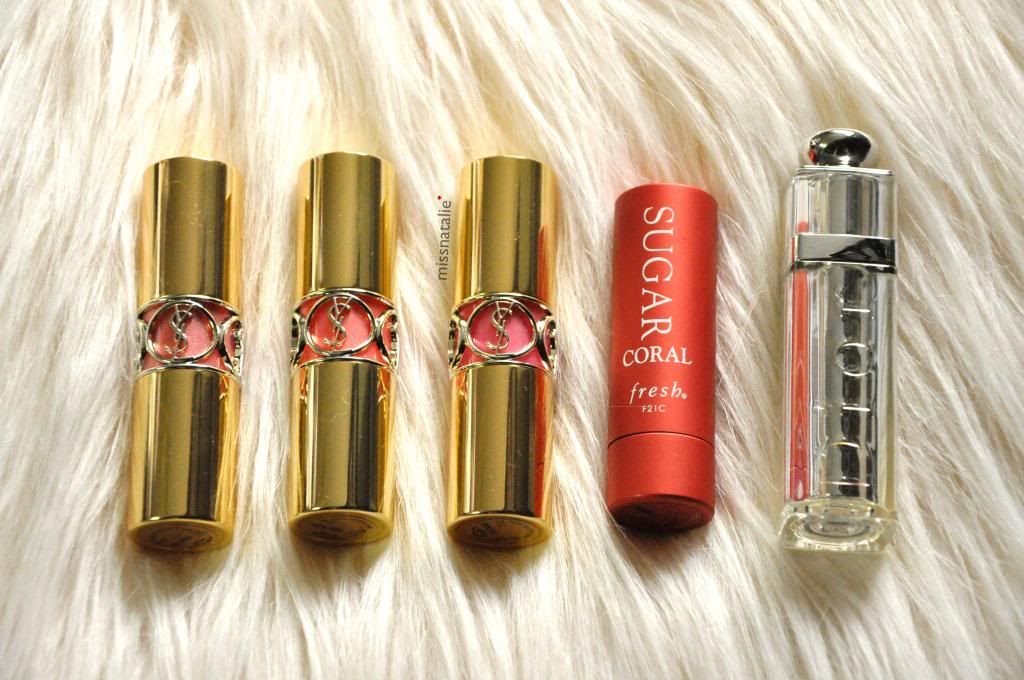 So, today I wanted to share with you my 5 top picks for high-end summer lipsticks. It so happens I've been on a lippie obsession so I have accumulated quite a few in the past few months. I personally prefer high-end makeup so it was much harder to choose only 5 versus 5 drugstore lipsticks- which was limited by choice anyway.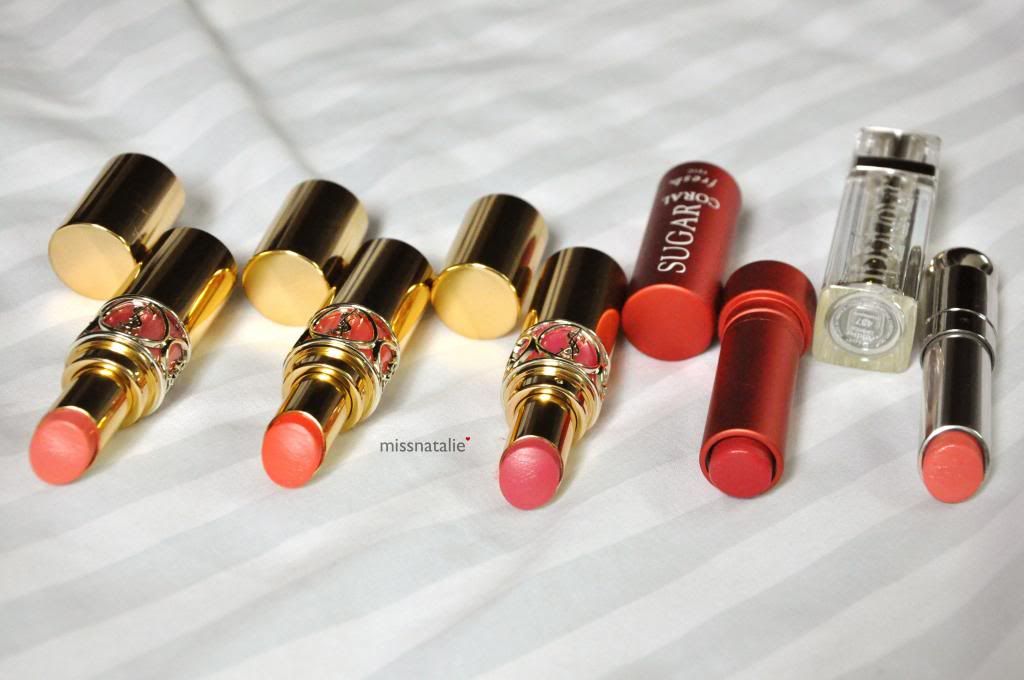 As you can see, I have a love for YSL Volupte Shine lipsticks. I also love Dior Addict lipsticks but haven't yet accumulated enough for a variety to choose from.
From left to right:
YSL Volupte Shine #15 "Coral Intuitive"
- This lipstick is a true coral colour that applies sheer on the lips. It's a very natural colour making it the perfect on-the-go lipstick. This is perfect for everyday wear.
YSL Volupte Shine #14 "Corail In Touch"
- As it looks in the tube, this lipstick is quite bright and bold. The opacity is quite opaque and at times it could look a bit neon too. It's a coral colour that leans more to the oranges. This is better reserved for a day when you're up for a bit of intensity.
YSL Volupte Shine #13 "Pink In Paris"
- Finally. A pink lipstick, I know. It's a really beautiful rich pink colour and it's quite pigmented too. This is my most recent acquisition (courtesy of The Mister) and it's nice change to wear something other than nudes and corals. This is my favourite out of all the YSL lipsticks I own.
Fresh Sugar "Coral"
- I know this technically isn't a lipstick, but it applies
so
opaque it might as well be one. The opacity of this lipbalm is far greater than any of the other lipsticks mentioned in this post. I usually prefer lipsticks that aren't 100% opaque, but this lipbalm is so pigmented, that it manages to cover my pigmented lips even with a lipbalm formula. That's just how opaque it is. It is a very bold lip colour, and as the name suggests, it's a coral colour that leans more to the reds. This is perfect for those days you want to just have some BAM to your lips.
Dior Addict "Charmante"
- This is a very sheer lipstick. Just a hint of coral shows up on my lips. The reason why it's in my top 5 is because I love using it on days where I feel like going really natural and subtle on the lips. It's also handy to have when you don't a mirror around and you want to just throw something on the lips.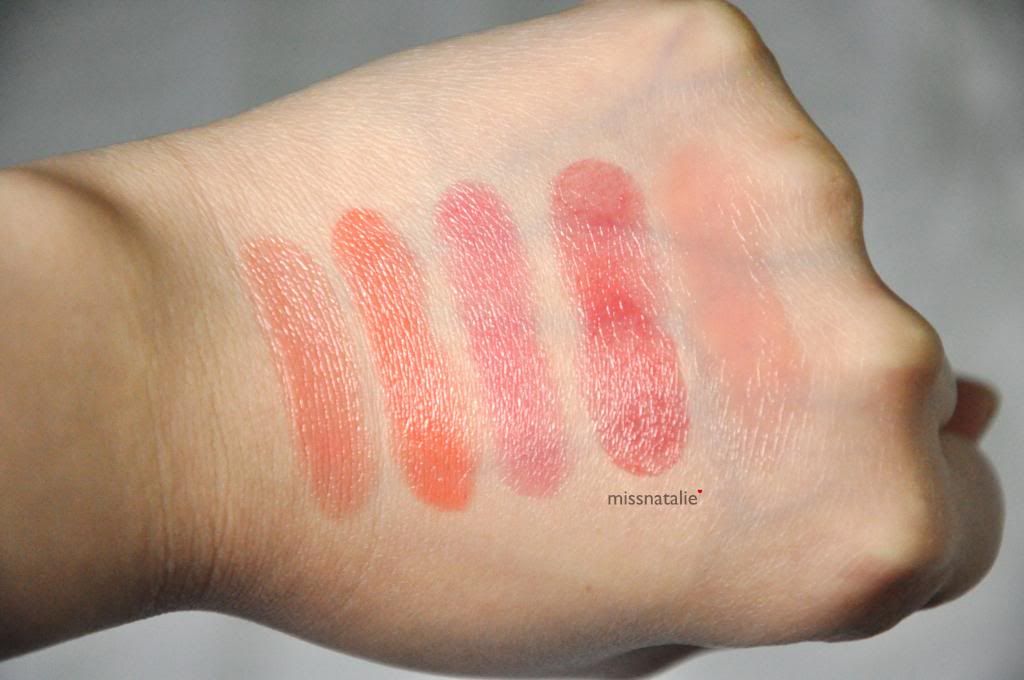 They all give a great shine which is perfect for summer.
Now to get ready for work *sarcastic yay!!* It's okay, work today and tomorrow, then I'm off for a day :D
"To do what you've never done you must think in ways you've never thought." -Rick Warren