If you're friends with me on Facebook, you would have already seen what I gifted myself for Christmas. The time I visited Yorkdale mall with my family, I was astounded at how much has changed and how many new stores opened since the last time I visited (roughly more than a year ago). One of the stores I was particularly surprised to stumble upon was Kate Spade. Although I've heard of Kate Spade and have browsed through her beautiful collections online, I've never seen or been in a Kate Spade store before. During my initial visit, I managed to walk away with nothing because I like to take some time to think about an item before buying it. But while walking around the mall, I couldn't stop thinking about it. It was one of those things that I had a feeling I would regret not buying. After some more browsing and not finding anything else of interest, I decided that I must go back and purchase.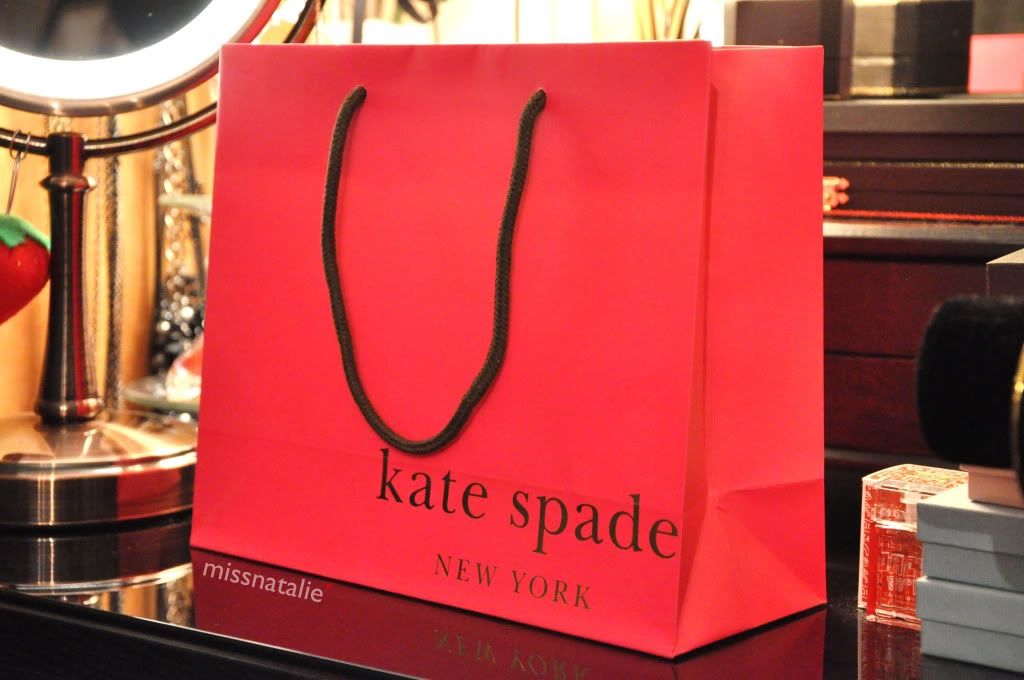 The whole store was very colourful- which corresponds with her brand's philosophy to "live colorfully". Accordingly, her packaging is also very colourful. I love the logo- the font, the gold... it's a careful balance between simplistic and luxe.
Initially, I was planning to buy the one item that I couldn't stop thinking about. Of course I couldn't resist looking around some more, and it was then I found my second beloved piece.
The box is gorgeously colourful. Both of the pieces came in their own little pouches.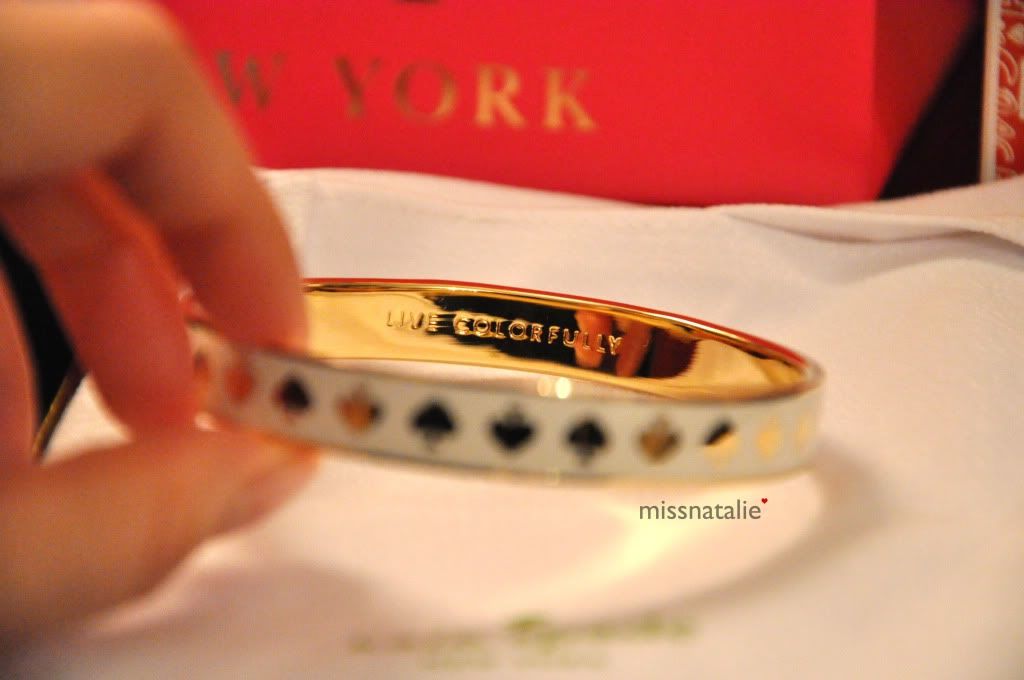 The first item was this beautiful bangle. This was the piece I couldn't stop thinking about. There were also other bangles available, but this one caught my attention. The inside has her motto, "live colorfully" engraved inside. Opposite to it, "Kate Spade New York is engraved as well (I forgot to take a picture).
The bangle is pretty big for my wrist. It's bigger than the
Indigo bangles
I bought. It doesn't fall off when I wear it but I do sometimes fear that I'll lose it. I got this for $58.
The other piece I got were these pair of earrings. Because they are so small, I thought they were perfect for my second earlobe piercings. I don't have much space on my earlobe to work with, so these earrings were a great find. These were $32.
Aren't they absolutely gorgeous? I'm happy to have them in my jewelry collection. These were definitely worth the money- unlike the
Gorjana jewelry
.
You probably also noticed that I got pieces with the spade logo incorporated somehow. That's just the way I am, I usually like to go very traditional or in-line with what the brand is about. As the case with my first Juicy Couture bag, I got it in the pink colour- which is very Juicy Couture like. So as you can see, for Kate Spade, I went with items with the spade design.
"Don't be pushed by your problems, be led by your dreams." -Ralph Waldo Emerson