Okay... let's just be honest and accept that my room will never look like something out of a catalogue. In my quest to build my "dream" room, I encountered problems with the paint colour (as mentioned in this post), and I came to the realization that my room is a lot smaller to work with than what I had envisioned in my head. It also doesn't help that my initial vision of having an elegant room kind of turned into more of a simple French theme. So basically my room is a mix-match of a bunch of things, from working with my old furniture to getting new furniture that I like and could re-use in my future home (yes I like to think ahead). I guess you can say my room is eclectic which isn't surprising if you know me. It may not be perfect, but it's my own space and I love it.
| | |
| --- | --- |
| | |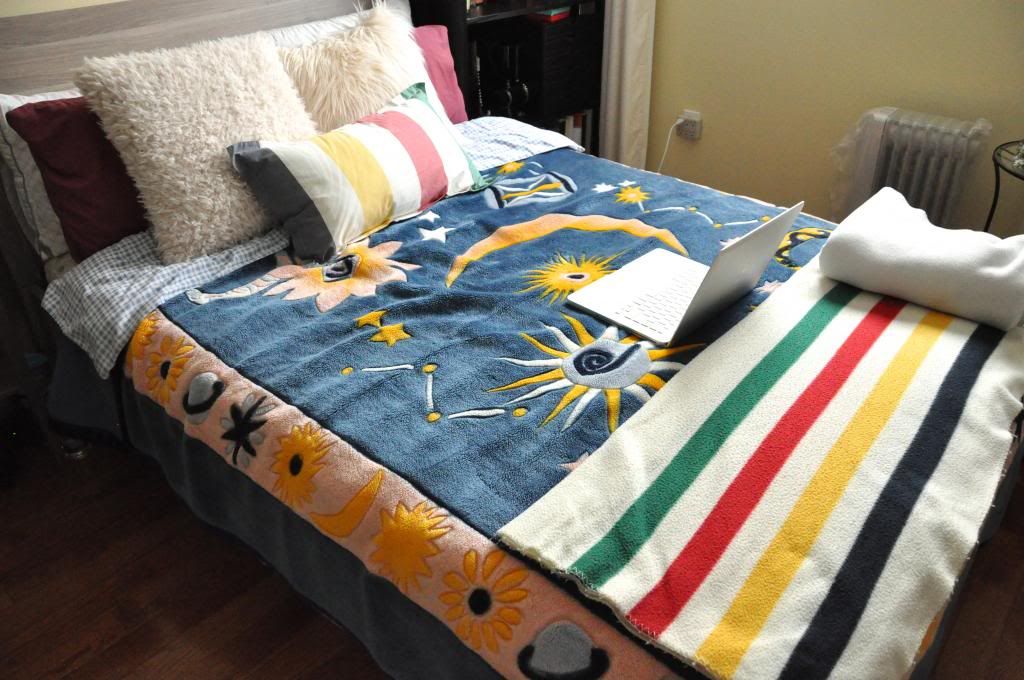 Here is a first look at my room and my bed. Like I had mentioned above, when I was choosing a bed frame the one thing I kept in mind was how it would work in my future home. I like this Nyvoll bed from Ikea because of the colour and the headboard is angled which makes it easier to lean on to read at night. I thought it would work well in the guest bedroom in my future home. As for the bedding, I am still waiting to find the perfect duvet cover before I buy a duvet and all the necessary bedding. So for now, this is what I have.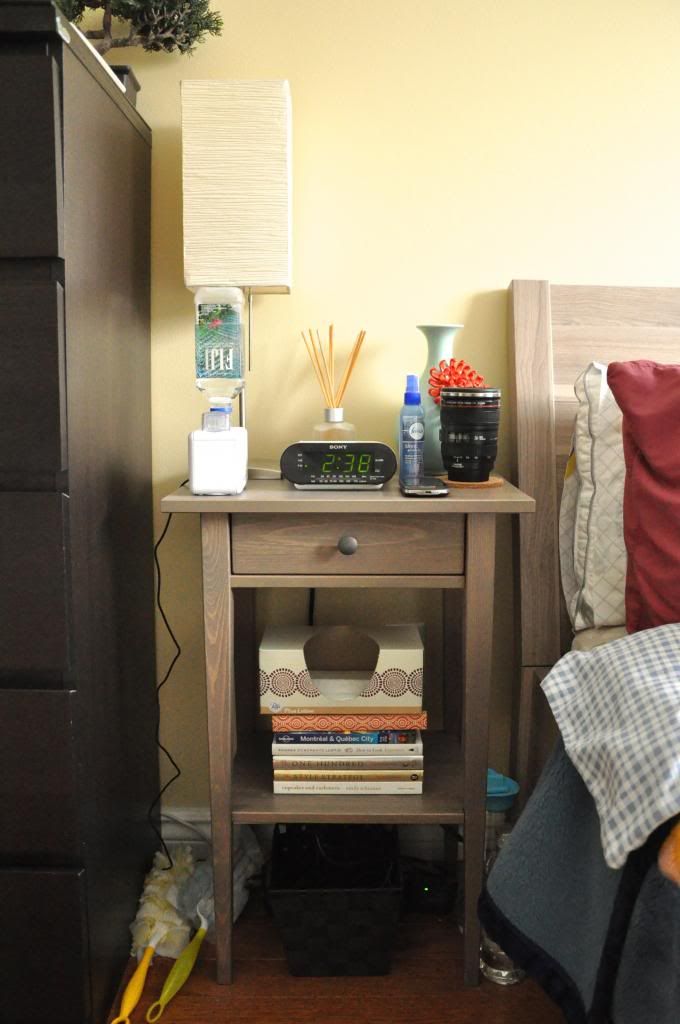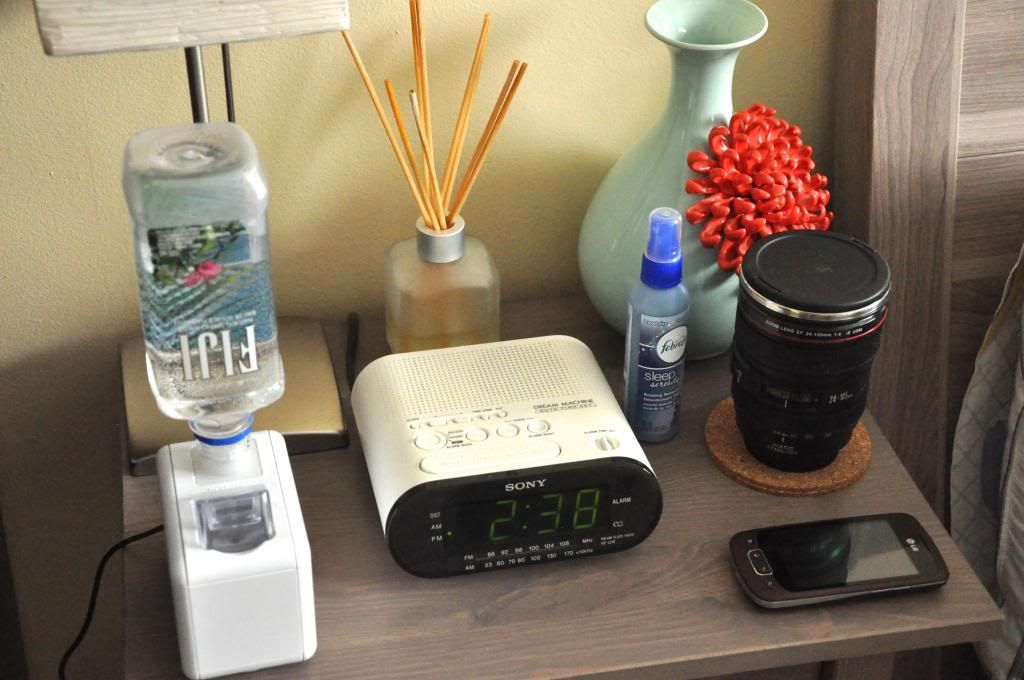 Just beside my bed is my bedside table. The camera lens is a cup if you're wondering and the little thing the Fiji water is plugged into is a portable travel humidifier. It's great, I'll have to share it with you guys in detail soon.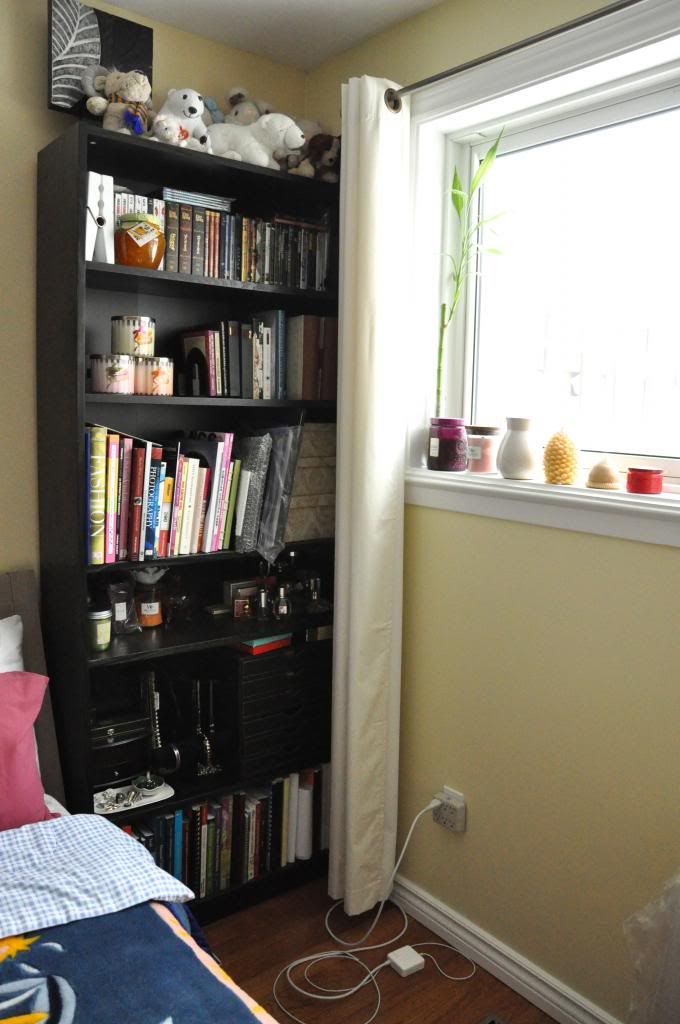 On the other side of my bed is my bookshelf.
My windowsill with a bunch of knick knacks. I found the cute lilac pot at Walmart for only $5.
A corner of my room. The glass table is dressed up for the holidays right now. The branch I got for a steal at Dollarama. And have you guys tried Hershey's candy cane chocolate kisses? They're delicious!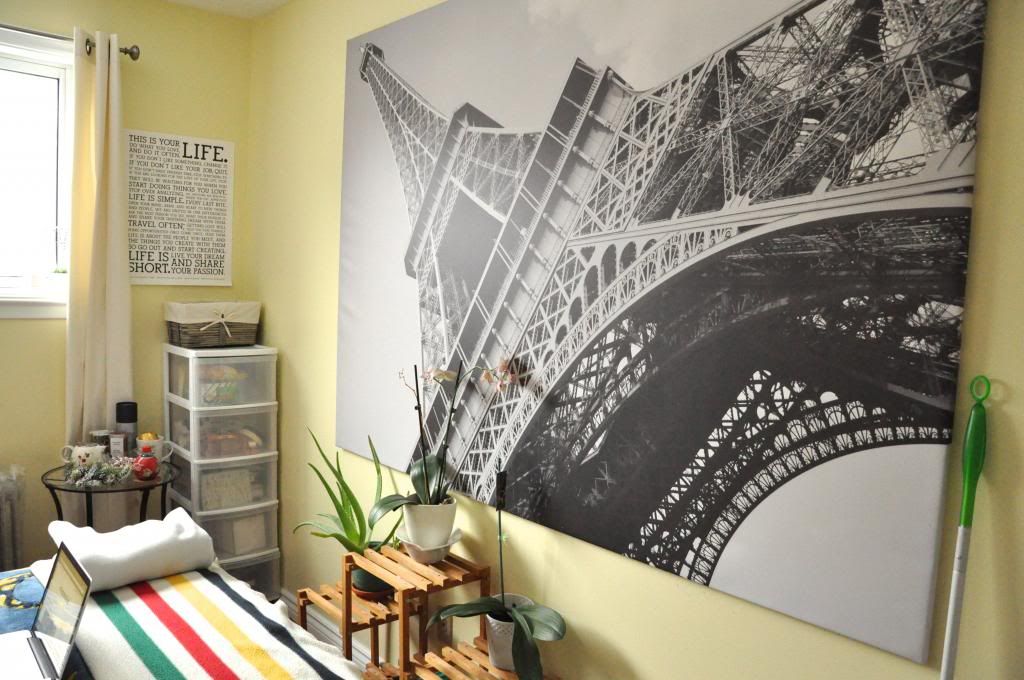 And here is my beautiful Eiffel Tower canvas wall piece. The first time I saw this was on Judy's vlogs. I envied hers so much but she bought it a long time ago so it was unavailable to purchase anymore. Then miraculously Ikea started selling it again and I knew it was an opportunity not to be missed! It may have been expensive but it's totally worth it in my opinion. This would work well in my future living room too.
Here is my little plant area.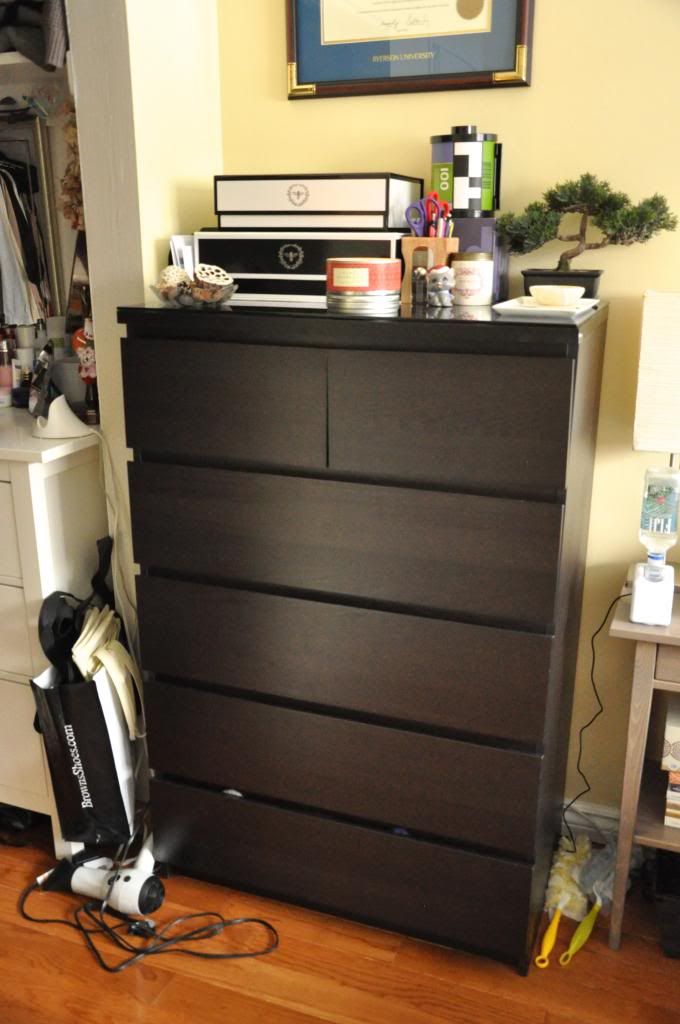 My chest of drawers where I store some of my clothing and whatnot. On top are more knick knacks and in the boxes is where I keep my receipts and other papers.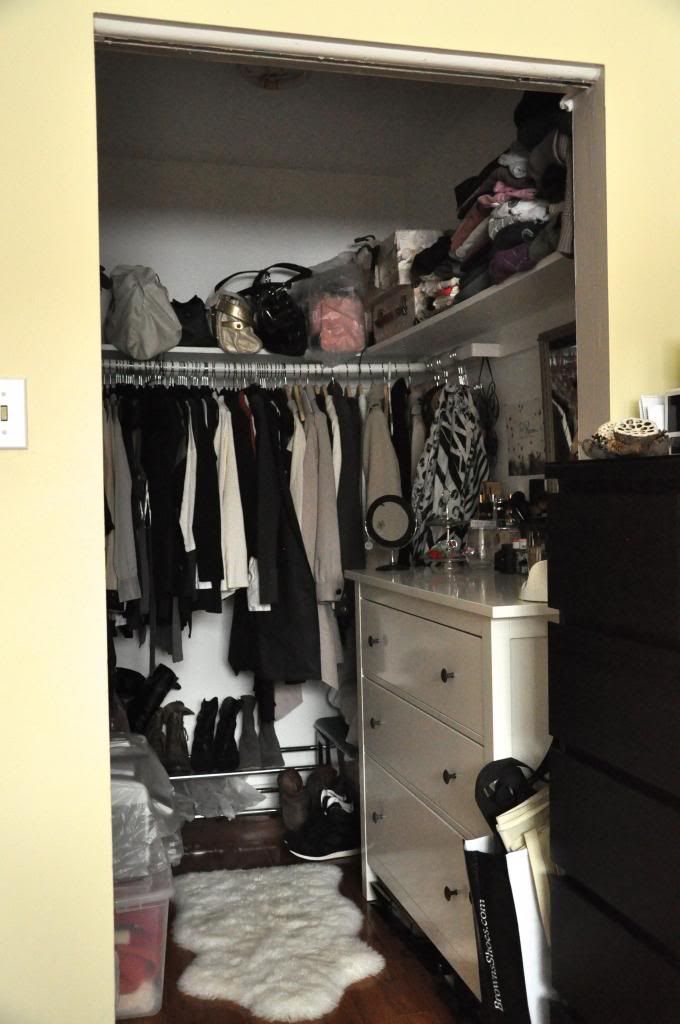 And here is my closet!
My vanity which I will give a more detail tour of later on when I get my Muji drawers.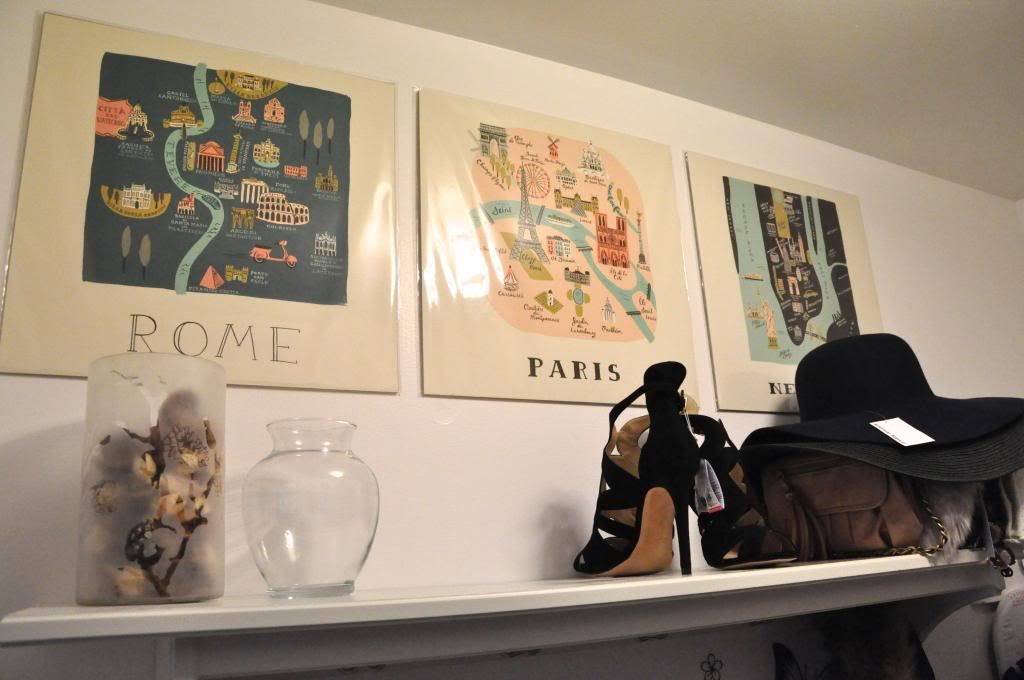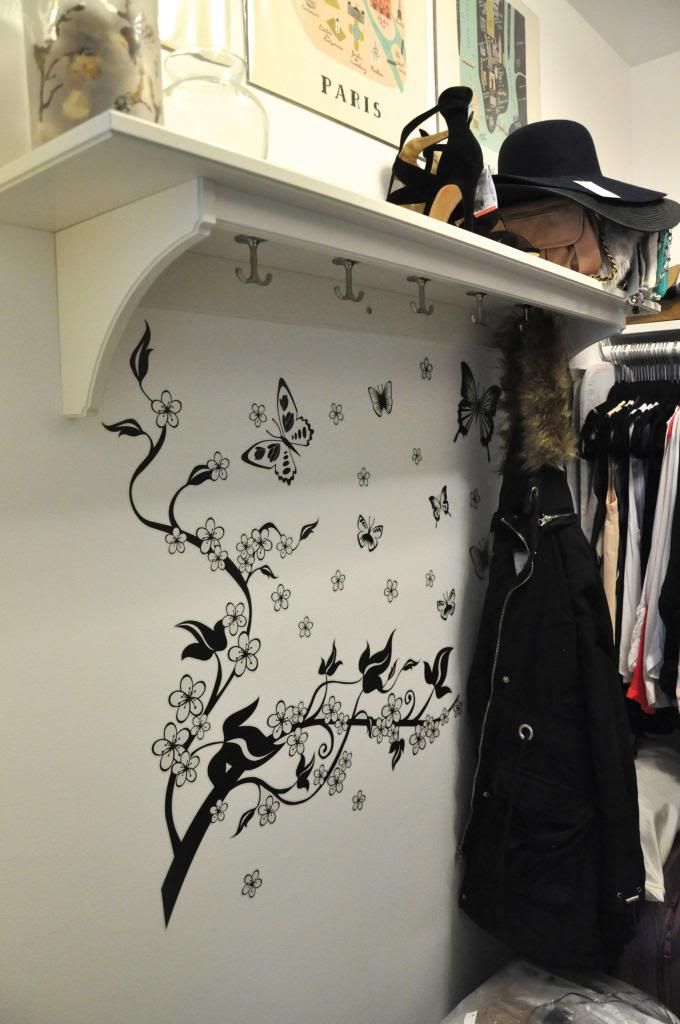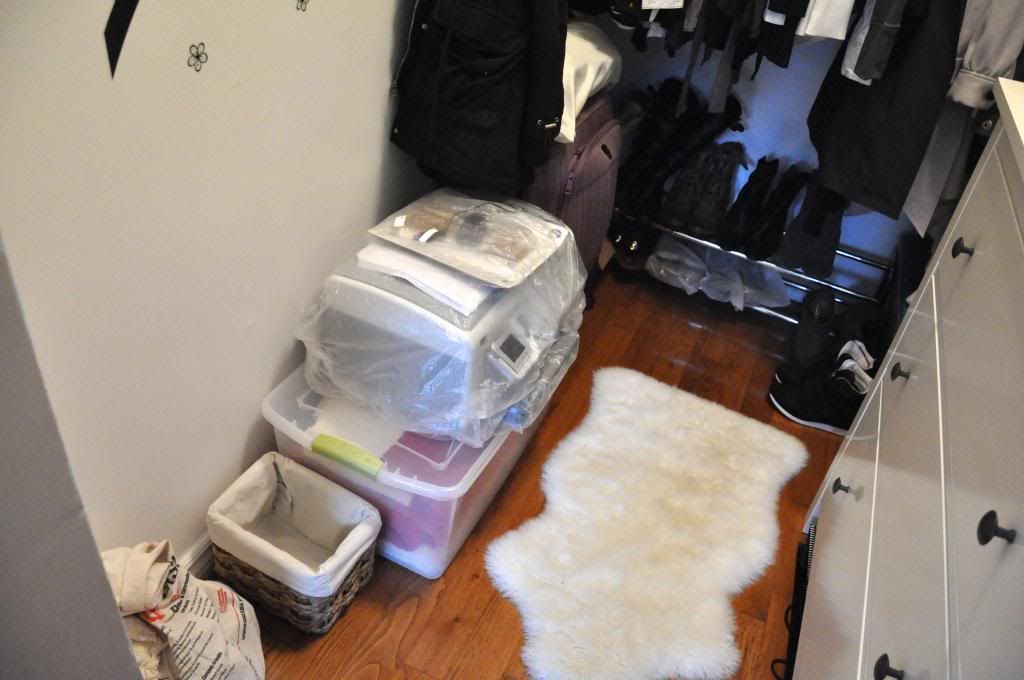 And that's pretty much my room. Sorry it was a bit quick but it's hard to go in detail in a blog post without dragging it on.
I thought I should finally share my room before the year is up haha. There's a lot that I skimmed over even though I have a lot to say. Oh well what can I do.
Merry Christmas everyone. My family and I will be opening presents this night on Christmas Eve just like we do every year. I'm excited to see their faces when they open their gifts and I can't wait to see what they got me too! =)
"I'm strong because I know my weaknesses. I'm wise because I've been foolish. I laugh because I've known sadness." -Unknown