Sometimes when I'm bored I look up older photos of celebrities when they were young and compare it to how they look now. The only reason why it's celebrities is because I know their name and their photos are all over the internet so that's why. But recently on my facebook feed Dana, who used to blog, shared a link to a series of photos that illustrates the test of time and how much we change as we age. They're beautifully crafted photos by Tom Hussey and you can see them
here
. When I look at old photos of people when they were younger I can't help but feel a sense of sadness because it reminds me how fast life can go by. Most of the time older people are disregarded because people only see them as they are currently (older, wrinkly, slower) and forget that they used to be young and full of life too. Occasionally when I'm on the bus and an elderly person gets on, I often wonder how their life used to be and how their former selves looked like. I have this fascination with how people lives were and how they came to be. Everyone has a story to tell and I'm sure many is jam packed full of adventures. Seeing these photos only reminds me that we have only a limited amount of time on this earth to see, do, and experience things.
To this day, I
still
cannot believe that the millennium happened almost 14 years ago. When someone says a decade ago I
still
think they mean the 90's. Take a look at this link and just try to tell me you don't feel old:
48 Things That Will Make You Feel Old
. I'm not scared of aging, I'm just scared I won't spend my time well. When I'm old, I want to look back on my life and feel happy and content with how my life went. It's the same thing that Rose from Titanic had done. After she lost Jack, she was more than determined to live out her life well, and that's what she did, and that exactly what I want to do. The only thing that takes the fear out of aging is how well you spend your time.
So appreciate every second because it'll pass you by sooner than you think!
The weekend of the Sephora VIB sale, I was free Friday to head downtown to go to the Sephora store at Eaton's since they had a few brands available there that aren't available at other locations (the one I was interested in was Giorgio Armani). While I was in the subway system I happened to bump into my cousin who I haven't seen in over a year! It was quite a coincidence because my cousin was going to go shopping the day before but got lazy so postponed it. That day I also walked up a different flight of stairs than the one I normally do, and had she not needed to go the washroom, we wouldn't have bumped into each other. It was quite a pleasant surprise as we both were going solo but then had each other to go shopping together.
It wouldn't be a complete shopping trip for me if I didn't visit Chapters. Oh and even though I've been to countless Chapters stores, I never knew that they had a washroom! My cousin was the one who showed me.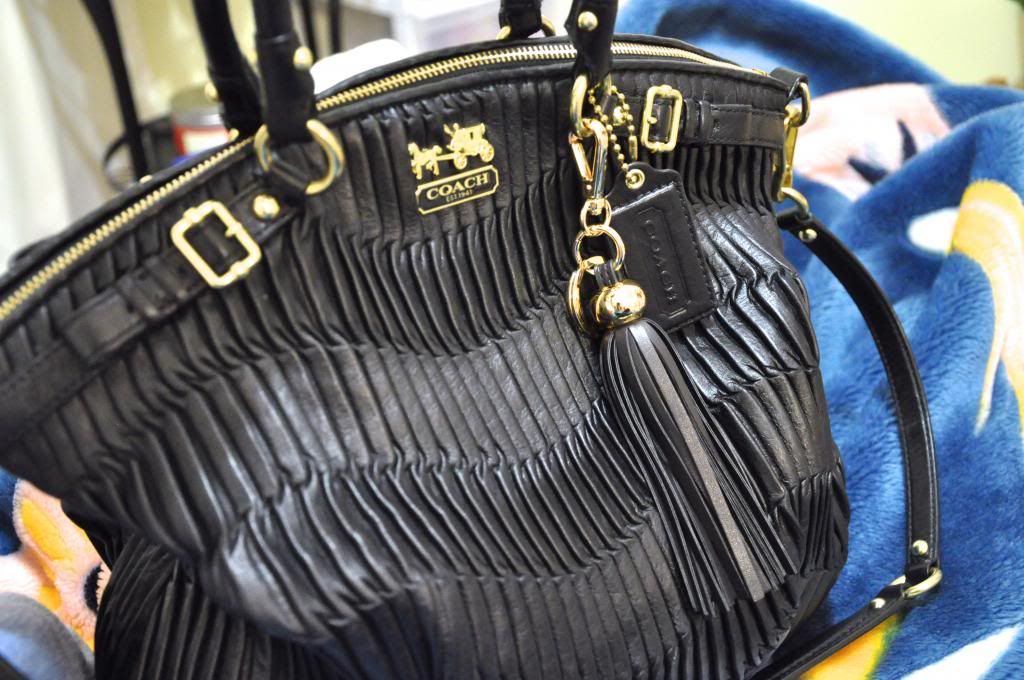 I had a 25% off coupon that day and bought 3 things. One of them is a print that I will show you when I do my room reveal, the second is a candle, and the third is this cute long tassel keychain that I now use as a bag charm.
We got hungry and got some New York fries poutine. We like to sprinkle the Cajun seasoning on it as well. Oh and of course we both got a drink from Freshly Squeezed to go with our meal. Yummers.
So this is what I got in-store and online from the Sephora VIB 20% off sale. It doesn't look like much but dang... it costed me an arm and leg! But these sales only happen once or twice a year so it's okay; at least I got a lot of free samples though. Yes I got
five
YSL lipsticks because I love them so much, they're so worth it in my opinion. I also got the Philosophy Purity cleanser that I love using with my Clarisonic and my favourite eye makeup remover for non-waterproof makeup by Clinique. Also got backups of my favourite Giorgio Armani Master Corrector that I still have to rave to you guys about. Fresh got a new colour in "Cherry" for their Sugar lip balms that I only discovered while browsing in-stores with my cousin. And last but not least, I picked up the Guerlain L'Or Radiance Concentrate with Pure Gold face primer.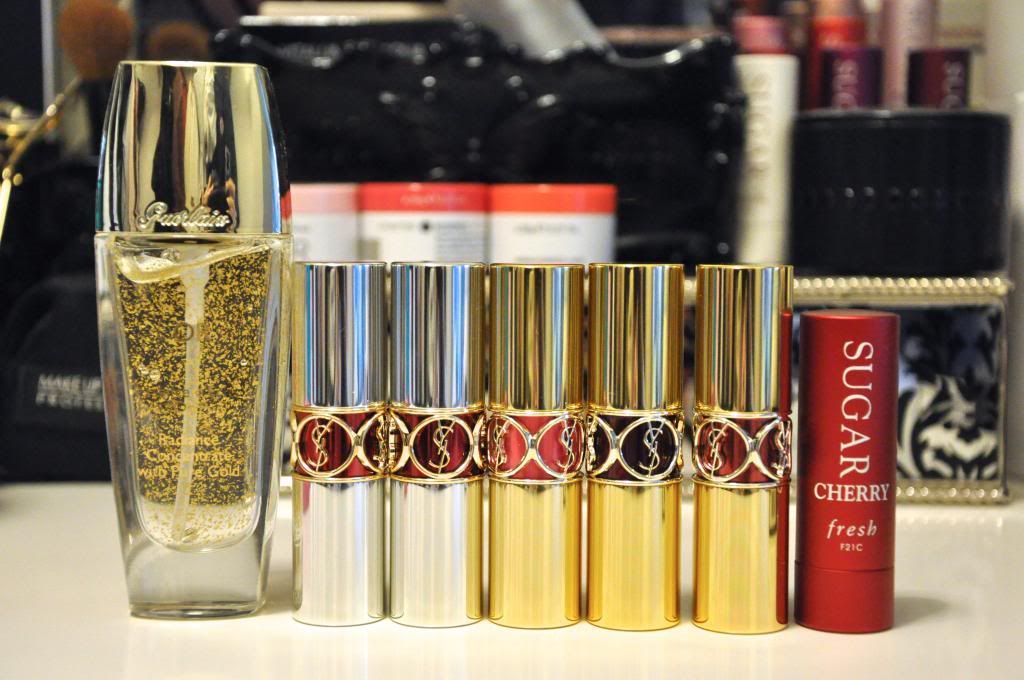 A closeup of the Guerlain L'Or face primer, YSL Volupte Sheer Candy lip balms and Volupte Shine lipsticks, and Fresh Sugar lip balm. As you can probably tell, I got a lot more deeper richer colours this time around. Great for Fall and Winter, love! No swatches because I didn't have good lighting. I'll do more detailed reviews of these at a later time after I used them some more.
It's so much more cozy taking pictures in my own room isn't it? There are so many backdrops I can use now, I feel limitless!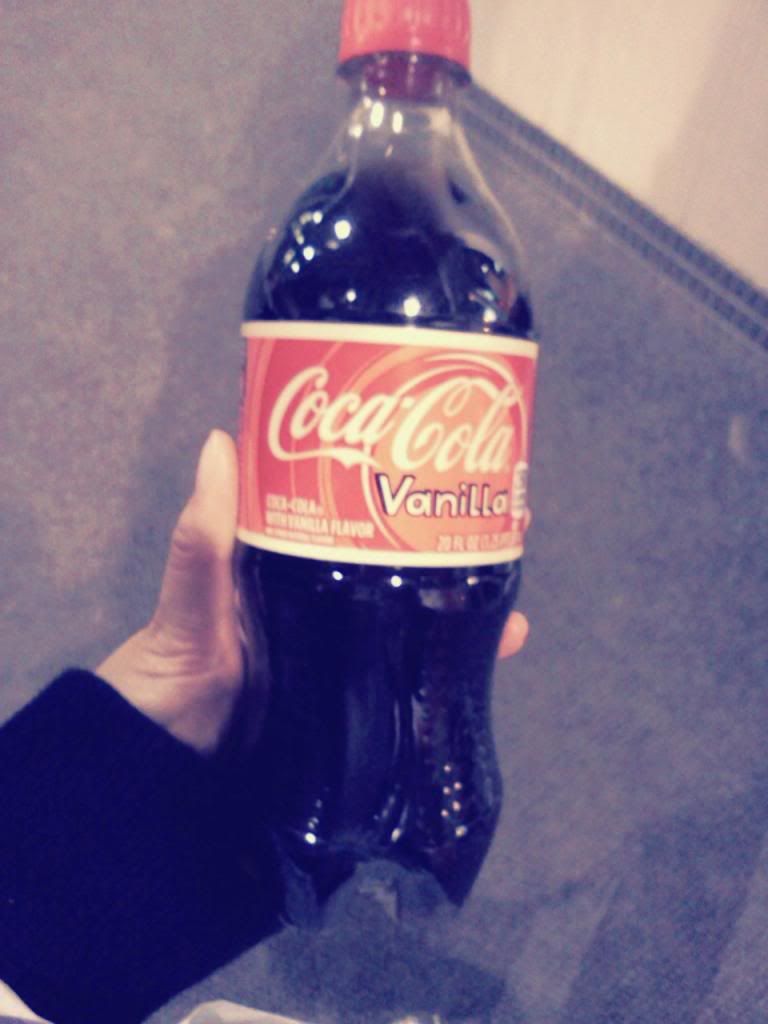 After shopping around the mall I got thirsty again and dropped into a convenient store to find this! Vanilla coke! I love this stuff!
And our last visit was to Winners and the Bed Bath and Beyond store.
Winners is really raising the bar as I found some D&G, Gucci and YSL shoes. And not only that, I found other hella expensive things that were also going into the thousands.
I found these cute little bath things at Bed Bath and Beyond. Just look at that soap dish with the little heels. The only thing I ended up buying was a humidifier for my room which I will share in another post.
And that is all for now my friends.
"Change the things that can be changed, accept those that cannot, and have the wisdom to know the difference." -Serenity Prayer