Today I'll be sharing a few Forever21 pieces of jewelry I got in-store and online with some sort of free shipping code (I forget which one now).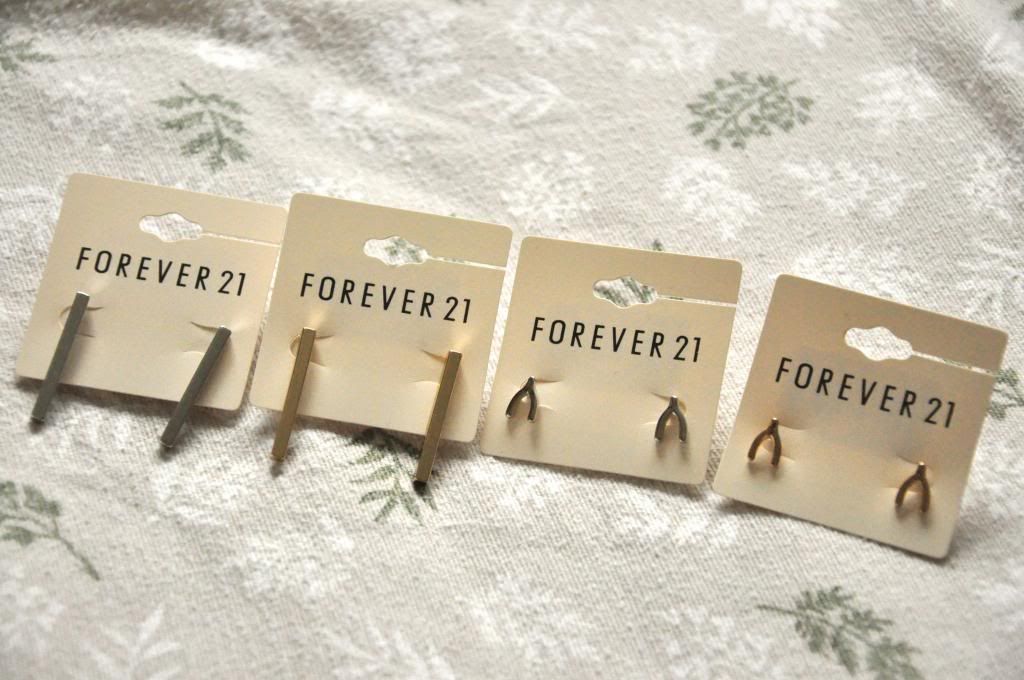 These are the earrings I picked up in-store. I couldn't decide between silver and gold so I got both of each. The Mister really liked the mid-length bar earrings ($4.80 each) on me and I thought the wishbone earrings were so cute ($1.80 each). The Mister ended up buying them for me (note that I like to mention this because I want to remember when I look back).
These Sleek Dangle earrings ($6.80) were a gamble as I bought them online and had never seen them in-person before. And a gamble it was because I didn't realize how long they would actually be. Not sure when or if I'll wear these. Bummer because they were the more expensive pieces of jewelry.
This Hanger Charm necklace was a cheap thrill find. It was even featured as a cheap thrill in some magazine that I forget the name of. It was only $1.80! I like it because I love fashion so the hanger reminds me of that.
So you know how there comes a time when you find something really extraordinary at Forever21 despite the price and typical quality? Here's one of them.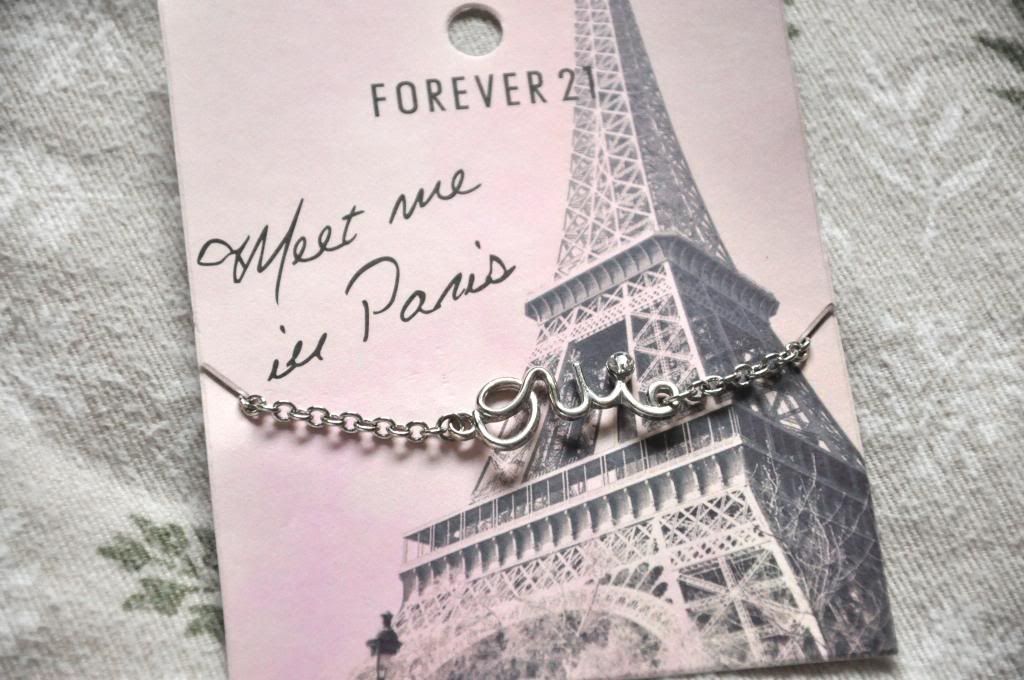 You guys know how I love Paris right? I'm not sure if I've made it apparent enough on my blog but the Mister knows. When I saw this Oui Charm bracelet ($4.80) online I could not resist- and so glad I didn't! The quality is pretty good, it's above par when compared to their other typical jewelry. I love the little message, so precious!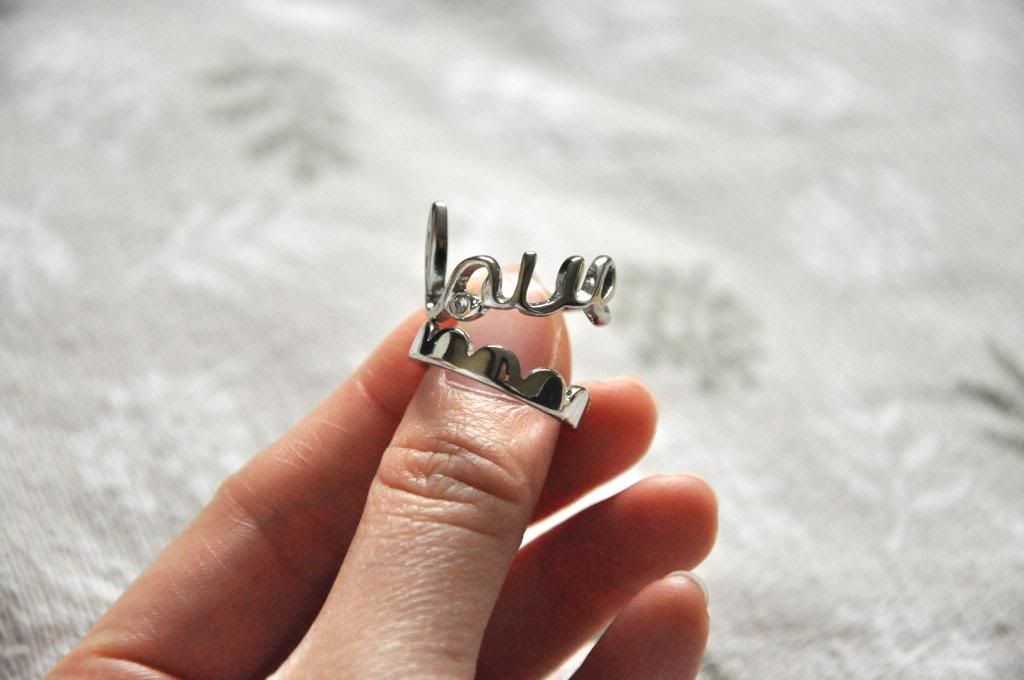 And here are two other great finds despite being Forever21 pieces. I like the quality on these rings, they don't feel cheaply made. I can't remember the price on the Love ring but the Dainty Scalloped ring was $4.80.
To date, out of all the Forever21 jewelry I've bought, these are the best Forever21 finds for me.
And I never shared this but I bought this Leighelena bracelet from
Lisa's store
a while back. I remember wanting to purchase something from her store back in the day. I got so excited when it came. Her writing was is so beautiful, I wish mine were as nice. This Leighelena bracelet is alright, I personally don't think it's worth the price though.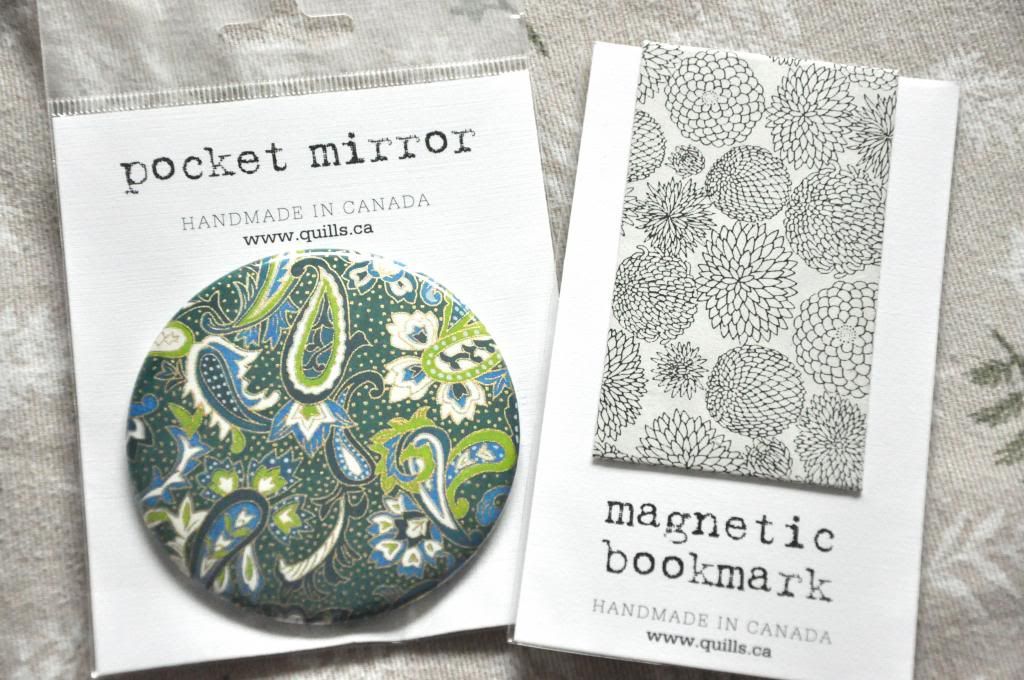 And lastly, I found these awesome local mirror and bookmark at my local Chapters. Because they're local they're not sold online and they're not available in all the stores. I got these at the Chapters near Square One. Both of these are also made with Japanese paper called Chiyogami.
I love the designs and I've been looking for a light-weight mirror to replace the heavy Sephora mirror I carry around in my bag. This was the perfect find. The mirror is just on the other side though so there is no lid to snap close to protect the mirror. I keep mine in a smaller bag within my purse though so it's okay for me.
"You know what makes letting go of a crush so hard? The fear that the minute you let go they'll catch on." - Desperate Housewives