Have you ever wished you had the power to turn back time to redo things differently? Looking back on my life there are many things that I wish I could change. But the reality is, I can't. No one can. So instead of dwelling, I learn, grow, and move on. I'm not proud of every action I've taken but I'm not ashamed either. There have been plenty of times that I've been foolish and naive, but as the saying goes, "To be old and wise, you must first be young and stupid." I'm close to the point of forgiving myself, but truthfully I'd be lying if I said I already have. I think one of the most challenging things for me is getting over the fact that other people were there to witness my mistakes. It would be much easier to forget my mistakes if I was the only one who knew. But in the end I realize what people think has little real significance on my life- especially those who I chose to walk away from. Everyone grows and changes so a lasting impression isn't a concern of mine. I can't change the past but I have power in the present to change my future.
I got a chance on the weekend to try out the new limited edition Diorific Vernis in "Minuit" #995 from Dior's Holiday Golden Winter 2013 collection. If you plan to get it, you better soon because it was sold out most places I went to (I had to return and repurchase because the one I got from Sephora online had a chip on the cap).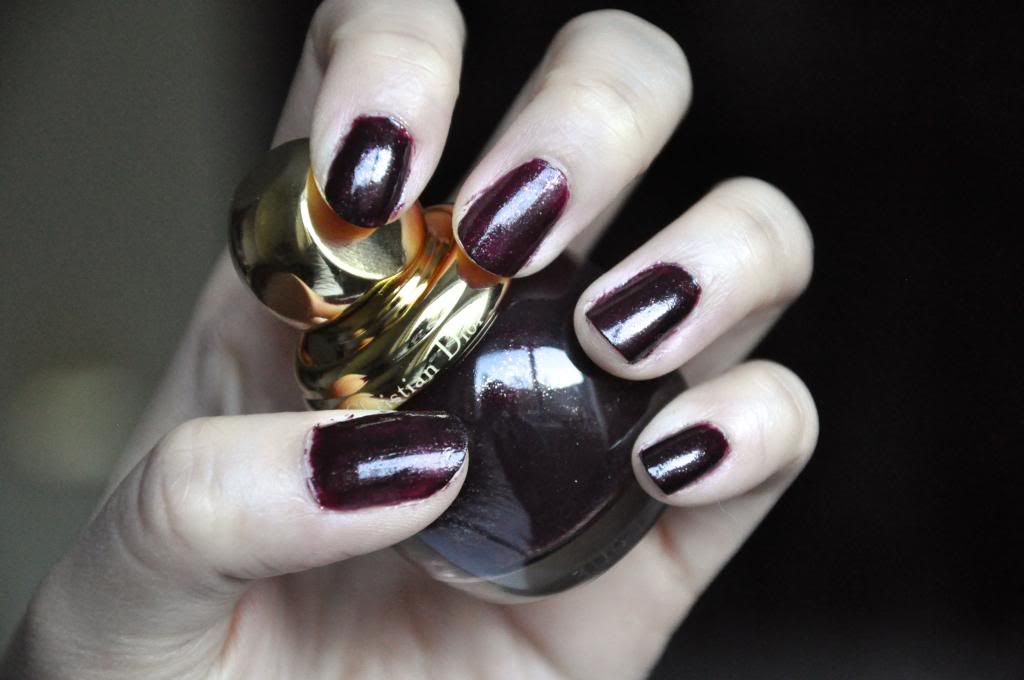 This picture was taken shortly after application. I literally only painted it on my left hand and had to remove it the next day because, as you know, I can't wear nail polish to work. I really only did this for my readers so please don't mind the messy application.
This nail polish retails for $27 CDN. I know what you're thinking, $27 for a nail polish?! It's the first high-end nail polish I've ever bought for myself though and when I saw swatches for it online, I thought it was just too beautiful to pass up on. The bottle is divine. It's a rich dark plum colour with micro golden shimmers. It looks almost black at times but you can really see the plum colour in the light.
On application, it's very glides on very smooth. I painted two coats on my nails. One coat shows more of a light plum colour. It dried fairly quickly too. It wasn't long after application that I could just go on about my day without having to worry about ruining my nails. I can't speak on behalf of longevity though because I had to take it off the next day.
I think the nail polish would pair well with my Dior Addict Extreme liptick "Bonne Aventure". I'm really glad I got this nail polish and was lucky enough to find another non-defective one before it completely sold out. If you want it too, I suggest running to your local Dior counter, Sephora, or Beauty Boutique in Shoppers Drug Mart (if you're in Canada) to get it now!
"I'm thankful for all those difficult people in my life, the have shown me exactly who I do not want to be." -Unknown