Hello hello! It's that time a lot of you have been patiently and eagerly waiting for! My apologies for taking so long. I spent my whole vacation working on it and this week was my first week back to work which is why I didn't have time to write this blog post. So, what is the secret project? I'll spare you the details and get right to the point.
All of my life and more than a decade living at this residence having to share a room with my sister- and at one point both of my sisters... I now have
my own room
! You guys know how long I've been waiting for my own room right? To some of you this might not be a big deal, and perhaps it's a little pathetic, but it is what it is. I am just thankful to not only have a roof over my head but to also have some more privacy now. Don't get me wrong, I love my sister, but if you have not shared a room before than you might not realize how much of a privilege it is to have your own space and to be able to do things at your own time. As you know, I work evening shifts but my sister has a day job. Our schedules are completely opposite so that when I come home I have to tiptoe around to get ready for bed while she has to tiptoe around to get ready in the morning. Now with separate bedrooms we don't have that problem. And not only that, I now have a place for the Mister and I to hang out when he comes over. It's harder to have a relationship when you share a room. Now I can talk to him on the phone if I wanted to at night and we have a place to hang out when he comes over.
Aside from first world problems, I am really thankful to have some privacy in general. I took a class on Homelessness back in University and I distinctly remember guest speakers coming in and emphasizing how much of a luxury privacy is. When you live on the streets, it's completely public, you don't have privacy... period. Privacy can be taken for granted, but I will never forget it, because for the first time in my life, I can now indulge in some privacy and peace of mind.
Day 1, Sept 29th
A few shots of the dingy room's "before" picture. All of the furniture were outrageously dated and extremely unkept. My sister and I removed most of the old furniture and cleared out the room- with the exception of the bed and glass table.
A closer shot of the inside of the closet.
Day 2, Sept 30th
The Mister came over to help clean and scrub the walls with a mixture of water and vinegar. After that we repaired the walls by filling in the cracks and holes with drywall compound (there were a lot to fill).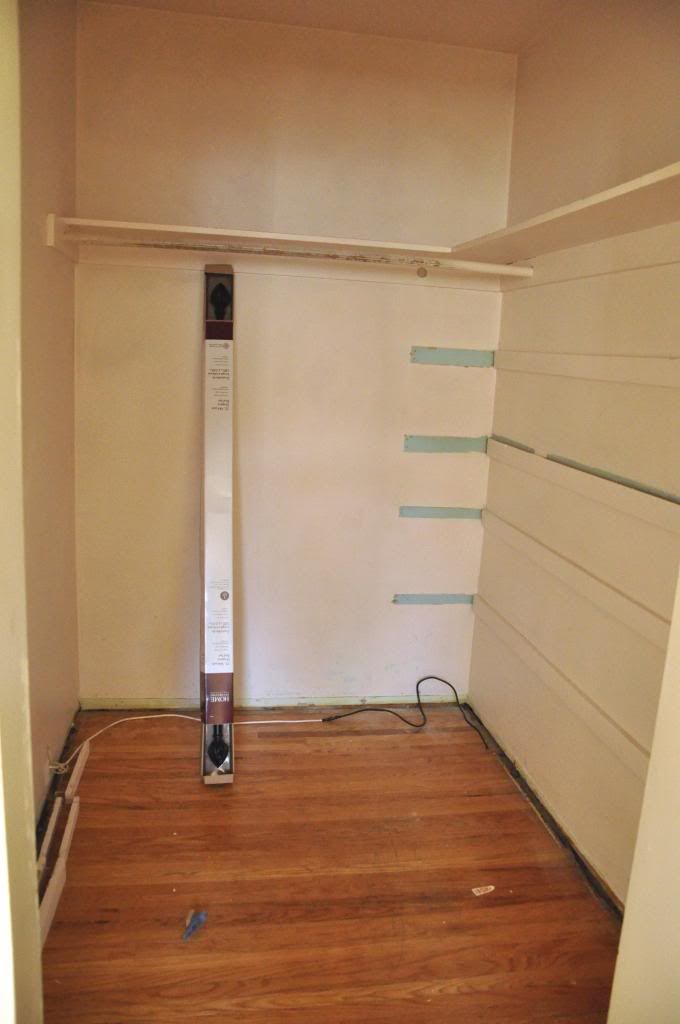 Then we removed the shelves in the closet. We also went to Home Dept to pick out the wall paint and a curtain rod.
Day 3, Oct 1st
I prepped the walls to be painted by taping up the trim and removing the outlet covers. I also filled in any remaining cracks and holes that we missed previously in the wall.
Day 4, Oct 2nd
In the morning I removed the baseboard by myself. And started to paint.
Shortly after the Mister came over to help put down the first coat of paint. It's by Behr in the colour "Hummus". We also dismantled and removed the old bed.
Here is a closer look at most of the tools we used (minus the paint brushes and roller and pan- they were being cleaned).
Day 5, Oct 3rd
I finished painting the 2nd "final" coat... until half way I ran out of paint. I got my mom to run to Home Depot to get another can. I gave her the swatch card with all the information they can scan in to get the right colour... but they screwed up I guess and gave me a lighter custom colour instead of the "Hummus" colour I had (of course something like this would happen to me...). You can see where the paint differs just above the windows. I continued painting though hoping that maybe the paint didn't oxidize yet and planned to wait to see if it would change overnight.
Day 6, Oct 4th
It didn't. Home Depot really botched up- or whoever was working the paint area that day. It was too much of a hassle to go back and complain so I decided to keep the wall with the "Hummus" colour as my accent wall (the wall shown on the left). If the new colour was bad I would have went back and b*tched and complained lol, but it wasn't. So basically the Mister came over to help repaint the
final
coat of the new colour on the other 3 walls. Talk about a pain in the butt. We also removed the rest of the wood pieces that help up the shelves in the closet.
Day 7, Oct 5th
After the paint job was completed, my mom decided to replace the flooring with new hardwood floors. My uncle came over to remove the old flooring and in the evening his friend (who was hired to do the flooring) came over to help and then started to put down some of the new flooring.
Day 8, Oct 6th
The next day they did the bulk of installing the new hardwood floor and finished it late evening.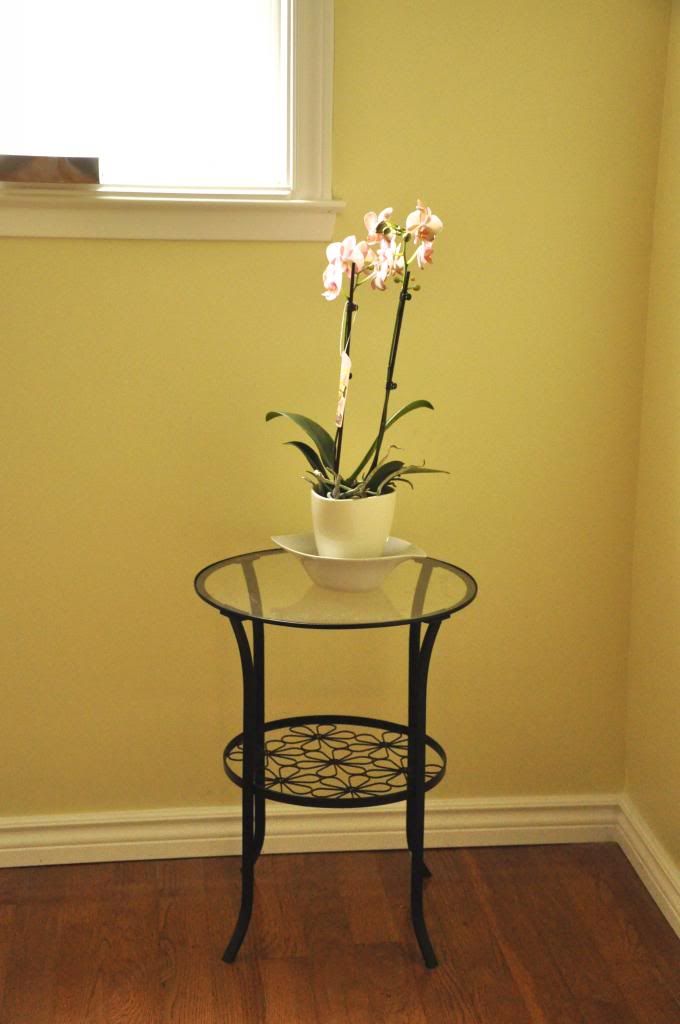 This orchid I bought from Costco was my room-warming gift to myself. I wanted it to be the first thing I put in the room.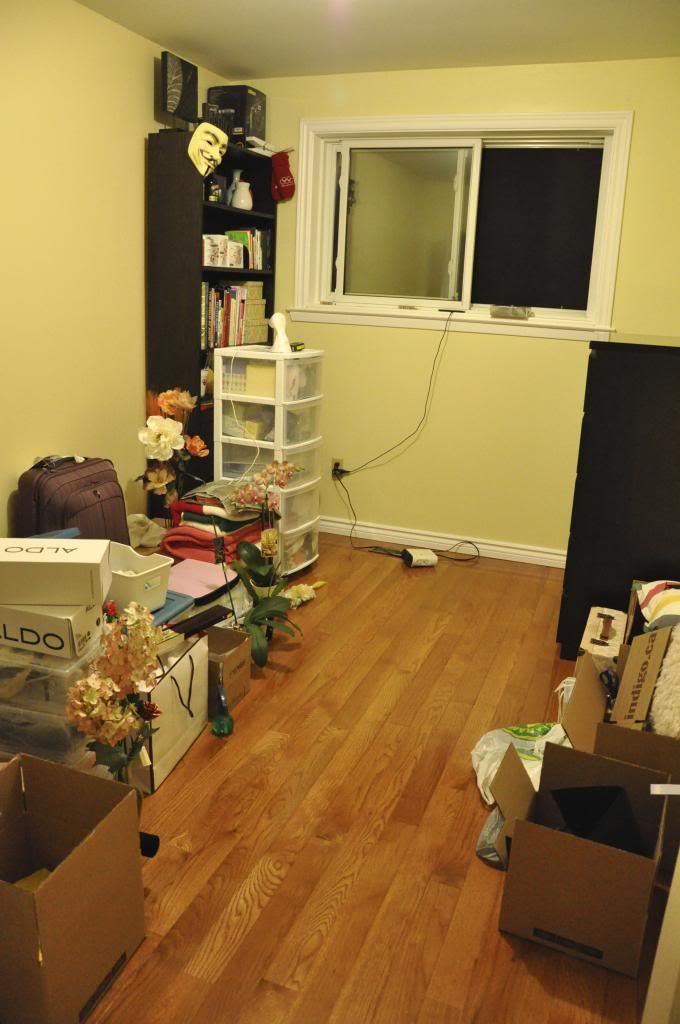 Day 9, Oct 7th
Moving was a process. It's hard trying to figure out where things should go especially since I didn't have a bed yet or other furniture to put my things in. I did however know where I wanted my bookshelf at least. The Mister helped move most of my things over.
Day 10 Oct 8th
I prepped the walls in my closet to be painted. It was upon closer inspection and laying some white paint on the walls that I noticed the previous wall colour was some sort of weird off white with some sort of pink hue to it. It was no wonder the lighting in there looked so terrible. It wasn't the bulb's fault, it was the paint!
Day 11-12 Oct 9,10th
Beautiful white at last. I painted a coat on each day. You can see the difference in lighting in these pictures compared to the before pictures.
And that, my friends, is the end of this post. I hope it won't be too long for my next post where I show you progress pictures of my room coming together. Until then!
"Nobody really cares if you're miserable, so you might as well be happy." -Cynthia Nelms