Okay, don't judge, but I've been splurging on some makeup items for the past few months. My last beauty haul was back in April so I haven't shared with you the things I've bought since then. I know, I know... I have got to get back in the groove of sharing my thoughts on the things I buy after I use them! Those reviews are coming! Soon! I promise!
I also have a Fall clothing and jewelry haul, plus a decor haul to come. I work hard long hours for my money so please keep that in mind when I show these kind of hauls. I know that once I get into the real world with a
real
job, a place of my own, and tons of bills to pay etc., I won't have this kind of luxury anymore (or at least to this extent). I want to remember this precious time when I could afford to indulge myself because I know it won't be as easily attainable in the future. Now onto the goods!
I hadn't been on my instagram in a long time but I recently logged to instagram a sneak peek of the Chanel items I redeemed with my Shoppers Drug Mart points. Earlier this month SDM had a
Super
Spend Your Points event, which means that they give you even more than what you would redeem on any ordinary day and even more than just an ordinary Spend Your Points event (extra $50!). I am SO glad I saved my points and waited for a Super Spend Your Points Event because it couldn't have come at a better time! The SDM at the Eaton's Centre recently opened their new Beauty Boutique, and for the first time ever they had Chanel!! As soon as I got an email about spending my points, I just knew exactly what I wanted to spend my points on...
I saved up for the ultimate redemption, 95000 points to get $220 off my purchase. Yes, 2-2-0. That's why I love Shoppers Drug Mart so much and why I try to buy any available cosmetic/skincare there during a points event as opposed to buying it at Sephora or at the counters. It's all about knowing where to get the best bang out of your buck.
I got 5 items in total-
for free!
Okay so maybe I had to pay about $60 because it went over $220 but most of that was tax anyway. Unfortunately I haven't had the time or pleasure of even touching any of it let alone test it out so I can only show you guys pictures.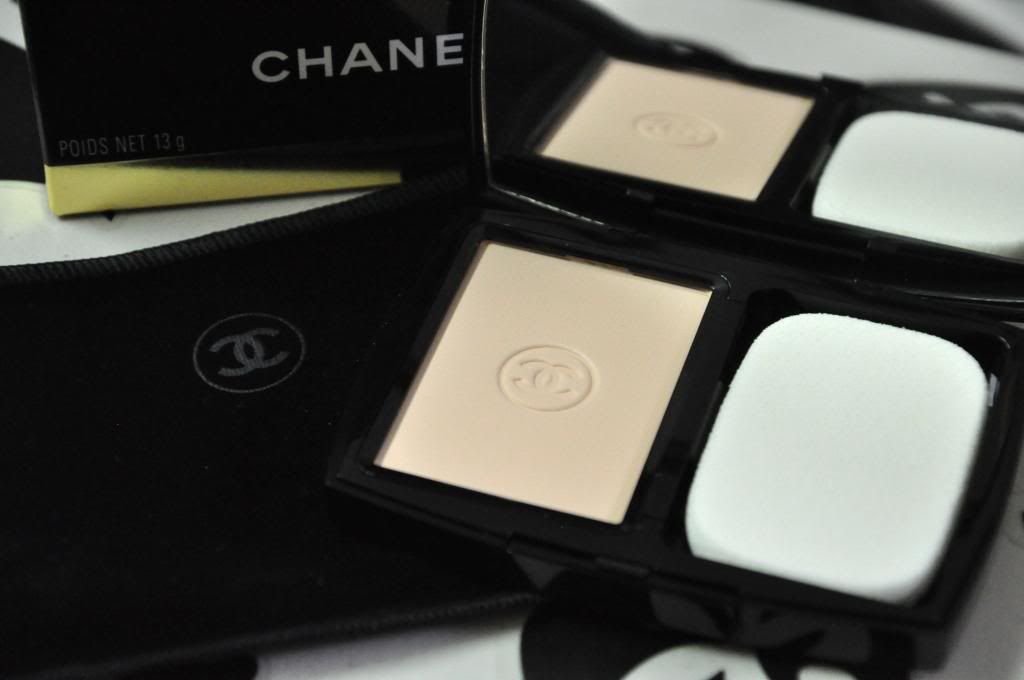 I love powder foundations so I thought I would give the Mat Lumiere a try.
This is the Vitalumiere Aqua and I read good things about it. Winter is coming so I'm hoping this will work well.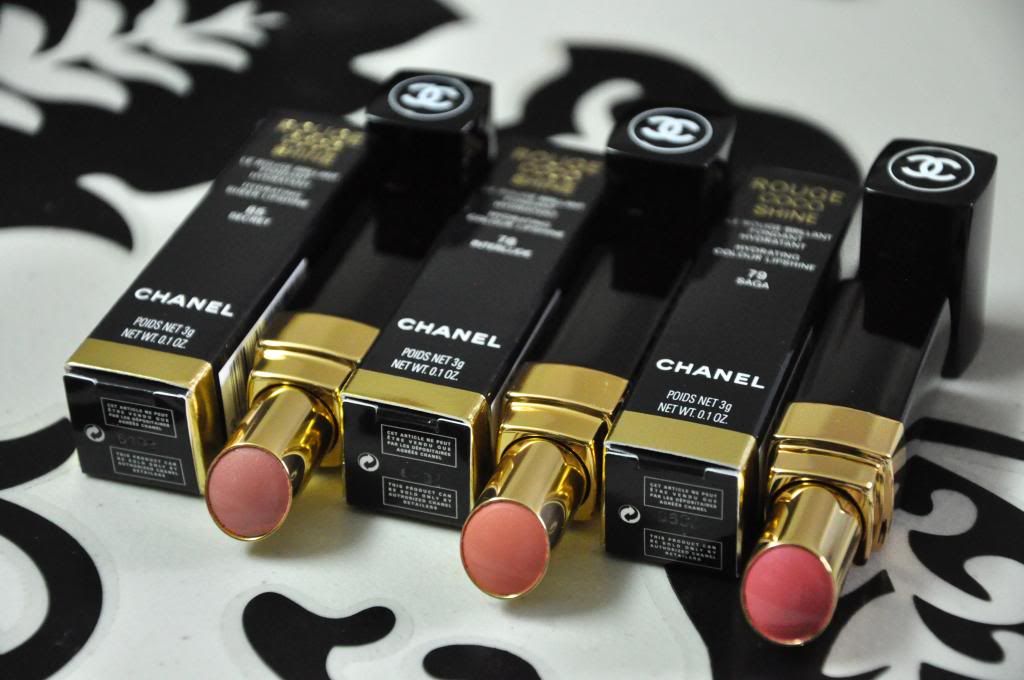 I have been wanting to own a Chanel lipsticks for so long!! And when I say long I mean since 2011 when they were first launching the line of lipsticks. I remember wanting the colour "Boy" when they were releasing it first before the others for a limited time. I was debating on whether or not to get that colour but I think it has a blue undertone which clashes with my skintone. At first glance the box packaging looked so small that the lipsticks almost looked like luxury samples! But upon opening, of course they were full-size.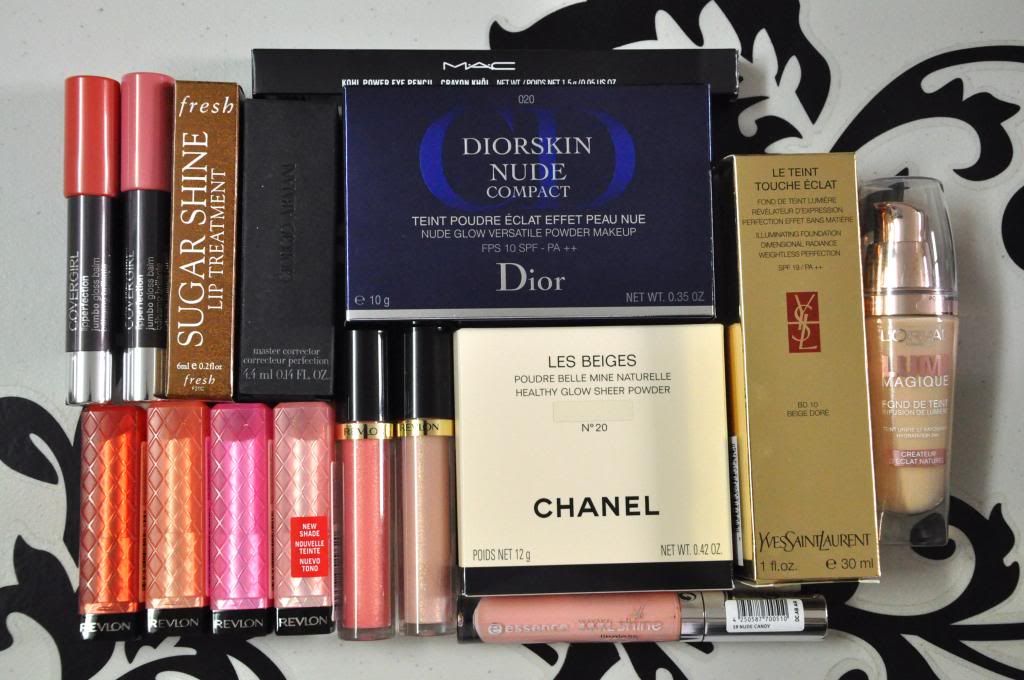 And this is pretty much everything I got since April all in one picture. Some I'm planning to feature soon. Some things I even got when it first came out but never got around to showing you guys (ie. Chanel Les Beiges, Revlon Lipbutters, Sugar Lip Treatment). I just don't have time for anything... except using the stuff ;) The L'Oreal foundation was given to me by my sister and the Mac liner was given to me by my mom.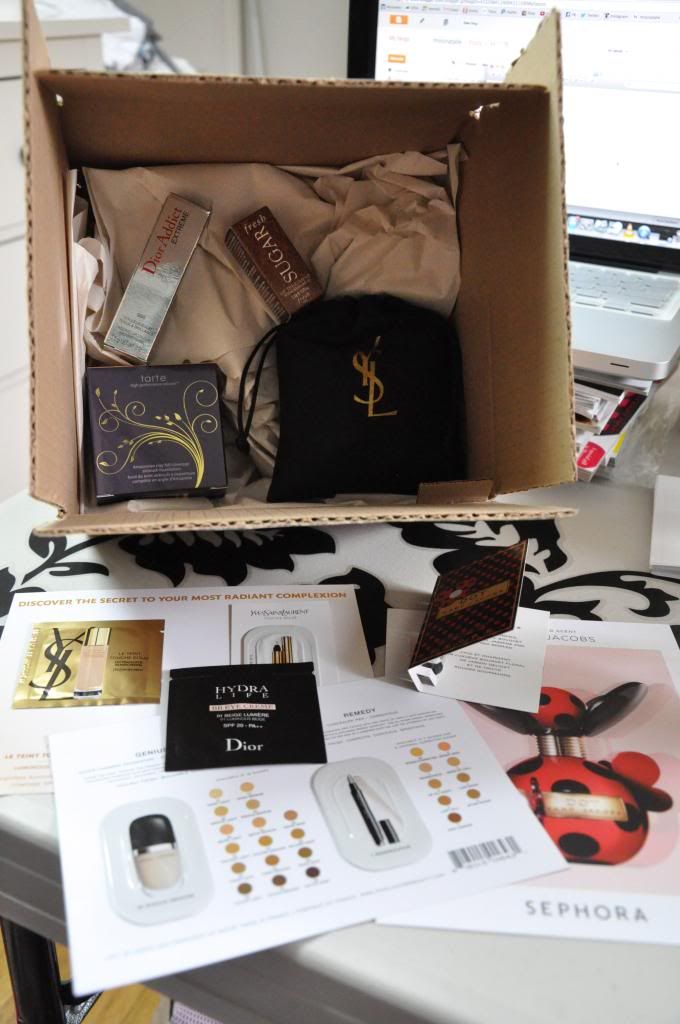 Recently I placed my first order at Sephora.ca. I've been buying from Sephora for so long but never bought anything online before. The reason why I did this time is because I saw that they had an exclusive online YSL 500 point perk! I've taken a huge liking to YSL so I immediately knew this was the 500 point perk I've been waiting for. The bonus about buying online is the free samples you get, and the promotional codes which landed me the free mini Sugar lipbalm which I'll be including in a package to send to the Mister's sister.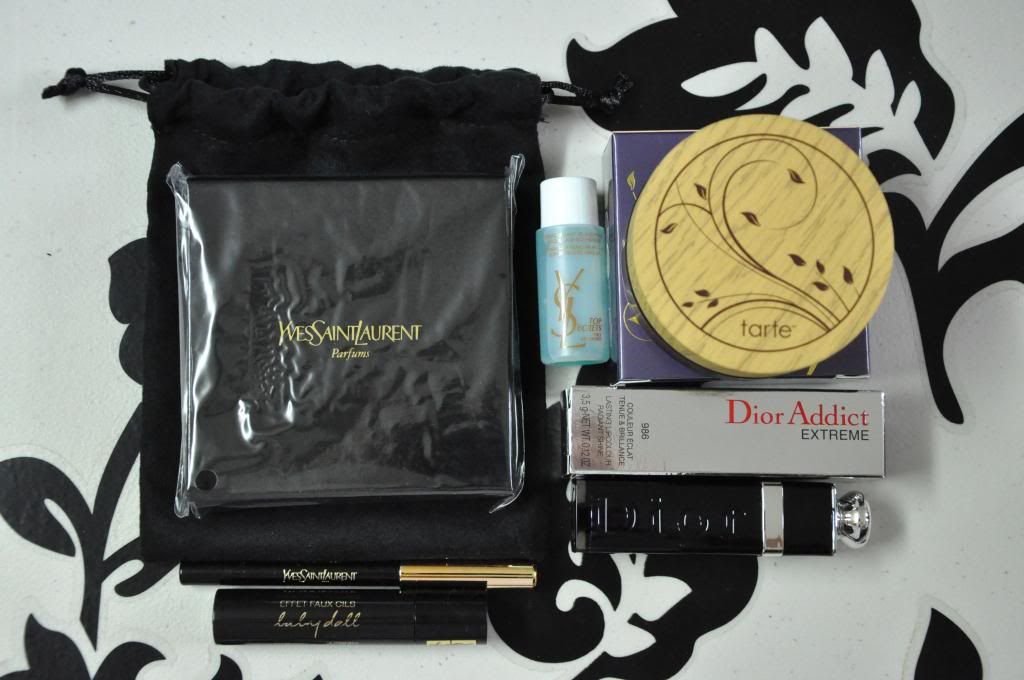 This was what was in the YSL bag: an eyeliner, mascara, and eye makeup remover, and one other thing in the box which I'll share below. I've never tried Tarte cosmetics before even though they are a "green" company which I completely give kudos for. They recently came out with a new liquid foundation but I wanted to try their Amazonian Clay powder foundation since I love that type of foundation. The main item I bought from this order was the Dior Addict Extreme lipstick. I've never tried these lipsticks and have always wanted to.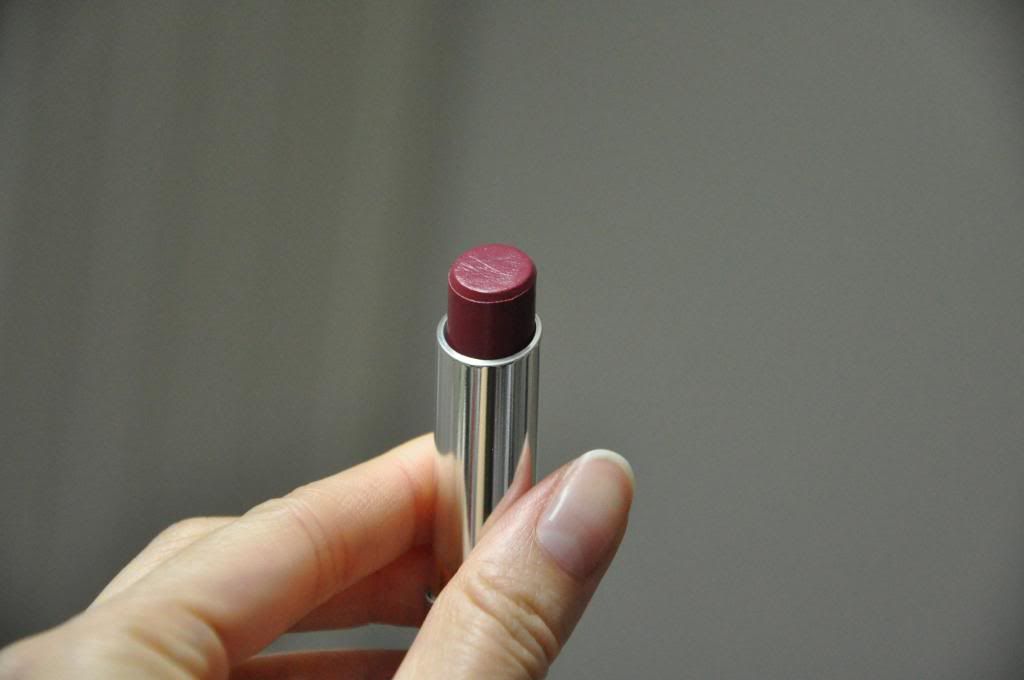 When I saw their makeup collection for Fall, Mystic Metallics, I fell in
love
with the lipstick "Bonne Aventure" #986 (LE). It's a beautiful red wine colour which is nothing similar to any of the lipsticks I currently own. Swatches and thoughts will be done in another post.
I've been wanting this colour of lipstick ever since watching Skyfall back in 2012 (pictured above). I fell in
love
with her makeup, especially her lips, but I was never daring enough to part with my nudes. But ever since I got into those YSL Rouge Volupte Shine lipsticks, I've opened a whole new world of colour!
Within this box is the main reason why I ordered online and why I wanted to finally spend my 500 points.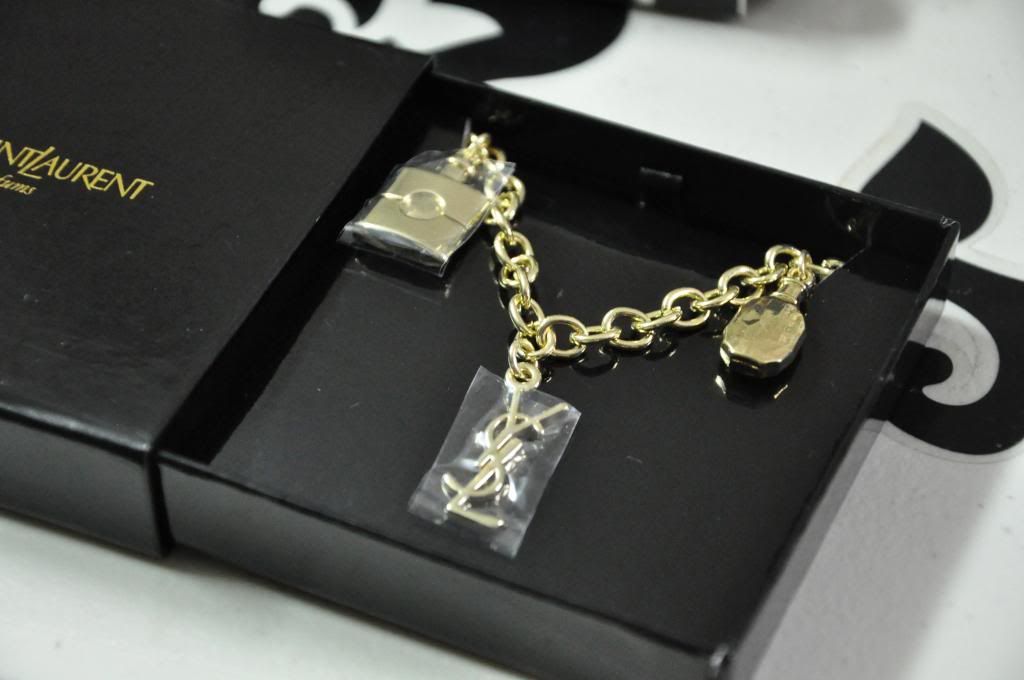 Yes. A YSL bracelet. It may not mean anything to some of you, but when on earth am I ever going to own anything YSL other than makeup? The gold colour looks a bit on the cheap side, but that's okay since it was "free".
I checked online to see if it's still available but unfortunately it's sold out. I just got the package yesterday so I couldn't blog about it before.
And that's my big makeup haul! I'll probably be getting some more lipsticks for Fall so you can probably expect more to come. And, I'll try to review some of the things I've been getting. Work has been getting quite busy again so fingers crossed that I can do those posts for you!
"The most dangerous risk of all - the risk of spending your life not doing what you want on the bet you can buy yourself the freedom to do it later." -Randy Komisar