Sometimes I have to remind myself to not pay attention to others and what they are doing and instead focus on my own work. There are countless of coworkers at my workplace that are so incompetent, lazy, selfish and ignorant that I have to hold myself back from ripping their heads off! That's why I mentally step back and remind myself how insignificant they are in my life and why I shouldn't let them affect or bother me in any way. In the end, they are only hurting themselves.
Anyway moving on, today I share with you my visit to the Canadian National Exhibition (CNE) this year with the Mister. We went 3x, can you believe it? I've never gone that many times before.
You can see my trip from previous years:
2011
&
2012
Day 1, August 16th Opening Day~
First we grabbed some food since we didn't eat anything before we left.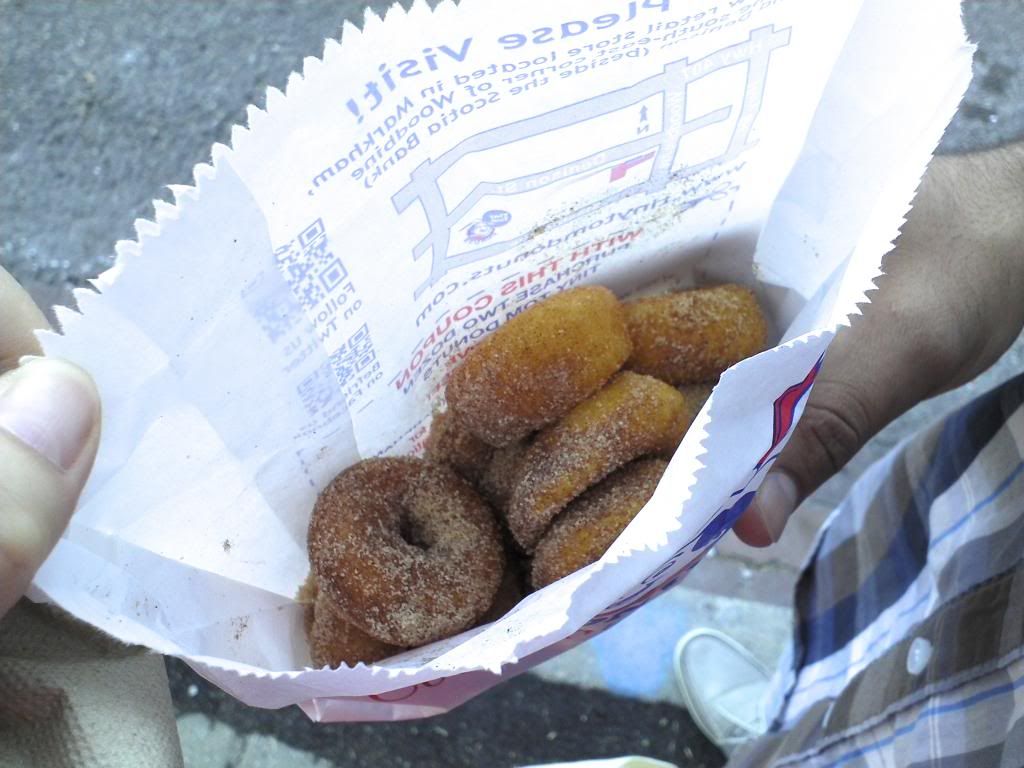 The Tiny Tom Donuts vendor outside was the first thing we saw so of course we got a bag since it's a tradition for me to get one every year- the cinnamon flavour is the best.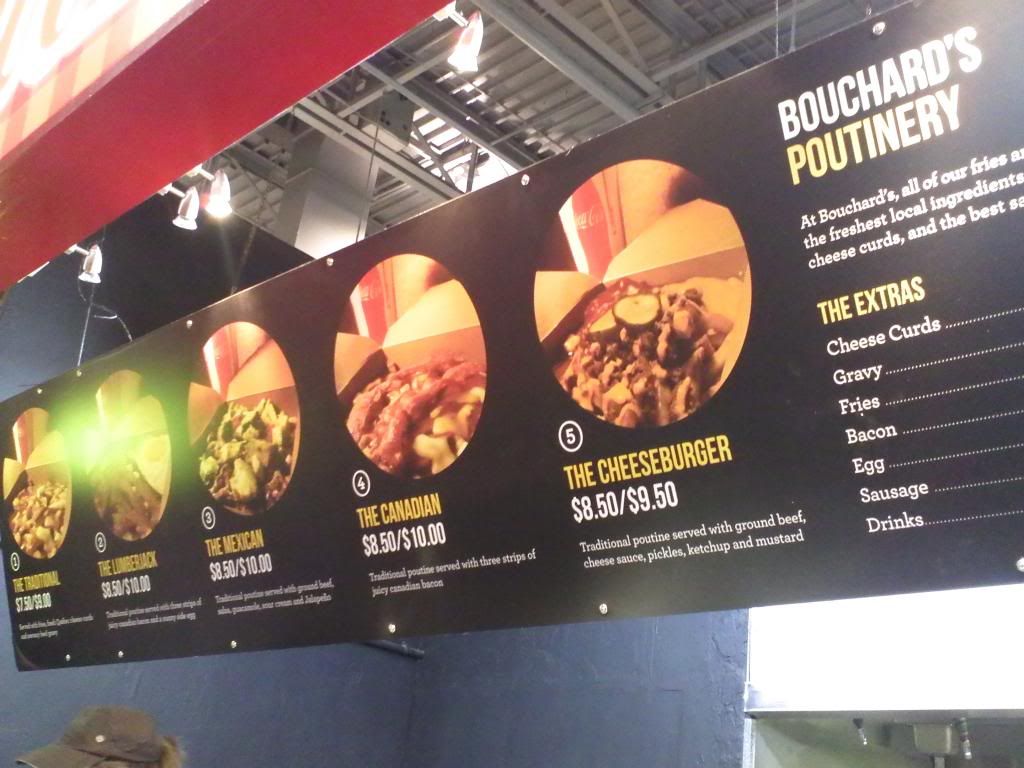 After browsing around in the Food Building we came upon Bouchard's Poutinery. The food looked quite appetizing, plus there was a long line which usually is a good indication of delicious food.
I got the "Lumberjack" and the Mister got the "Cheeseburger". The Lumberjack was pretty good but the Cheeseburger had too much mustard in it which made it taste a bit awful.
On Day 1 we mainly just shopped around the international pavilion (my favourite place!) and outlet stores.
All the things shown in this picture I got on the first day. The brush is made of 100% boar hair which I read is good for your hair. The rose is made of wood and was a gift from the Mister. He also got me the nail polishes, small pot flowers, and the rose earrings. If you're wondering why he bought me all this, it's because he made it his mission to buy everything I wanted that day- even though I was very resistant to this request. He's a sweet man.
I got these at the Benix outlet. A few of the appetizer spoons, the cheese baker, and appetizer bowls were bought on Day 2 because they were having an additional percentage off their white items.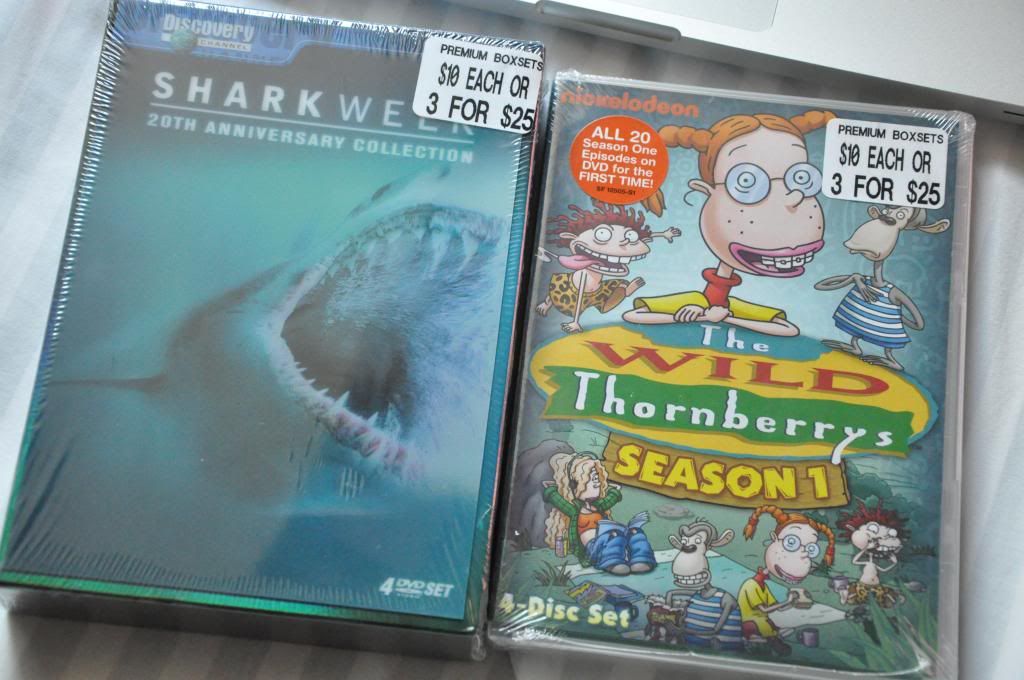 I was so happy when I found The Wild Thornberrys dvd. It was one of my favourite childhood shows!
We got a glimpse of a Busker show.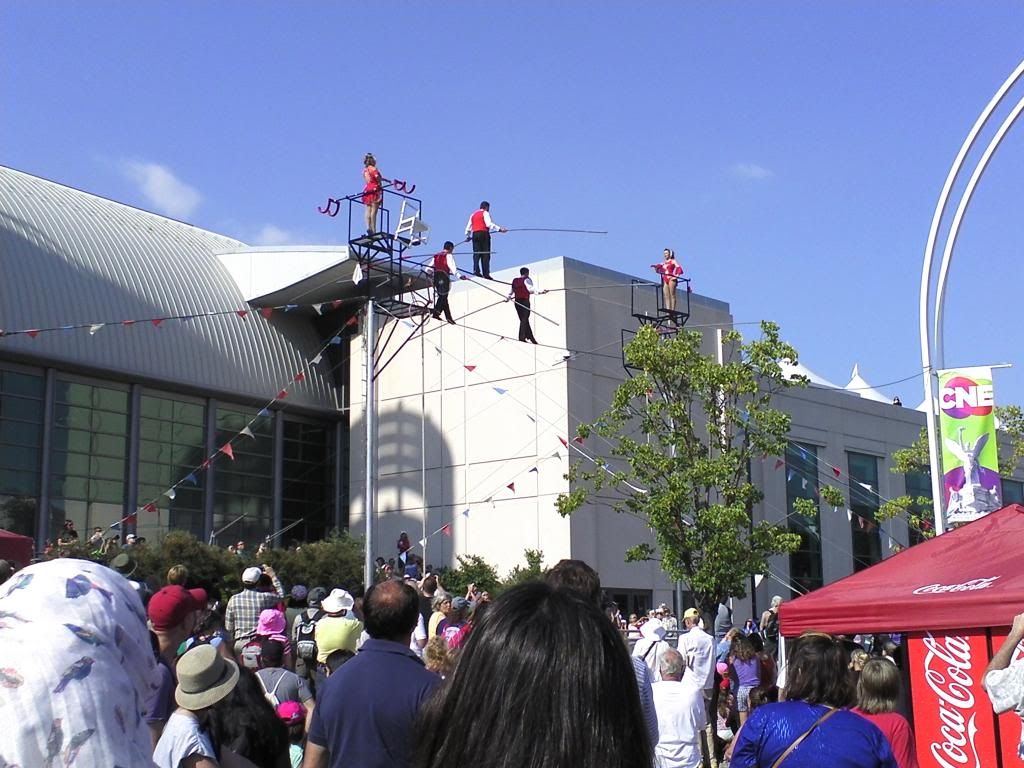 And got to see
The Flying Wallendas
! I remember seeing a documentary on tv of this well-respected family. Yes that guy is really doing a head stand as if standing on a pole between two other people walking on a line wasn't enough o__o
Saw the beginnings of the sand sculptures. Even though the rest wasn't finished, I already knew the bee would my favourite.
Met this computerized "artificial intelligence" man like something out of those sci-fi movies. The Mister really liked this.
Got some cotton candy that I haven't eaten in forever.
Watched the Acrobatic Show in the Ricoh Coliseum. It was
so packed
! I've always wanted to see shows like this at CNE but never did until now :D
And tried some fresh coconut juice.
That's it for Day 1!
Day 2 August 24th~
Our second trip was made in the evening so we didn't have that much time but still managed to do a few things like shop a few things from the Benix outlet that I showed above already.
We also checked the progress on the sand sculptures, looked like they were coming along nicely.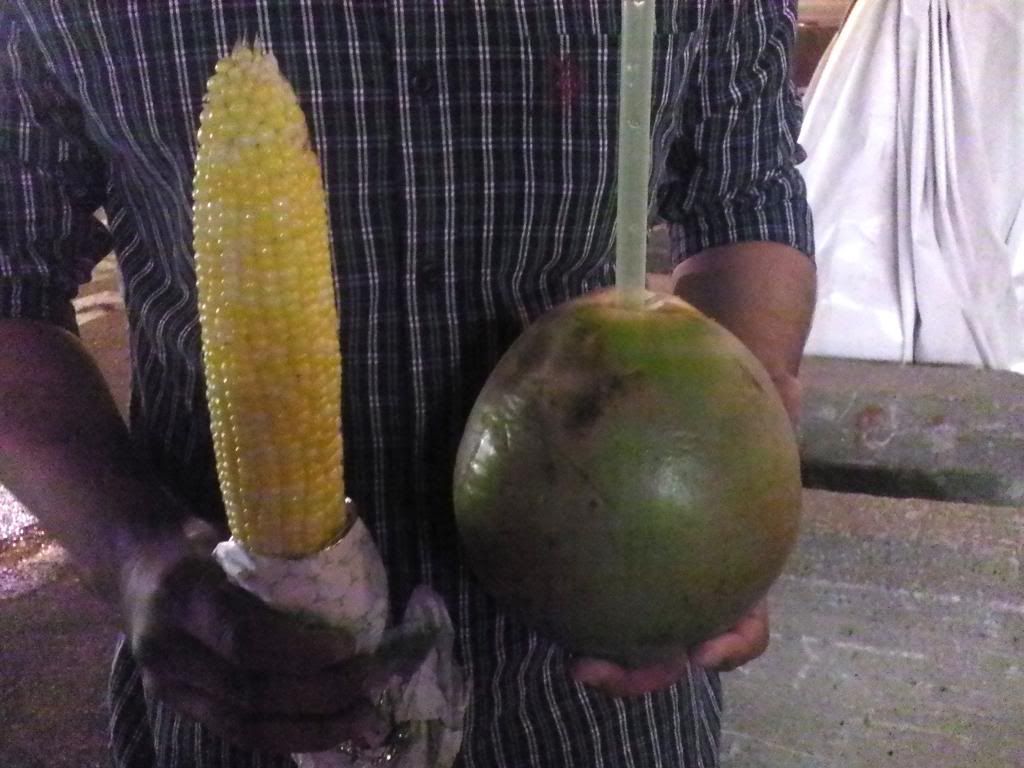 Got roasted corn on the cob- yum! And another coconut drink.
We walked around the grounds for a bit and then I spotted Coldstone, so we got ourselves a scoop of cookies 'n' cream. They seriously make the most delicious ice cream.
And that was it for Day 2!
Day 3 September 1st~
Like Day 1, our first priority was to fill our tummies.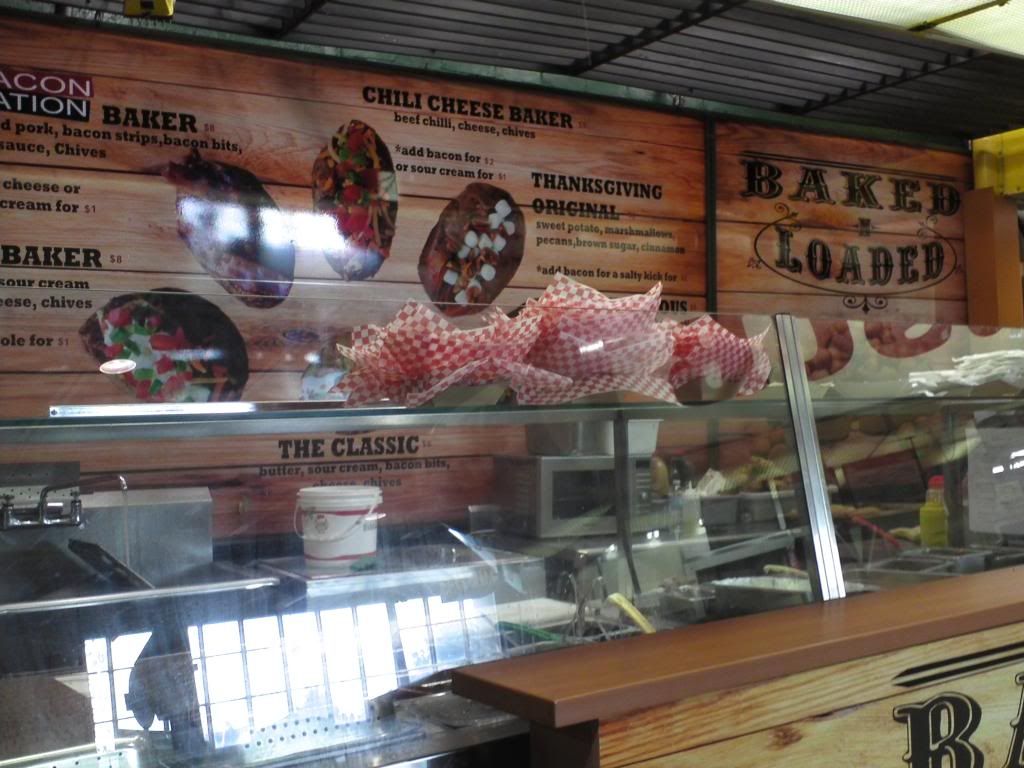 We came upon Baked n Loaded and I was immediately intrigued by their baked potatoes. If I remember correctly, we got the "Classic".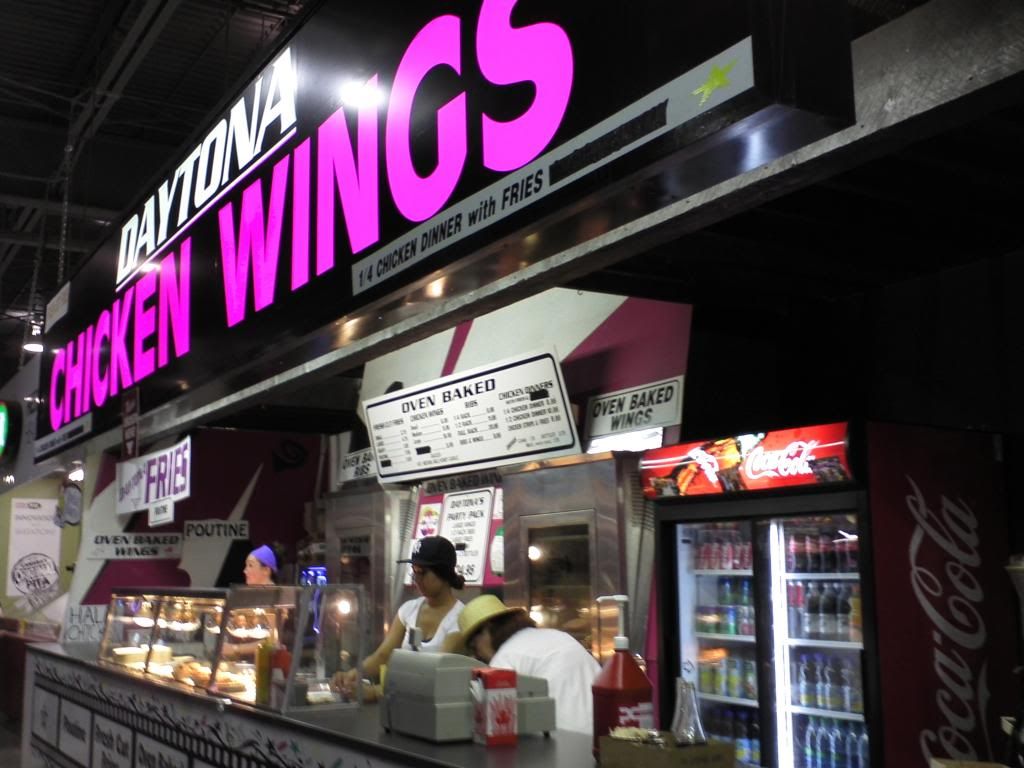 Also picked up chicken wings at Daytona Chicken Wings.
And got the Colossal Onion because I've seen it so many times before but never tried it.
Picked up bubble tea too. The baked potato was really good, as was the chicken wings. The colossal onion was way too oily though. It was okay but we couldn't even finish the whole thing because of how greasy it was. I know food at CNE is pricey but $10 is a pretty big markup for one onion. I think next year I'll try the onion rings or their spiral spuds which seem to be quite popular as well.
Here's how the sand sculptures turned out (sorry for the first pic, the sunlight killed it). The crocodile or alligator sculpture in the beginning didn't look like it would be that interesting but it turned out quite incredible. The bee was still my favourite though- it won second place.
Next, we stopped by the international pavilion again to visit the Thailand booth to get more of the flower pots. I loved my first two so much, I wanted more! So the Mister got me more =) Above is my small collection. They're all hand-made (you can see finger prints on the back of the petals!) and they're made out of Japanese clay. I realize they're one of those things that you pass by and admire but would never think to buy. But these were so unique, pretty, and so cute that I couldn't resist. They will forever remind me of our time here at CNE.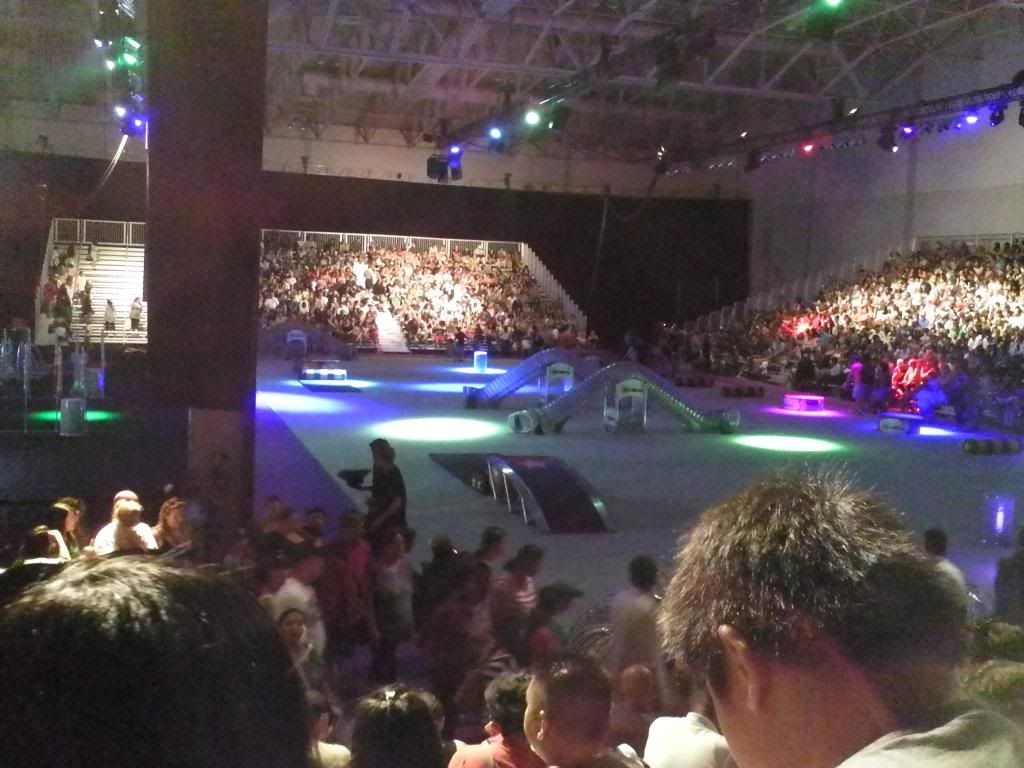 | | |
| --- | --- |
| | |
We got to see the SuperDogs show! Every year when I visit CNE I would hear the announcer and dogs while I shopped in the outlet area. I always wanted to go see how it was like in previous years but it was never planned. This year I was determined to see the show- I missed the showings on our first two visits! But on the last day the Mister and I were able to catch it. The border collie (shown on the bottom left picture) was the majority of the audience and my favourite dog in the show. He had so much energy!
This is the first time
ever
that I got (okay well technically the Mister got it) midway ride tickets. I was determined this year to go on the
Sky Ride
since I didn't go last year when it debuted.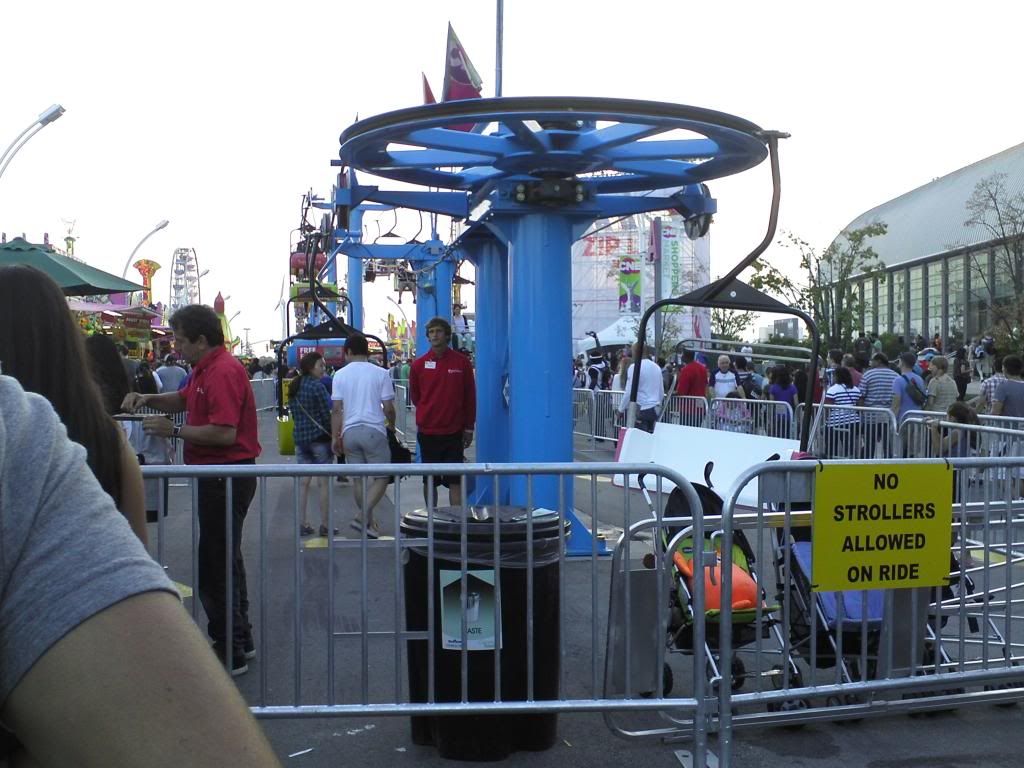 It was perfect to go too because we wanted to get to the other side where the farm building was. Normally I don't like rides simply because I don't like scaring myself. The Sky Ride didn't look scary though because it was nice and slow.
Although I'm not scared of heights, I do fear the thought of falling. As soon as the seat lifted, my imagination started to run wild of all the things that could go wrong- ie. the cable breaks or the whole ride comes off the ground and brings us all tumbling down. I had to get the Mister to distract me so that I could get it off my mind- it wasn't met without a little bit teasing from him though... so not funny.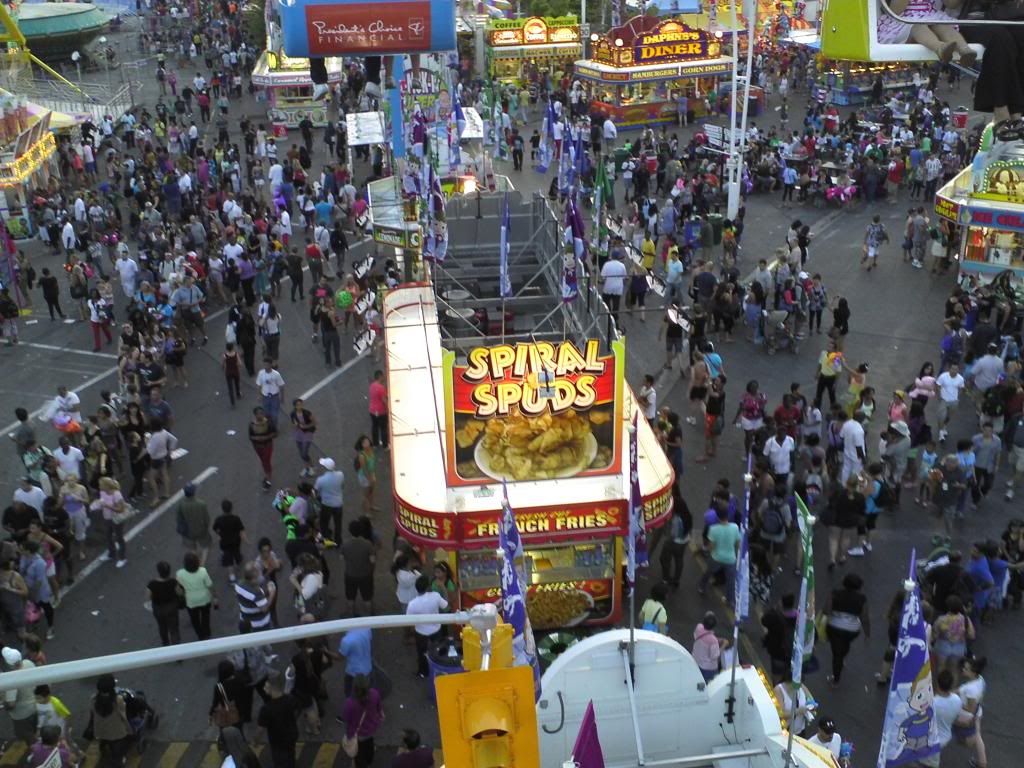 But after a few seconds of fidgeting and momentarily freaking out, I managed to enjoy the ride- as long as I didn't think of all the terrible unfortunate accidents that could happen lol. Of course there were deathly scary rides along the way that I couldn't fathom how or why people put themselves through which again got me feeling slightly nervous on the possibility of something going wrong. Overall it was nice though. We got a good view of the grounds and it was nice going on a ride for a change. Next year I would do it again if they bring it back again.
At the farm building we saw the butter sculptures. Here you can see Wolverine, an alien from the movie Aliens, Stitch and E.T.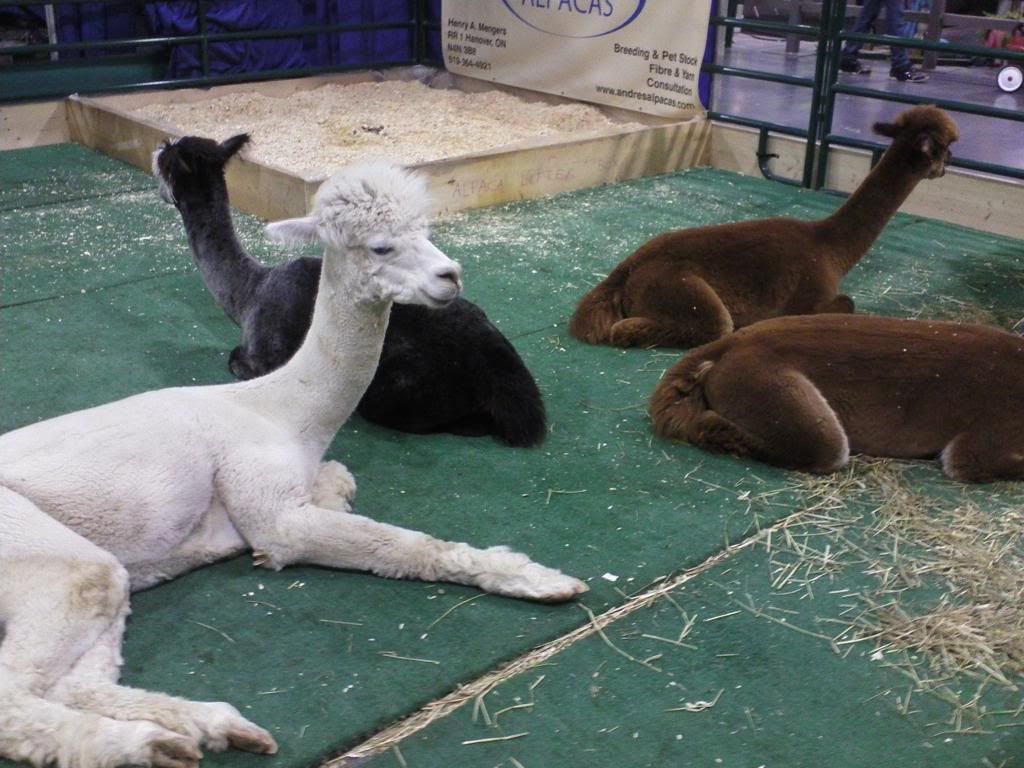 And of course we saw the animals.
Within the Farm building there was also a section dedicated to bee keepers. I've read that beeswax candles burn cleaner and they're more economical. I was already set on buying one... then I miraculously stumbled upon both the pinecone and last acorn on the table and immediately knew I had to have them. The Mister and I have a little inside thing where he's a chipmunk and I'm a squirrel (acorn and pinecone, get it?). I often "feed" him acorns on What's App on my phone. Finding these candles couldn't have been more perfect. And because I bought two candles, I got to pick another one for free. The Mister bought these for me as well.
It was actually really cute on Day 1 when the Mister rummaged through his change at the end of the day sad that he didn't bring more for me. He's a very caring and sweet guy and although I tell him all the time that he doesn't need to buy me everything, he insists and was determined at CNE to not let me buy anything (even though that did end up happening). It's the thought that counts and that's what matters in the end. I love you Mister xx
And that concludes our trip this year! See you again next year CNE!
"You don't have to be great to start, but you have to start to be great." -Zig Ziglar