So I'm
completely
behind on Judy's vlogs... but when I saw her thank you message on Facebook and all the congratulations she was receiving, I knew immediately that she must have just announced she was pregnant or something. Skipping several months worth of vlogs to watch the most recent, I could not believe my ears when I heard Judy and Benji say that they were expecting
twins
. OMG. I am beyond happy and excited for them. Some of you might find this weird because I don't know them personally, but I've been watching their vlogs since the beginning and seen them come so far. They really inspire me to not only become a better person, but to live a happier and healthier life. From green juices to living a lifestyle that shows how family and earning income have evolved from the more traditional ways of living. They have shown that they can still be successful despite not holding one of those atypical professional jobs. They make me more optimistic, they get me to dream, they motivate me to look forward to my future, and most of all, they show me what a positive and healthy relationship looks like- because let's face it, not all of us are fortunate to have that kind of role model in our lives. Best wishes to them. I will need to catch up on their vlogs soon!
Okay, so you guys know how frustrated I was with my 6-year old HP notebook right? My HP notebook is so dated that the RAM is
under
1GB. The average RAM for notebooks these days is 4GB so you can only imagine how slow the system I was working with was.
In comes Apple with their Education pricing for students for the upcoming school year. You might remember me mentioning how I've been saving up for a MacBook Pro. This special offer couldn't have come at a better time because I was about ready to throw my HP notebook across the room any day now.
If you're curious how I was able to get the deal despite my situation, you can message me through the top left tab labelled "contact me". By the time I post this it would be the last day to partake in the deal, so the curiosity is more for my regular readers than anything.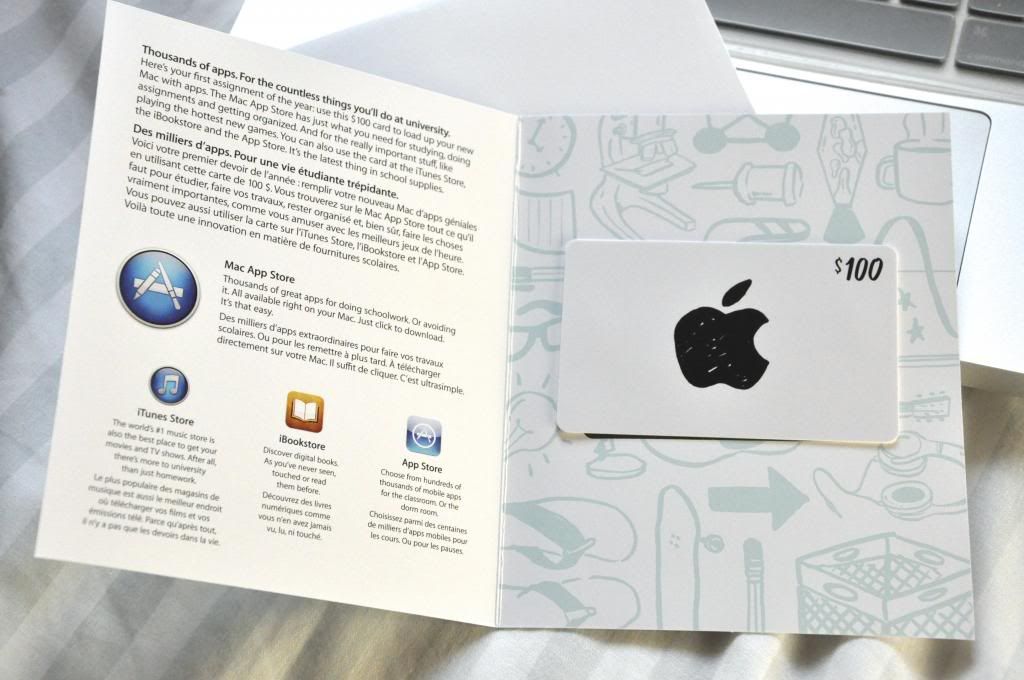 To summarize, a MacBook pro at regular price is $1,999 but with the student discount I got $200 off
plus
a $100 App Store gift card. I wanted to ensure that my notebook had a good overall speed and performance though so I read up on this article and decided to upgrade my RAM to 8GB which costed me an extra $90. Overall my total came to $1219.27 (tax included). That's a pretty deep discount considering it's only over about $20 over the original price with a RAM upgrade and tax included.
After I placed my order they sent me an order confirmation email and once my notebook was processed (took about 2 days) they sent me a shipping notification email with a tracking number. This was the only time I religiously checked the tracking of a package. It went from China to Hong Kong through several U.S. states to finally Canada. It took just over a week to get to me: I ordered it on July 22 and it came to me on the 31st- the gift card came only a couple days after I placed the order.
I got my package right before work so I quickly snapped a few photos before reluctantly putting it aside.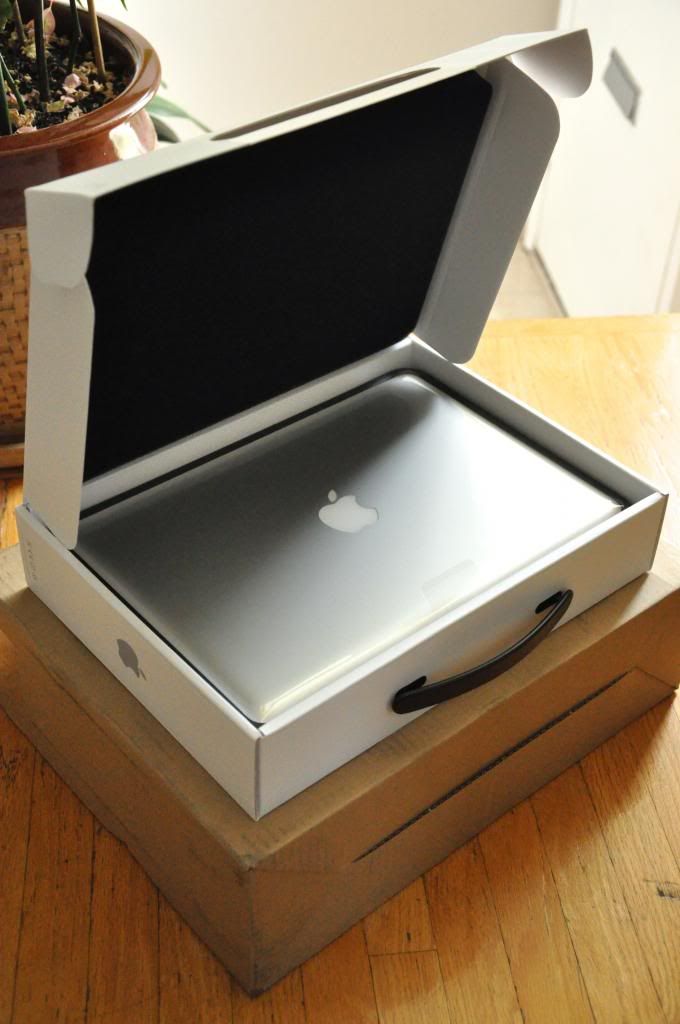 And there it is in all its glory.
And hello to you too :D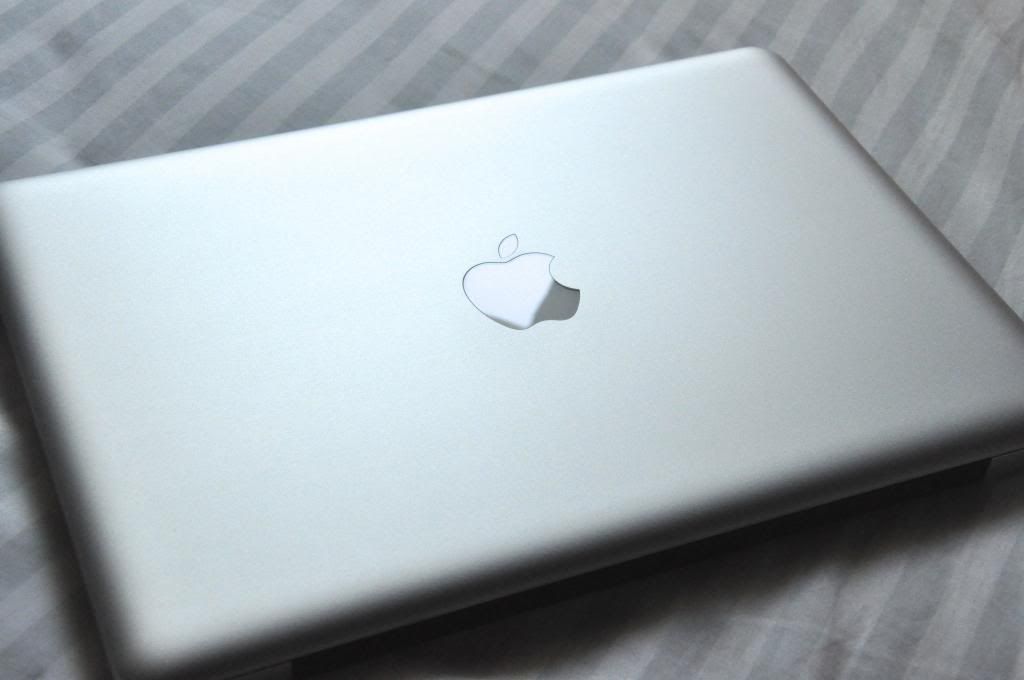 I still have to get a hardcover for it. My sister recommended the Moshi hardcases since she has one for her MacBook Air but unfortunately they don't make one for the MacBook Pro without the retina display (yes there's a difference because of the ports).
She also had this awesome keyboard cover by
iSkin
that prevents dirt and dust from getting in. At first I bought the wrong one (made specifically for the iMAC) which was weird because it stuck to the black keys and made it look oily and wet underneath. But after going back to FutureShop and exchanging it I couldn't be more happy with it. It comes clear but the only thing is it's a bit dated because enter button is still the old backwards 'L'. It still fits perfectly and everything so if you don't mind that minor aspect then it's absolute perfection.
I don't consider myself a Windows nor Mac fanatic. I just make do with what I have. But I must admit, I
really
like the system. I used Apple back in the day in my gr.11/12 years for Tech class but they've obviously changed since making it even better than I remember. I love the ease of the mouse trackpad with all the different actions I can do with my fingers. I love how I can have multiple desktops, I like how quiet it is, and I also love how I can shut it down and have it reopen all the things I last left opened (similar to how google chrome saves all my tabs and windows). There's just so many things I love about the system and still a lot I have to get used to. I am officially
in love
with it and I'm so glad I waited to get in on this deal!
As for my HP notebook, I've reset it to factory settings and will use it for side things like gaming or if I need a second screen to do something else. It's not so much a "once you go Mac you never go back" kind of thing for me, but I must say, my other sister has the Windows 8 and I
really
don't like it. On the other hand, using the Mac OS X has been quite enjoyable. I've been wanting the MacBook Pro for so long and now I have it!
Oh and because my only credit card at the time didn't have a high limit, I had to use my mom's credit card and pay her back. I totally forgot that I could have just gave her a cheque so I gave her straight up cash. How smart of me. This green is for you MacPro.
Some songs I've been enjoying as of late:
Lorde - Royals
Mother Mother - Infinitesimal
"The difference between ordinary and extraordinary is that little extra." -Jimmy Johnson