I'm a little late on blogging but how many people saw the brief N'sync reunion performance at the VMA's? I didn't know I still had it in me but I found myself acting like a little fan girl all over again. It brought back a lot of good old memories, a time when nothing mattered except how much I loved them. I had their cds on repeat to the point where my younger sister just got sick of the songs. I was more of an N'sync fan than a BSB fan (although I do like them both). It's just unbelievable that it's been a decade since they were last together, time passes way too quick.
And speaking of time, how did my fellow Canadians enjoyed their long weekend? I did a lot of errands and cleaning up but I also managed to make my 3rd and final trip to the CNE with the Mister on Saturday (I'll blog about this soon when I can). For some, Labour day weekend also marks the end of Summer (it does for me). School is back! And just thinking about all the kiddies going back-to-school shopping and college/uni students moving into their dorms/living quarters makes me miss school. It's an exciting time for new students attending post-secondary. Sometimes I wish I could go back in time with the knowledge I have now and do it all over again. This time I would give it my all, or at least make more of an effort to. Fortunately I plan to go back to school in the future to further my education and to narrow down my career path. I don't know when this will happen, but at least I have that to look forward to.
| | |
| --- | --- |
| | |
I don't think I've mentioned it before but my favourite shopping mall to go to is Sherway Gardens. I
love
the food court here. It's a very unique food court and I wonder if it'll change with all the major renovations they've been doing to upgrade and refreshen their look. It's dated but I like it anyway because it's really big with lots of seating and there's lots of light coming through the giant canopies up top.
Even The Hudson Bay Company is doing major upgrades to all their stores. They have a new logo and a totally new appearance.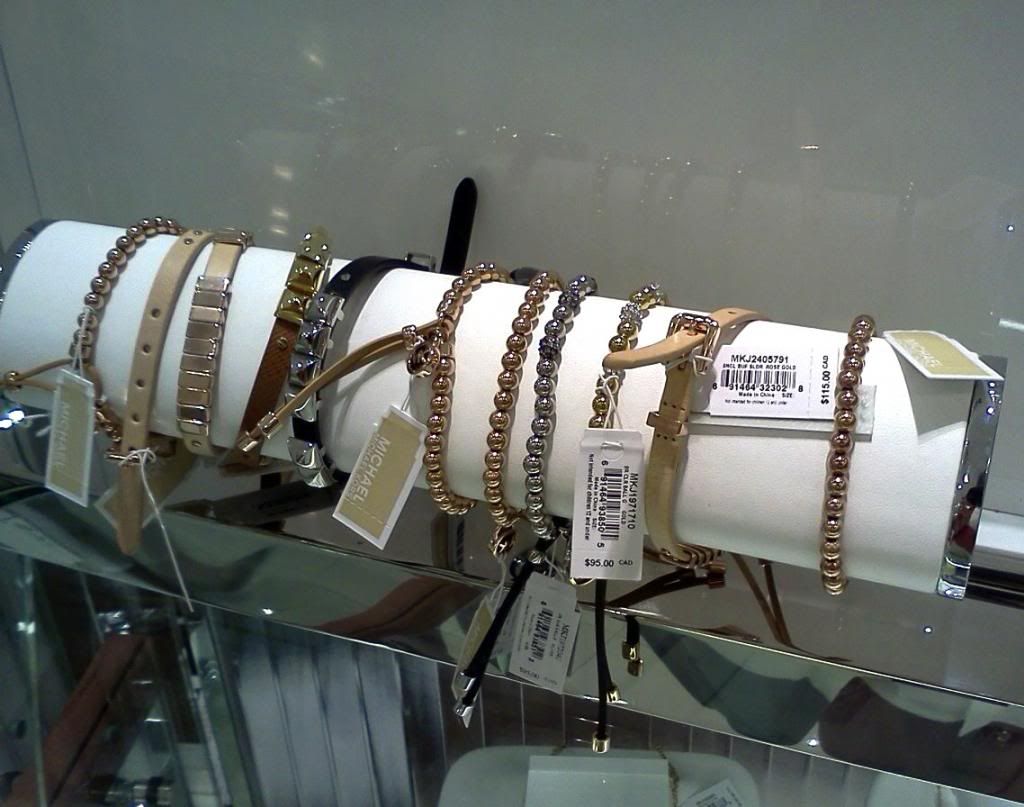 Looking around I saw Michael Kors jewelry which I've never seen before in The Bay. They were mighty expensive.
But there was one item I did end up walking out with...
And that would be this watch. I've said before that I've been meaning to buy myself a watch ever since I started working again but for some reason I never got around to fulfilling that wish... until now.
But even though a watch was on my to-buy list, buying this watch turned out to be more of a impulse buy than anything planned. Buying a watch was always in the back of my mind, but I didn't expect to find it that day I was browsing around in the newly renovated The Bay. It was one of those watches that weren't behind the counter in the glass casing, instead it was on one of those open display stands.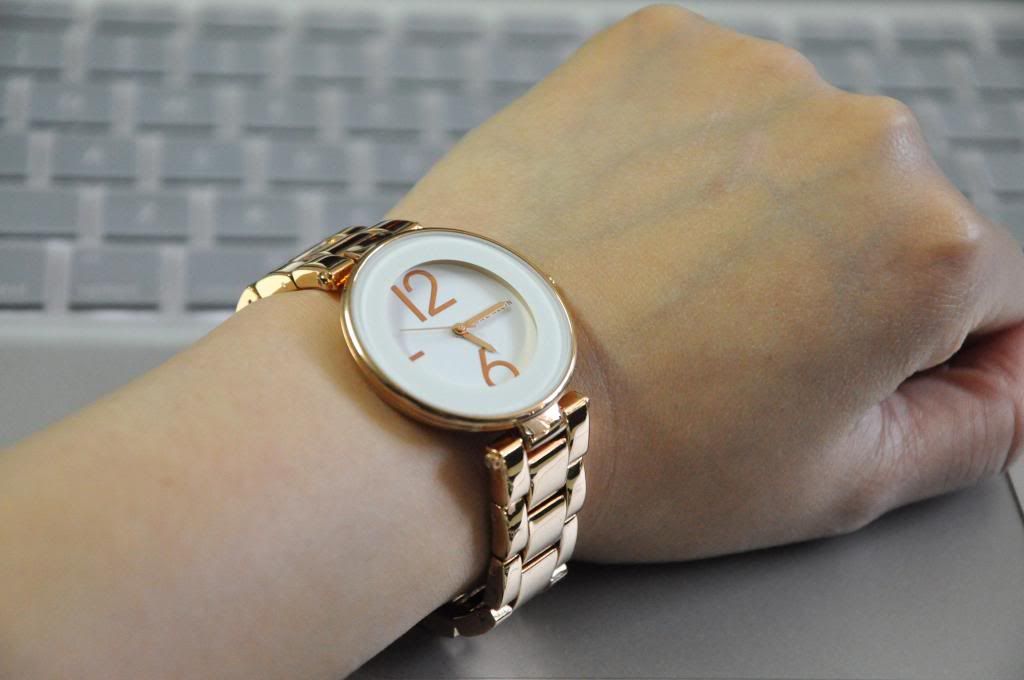 First I was intrigued because there were a bunch of watches by Anne Klein grouped together. After a few seconds I stumbled upon this watch and just fell in love with it. I just could not believe how perfect it was for me. I appreciated its simplicity and loved the modern look and the rose gold colour. The face of the watch is neither too small nor too big, it fits perfectly on my wrist.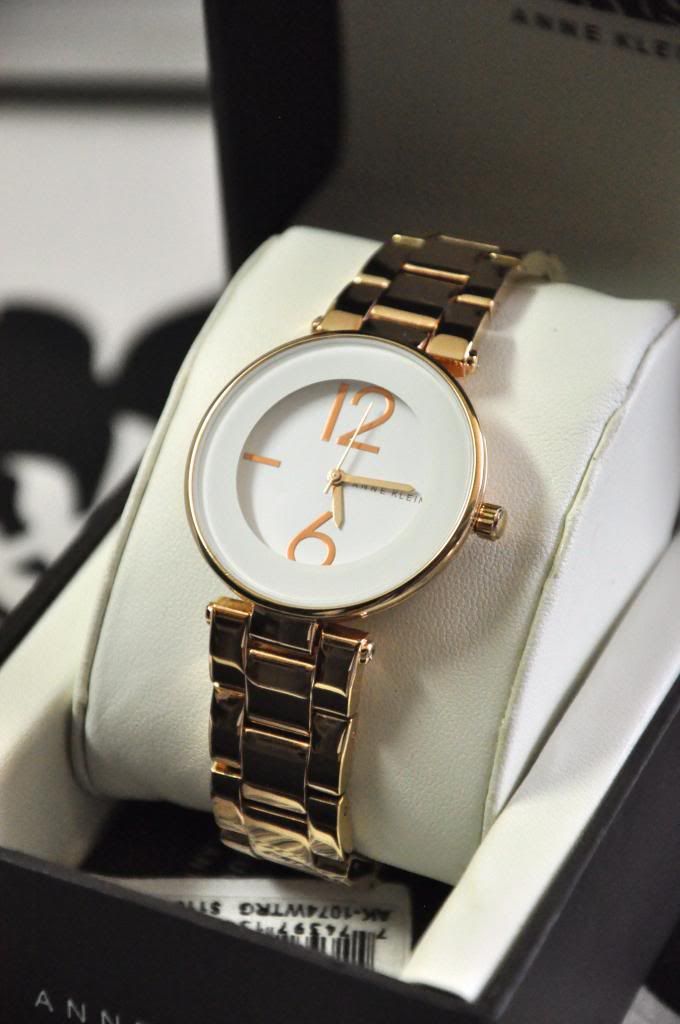 It was the the only one of its kind in the whole department store. Although I was hesitant to splurge on a $110 watch on a whim, I knew that it was one of those things that I would not be able to stop thinking about and would regret not getting. I have tried looking at watches in the glass cases before but could not find something to my suiting. I've come across watches with a face that were either too small or too big, there were leather straps that I'm not fond of since I want something metal and waterproof, and there were plenty of watches that were either too girly or too masculine. But most of all, among most of the watches I looked at, there was a lot of bling and busy dials that I am just not into. This Anne Klein watch surpassed all of my criteria. It's absolutely perfect for me.
When I went to cash, I figured that the sales lady would ask me if I wanted to apply for the HBC credit card so that I could get 10% off my purchase. This time, however, it dawned on me that I
could
and
should
apply. Let me explain...
Backtrack to me as a student, I tried applying for a Visa Shoppers Optimum credit card but instead got rejected. Another time I also tried applying for a Walmart card, which I
blogged
about, but ended up getting rejected as well. At least I got 5 bucks out of it lol. After graduating and getting a job, I figured maybe they wouldn't reject me now since I have income... wrong. So you can probably understand why I stopped trying to apply and declined signing up for any because I knew I would get rejected and that it would do my credit score no good. So, I laid low.
After some time of working and slowly paying off my student loan, I felt frustrated and really embarrassed that I didn't have a credit card. The embarrassment didn't come from not having one, it was the fact that it wasn't by choice. I remember how embarrassing it was telling the Mister that I didn't have a single credit card (we just started dating at the time). He was quite perplexed as to why this was so. What could I say? Even I didn't know the answer to that one. It wasn't as if I had a bad credit score, was it? My student debt wasn't that bad. And I've never done anything that I could think of that would negatively affect my credit score. Time was ticking on building my credit score and I couldn't do anything about it.
Fast forward several months well into the new year and I get an envelope in the mail. I open it to find that my school (the one I graduated from) is offering me a credit card and my account has been
pre-approved
! I was ecstatic. I finally had the chance to start building up my credit score. I wasn't met without some trouble though. A couple weeks after applying I got a notice in the mail from the post office telling me to pick something up. I thought it was a package so I got my mom to do it not knowing it was to confirm my identity through Canada post. Apparently the post office lady didn't check to see if the name matched up and instead my one chance of getting a credit card was doomed. But a quick phone call to the credit card company fixed everything. The guy even told me I had a good credit score which was baffling since I thought a bad credit score was what prevented me from having one in the first place.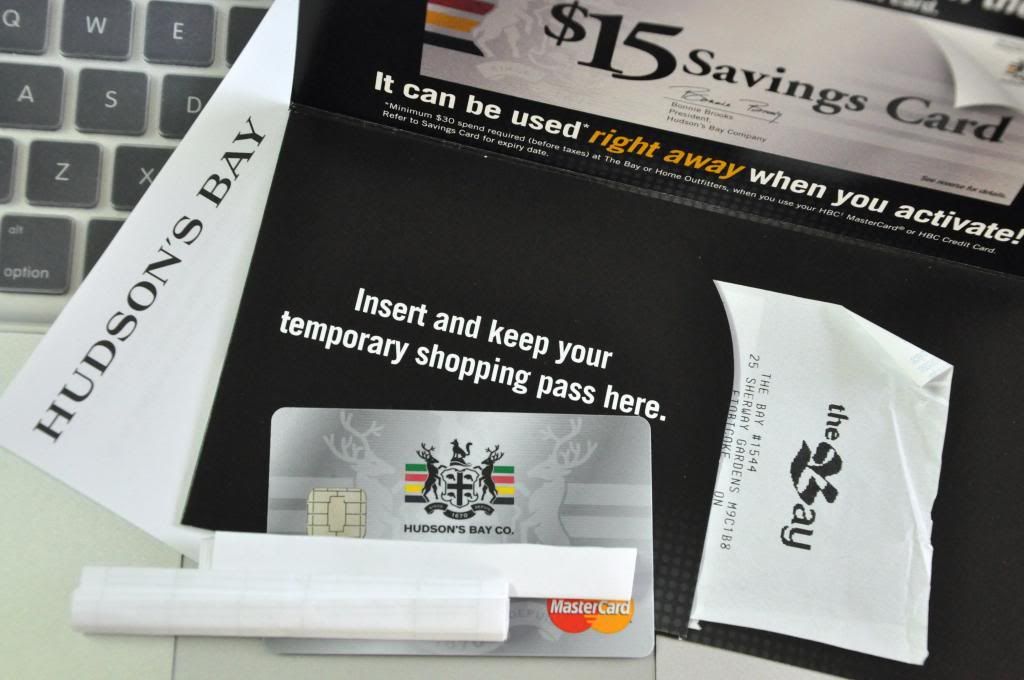 And so, when the lady asked me if I wanted an HBC credit card, I felt confident this time around that I wouldn't get rejected. Getting an HBC credit card was my dream credit card- I know it sounds silly but I can save an extra percentage off their merchandise (sales included!) when I pay with an HBC credit card during one of their special sale events. It's nice because I earn HBC rewards too and since they revamped their program I can also use it everywhere instead of only at The Bay. Plus not only did I get 10% off my watch, they also gave me a $15 savings card too.
I was going to share other purchases I've made but it seems I got carried away with my thoughts. This post has enough content as it is. Until next time =)
"Time you enjoy wasting is not wasted time." -Marthe Troly-Curtin