The week after we visited the Mesopotamia exhibit at the
ROM
, the Mister and I decided to visit the museum again to look at their galleries. I haven't been to the ROM's general areas in a long time so I thought it would be nice to refresh my memory.
Before we went in, we dropped by Starbucks to get a bite to eat.
This location by St. George is so rustic and nice. The best Starbucks layout I've been to so far.
The pictures above are from two different times. My favourite Starbuck items to get are the Vanilla Bean Frappuccino and the Lemon Raspberry Loaf. Also pictured on the left is something from Tim Hortons, my favourite thing to get there is the Fruit Explosion Muffin.
We didn't have enough time to visit everything, but it was nice to briefly to go through some of the galleries. Dinosaur sections are always a favourite of mine.
Initially we were planning to eat at their cafe place downstairs, but after looking at the food (pictured is the dessert section), we thought it would be best to eat at an actual restaurant with substantial food that would cure our hunger.
Bun Saigon
252 Spadina Ave. Toronto, ON M5T
The Mister wanted to eat Vietnamese food again so we went around Chinatown looking for another Viet restaurant with better food than what we had at Pho Hung. This time I wanted him to try Bun Bo Hue, another favourite dish of mine, and I wanted it to be perfect. We came upon this restaurant,
Bun Saigon
, and figured it looked good enough on the outside to give it a go.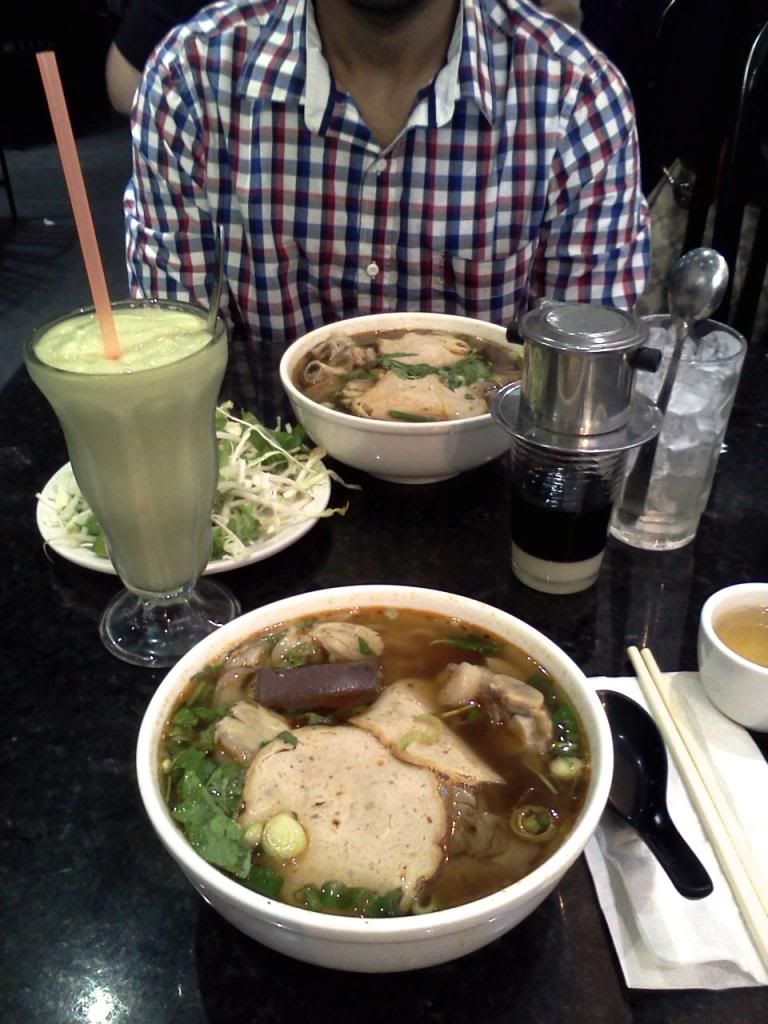 Thankfully, the food turned out really good. The avocado milkshake was pretty good too, albeit not as good as the ones made at my favourite pho restaurant,
Pho Dau Bo
. The Mister also said he likes the avocado milkshakes I make at home better. The service was typical of Viet restaurants, but was better than what we got at Pho Hung. Their service was also fairly quick. We'll definitely be coming back to try their Pho.
Another day we went and ate at Pizza Pizza before we headed out to the mall.
I'm always eating fatty food (which explains my weight gain *cries*) but have never tried onion rings at Pizza Pizza. It was pretty good. The Mister got a Deluxe pizza slice and I also got a couple Hot Apple Pies because I haven't eaten it in so long. I remember seeing them in my high school cafeteria, which I only visited once or twice in all my four years, but I was too cheap to splurge on them. I've only eaten a handful of them in my life but they're so good I see myself eating a lot more in the future... I think it'll be a staple like my Vanilla Bean Frappuccino LOL. This is bad. Why do I love fatty foods so much?!?!
"Heaven on earth is a choice you must make, not a place you must find." - Wayne W. Dyer