Half way around the world it's the holiday season. And seeing that no holiday is in sight until Labour Day in September (and even then it's not something really to celebrate), I thought why not celebrate Christmas twice this year :D
... Okay you got me. It's just another excuse for me to shop haha.
Two of my favourite stores, Zara and Chapter's have some major sales going on. I love end of the season sales because that's when you can find the best stuff- or stuff you've been eyeing- at more affordable prices.
Zara rarely has sales but when they do, they make it count. They have two major sales in a year- Fall/Winter and Spring/Summer. Their Spring/Summer sale is still going on right now but a lot of the good stuff are already gone. Over a few short months I became totally obsessed with Zara. Whenever I step into one of their stores it's like I literally say, "Just take my money."
I went from owning zero Zara clothing to like a billion- I know, Sheldon would definitely not approve of this exaggeration. From the sale, I picked out
a pair of white jean shorts
that I showed in a previous haul post and a few other pieces that I will share after I show what I bought at full price prior to the sale.
I got this top in the fuscia pink (shown above) and black colour because I couldn't decide between the two. At full price these were $49.50 each and well worth it in my opinion. I really love Zara tops like this because they're so easy to throw on yet makes you look put together.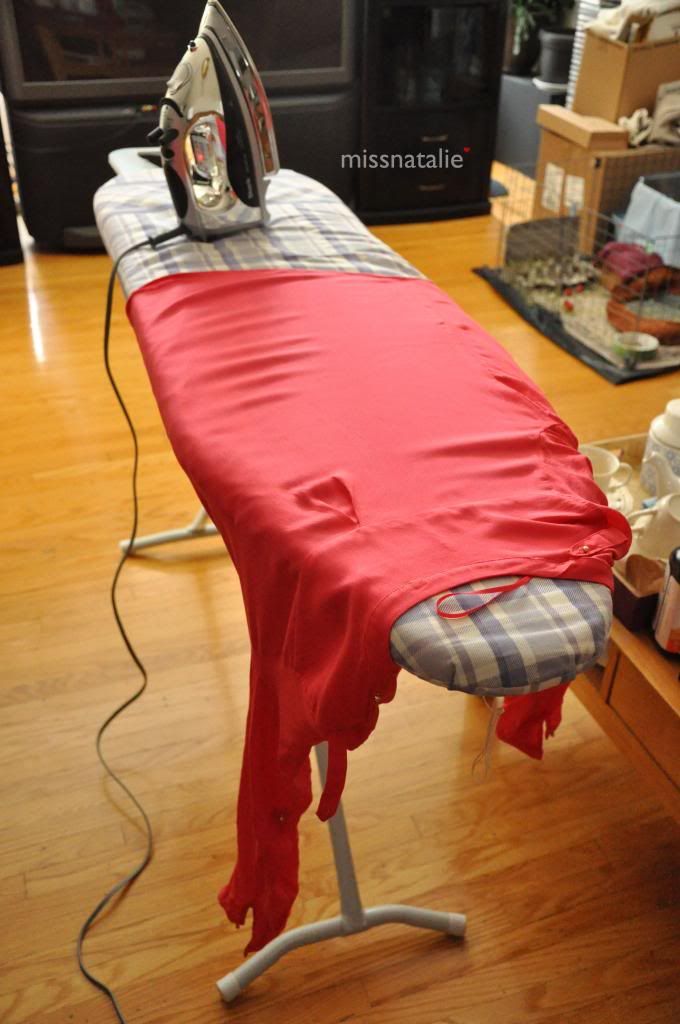 The only thing is ironing them- welcome to the adult world.
This top looked a bit gimmicky but then I couldn't stop thinking about Michelle Phan when I saw it. I like these kind of tops on her so I thought I would give it a try. I'm glad I did because it looks good on and it's such a unique piece. At full price this was $39.50.
Now onto the sale goodies!
The first thing I bought from the sale were a pair of Strappy High-Heel Sandals and this scarf (only $20!!) that I had been eyeing but then sold out online. Luckily I found this in-stores.
The story with the strappy heels was that I ended up returning them because I didn't realize how beat up they were until I got home. It had a couple dents and scratches that really bothered me. The return didn't matter to me though because prior to getting a refund I discovered that they were being sold online on their site.
I highly recommend buying Zara shoes online if you only see beat up ones in-stores. That way you get a pair of fresh new untouched shoes. The only thing is that you have to check to see if they are sold online and that you have a minimum total of $50 to get free shipping. But you always have the option of shipping to your local store which is free too. They're packaging for shipping is top-notch. They ship the box within a black bag, and for this particular order, the box contained another smaller box that contained the shoes. The shoes were also wrapped in plastic to prevent molding/condensation and had scrunched up tissue to keep the shoe's shape.
Can you look at this shoe and tell me how I could have resisted? Because I couldn't the moment I set my eyes on them, and it didn't help that they were marked down either. These were Mister approved which only justified me getting them even more.
These are the sexiest and highest heels I own to date. They are 100% goat leather which make them feel so soft and comfortable on. The back of the heels was what really got me. They were originally $89.90 but I got them for $69.99.
I love them
. I think I need to find a place to display them because they're that pretty haha.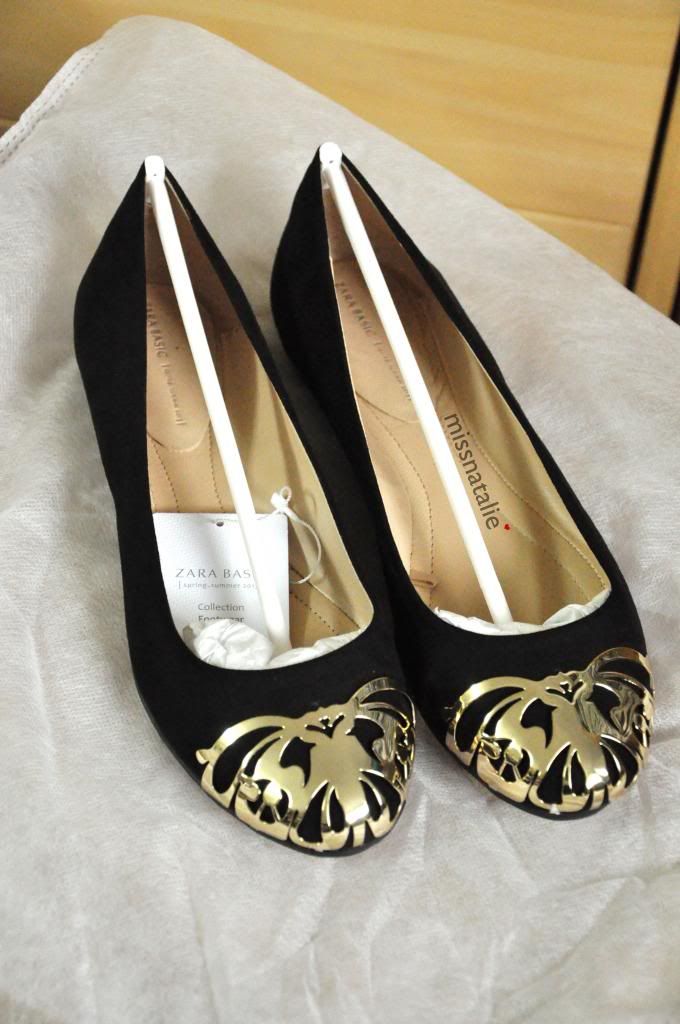 The next pair of shoes, Ballerina with Metal Toe Cap, was something I came across online but hadn't seen in-stores. It's always a gamble to buy things online without inspecting them first in person... but these just looked way too gorgeous online that I figured they must be stunning in-person too. I pretty much have my shoe size pat down through many trial and errors over the years so I wasn't too worried about that. These flats also came well packaged.
When they came I was in awe of how gorgeous they were. They're so pretty. I am in love with the design on the metal toe cap; it adds so much character to the shoe.
I am also pleased that they added some cushion to make the flats more comfortable. These were on sale for $39.99. Could it be possible that Zara might become a favourite shoe store alongside Aldo??
And my last purchase was this Zara trench coat. This was regularly $119 but I got it on sale for $89.99. I have been wanting a beige trench coat for the
longest time
. My dream trench is a Burberry one, but obviously that will have to wait. I am very happy with the purchase of this coat. Now I have something pretty to wear during the in-between seasons!
The Mister and I enjoying a couple free samples of Starbuck's Chocolate Cookie Crumble Frappucino given to us in Chapter's.
Then there was Chapter's. I basically ordered everything online from the sale just because it's easier to do from home than having to drive to a store and having to deal with how varied their stock is. I ordered 3 different times if that says anything. I did get a couple things to add to Christmas gifts though. I'm telling you guys, Christmas in July for December haha. This year I decided to accumulate things early so that I won't be bankrupt in December.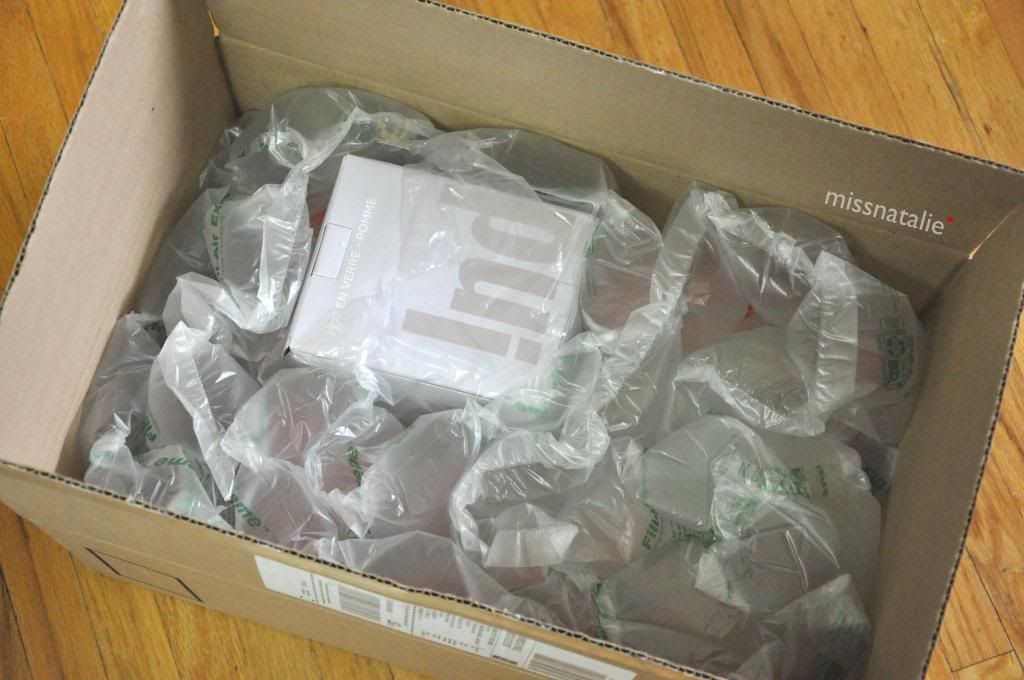 Chapter's also does a fine job in packaging their stuff to be shipped off.
The first thing I got was this Glass Apple Jar ($13.65) that I had been eyeing for a while. It's meant to store honey and that's exactly what I intend it for.
Hello Moss Stitch Throw! I've been eyeing this throw since last year (they brought it back). I actually have been eyeing this throw in the ivory since they first only had this available in ivory and navy. When it finally went on sale, I was about to get the ivory... until I came across this pink colour in-stores. Can you tell how much I'm into colour now? What a revelation. This was marked down to $29.75 from $59.50. But guess what? After a couple weeks these throws were marked down even more so I ended up getting the ivory coloured one too for only $14.88!! The pink was sold out by then so I made a good choice in getting it first even though I paid more.
Don't act like you're surprised. You knew the candle thing was coming. I wouldn't be Nat if I didn't get a candle. At least I managed to limit myself to one candle, Scalloped Edge Glass Candle "Creme de Peche" ($14). Expensive but I couldn't resist the packaging of the box (it's embossed) and the candle glass is also too beautiful as well, plus the candle itself smells so good.
And something somewhat unrelated but related are these Boutique products- hand wash and shower gel that I bought from Winners. A long time ago I tweeted a picture of wanting to get a Boutique product but convinced myself not to. After that I couldn't stop thinking about it but it had sold out by the time I went back. Ever since then I would always browse the bath section just to see if they had any Boutique products again. Finally after a long time, I came across some. These smell amazing by the way and would be lovely in a guest bathroom.
"Never make a decision in anger, never make a promise in happiness." - Imam Ali (AS)