I am on a roll with blogging! It must be because of the gloomy weather which has kept me inside with nothing better to do. I've been collecting quite a few things from my shopping trips and I realize that I haven't been talking about them after my initial show-and-tell. I will keep this in mind and hopefully soon you'll see things I've shown you from previous hauls.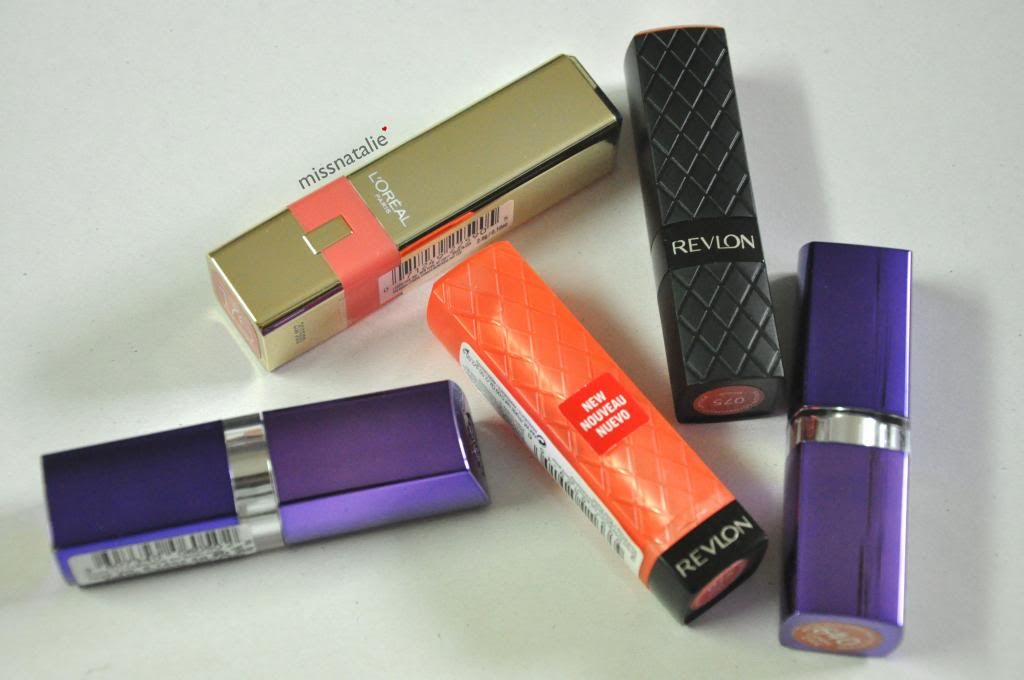 Today I will be showing you a few of my drugstore lipstick picks for summer. You might remember all of these lipsticks since I have featured them in different posts in the past. To be honest I don't have many drugstore lipsticks so there wasn't much to pick from... but I do love these lipsticks so they still do remain as my top 5.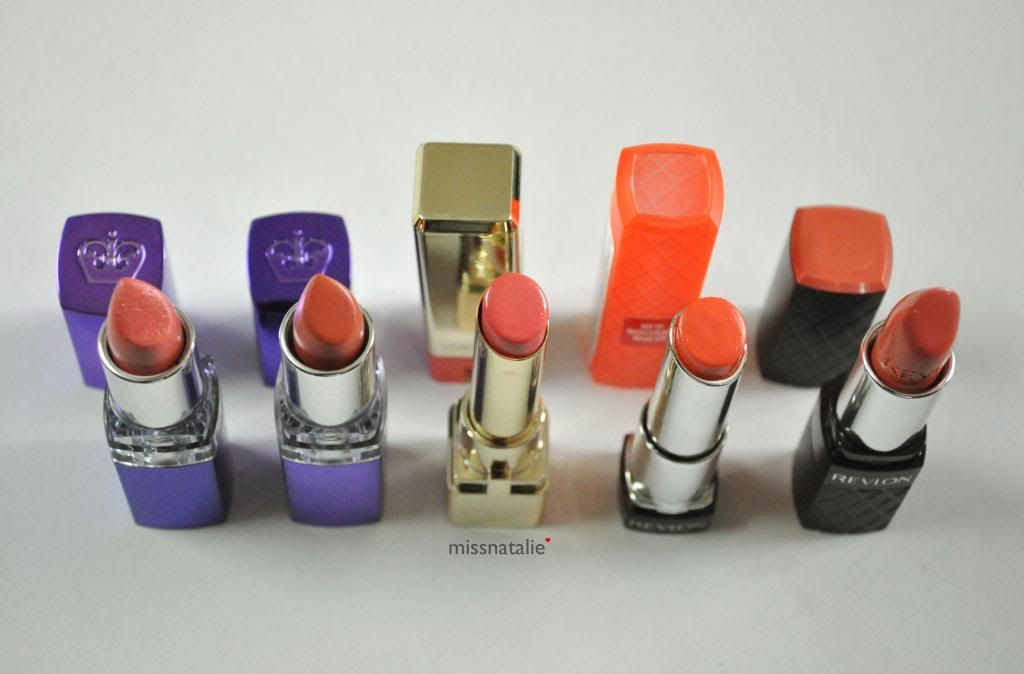 I have made
great
strides when it comes to colour. In my wardrobe I'm open to more colourful tops and bottoms, and in the makeup world I absolutely love wearing bright coral lip colours for the summer season (which is why 4 out of 5 of these lipsticks are coral).
From left to right:
Rimmel "Soft Coral"
- This is a lipstick with lots of fine silver glitter that gives a nice shimmery finish with a nice colour overlay that isn't loud and overpowering. It's soft colour is superb as an everyday kind of lipstick. It would be suitable for those who want a little bit of colour, shimmery shine, and a great start for those who want to transition into wearing coloured lipsticks. This is, however, not great for those with drier or chapped lips as it will only accentuate it more.
Rimmel "Coral Chic"
- This lipstick is creamy, has a satin finish, and feels hydrating yet isn't slick so it stays on the lip. I would say it's what a perfect lipstick formula should feel like. As the lipstick in the tube suggests, it's gives a great punch of coral colour to the lips and is opaque enough to completely cover my pigmented lips. It's pairs well with a colourful top or to add some colour if you're wearing neutrals.
L'Oreal "Sunset Angora"
- This is the only pink lipstick I have in my top 5 drugstore picks. It feels more like a balm so it feels really hydrating on the lips. It gives off a nice sheer pink colour perfect for a day out on the beach or a fun-filled day out in the sun.
Revlon "Tutti Frutti"
- "Tutti Frutti" is definitely not for shy folks. It's quite similar to Rimmel's "Coral Chic" (mentioned above) as they look almost identical on my lips except that "Tutti Frutti" is more like a balm, more sheer, and has a glossier finish than "Coral Chic".
Revlon "Peach"
- This lipstick gives off a really pretty peachy-coral colour on the lips. It feels moisturizing and has super micro shimmers that gives off a pretty subtle shimmery shine. This would be suitable to wear in the daytime everyday.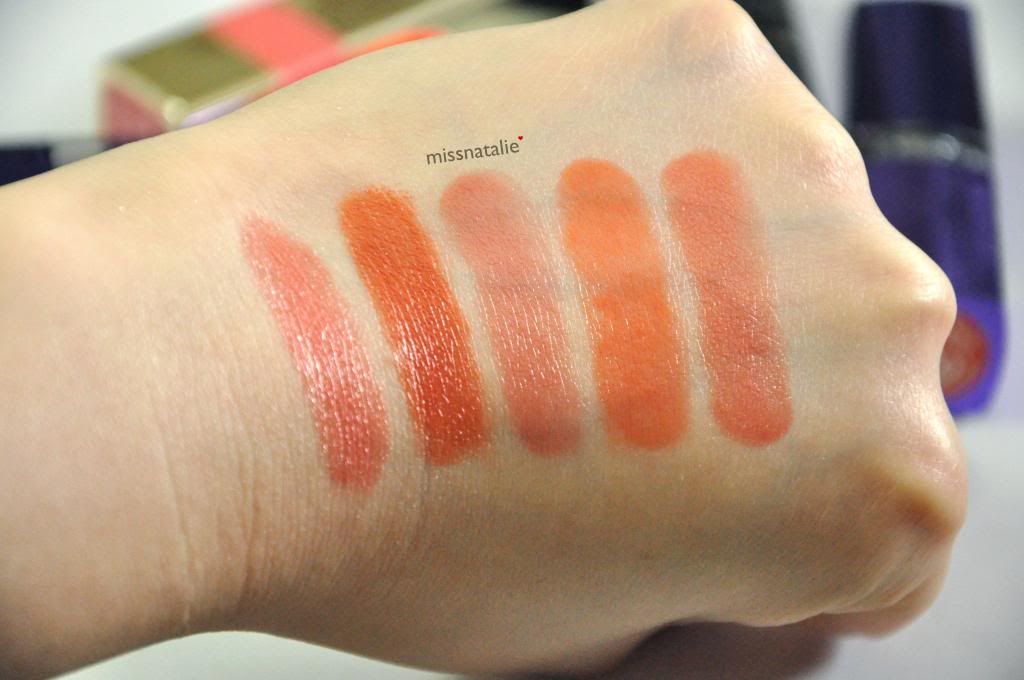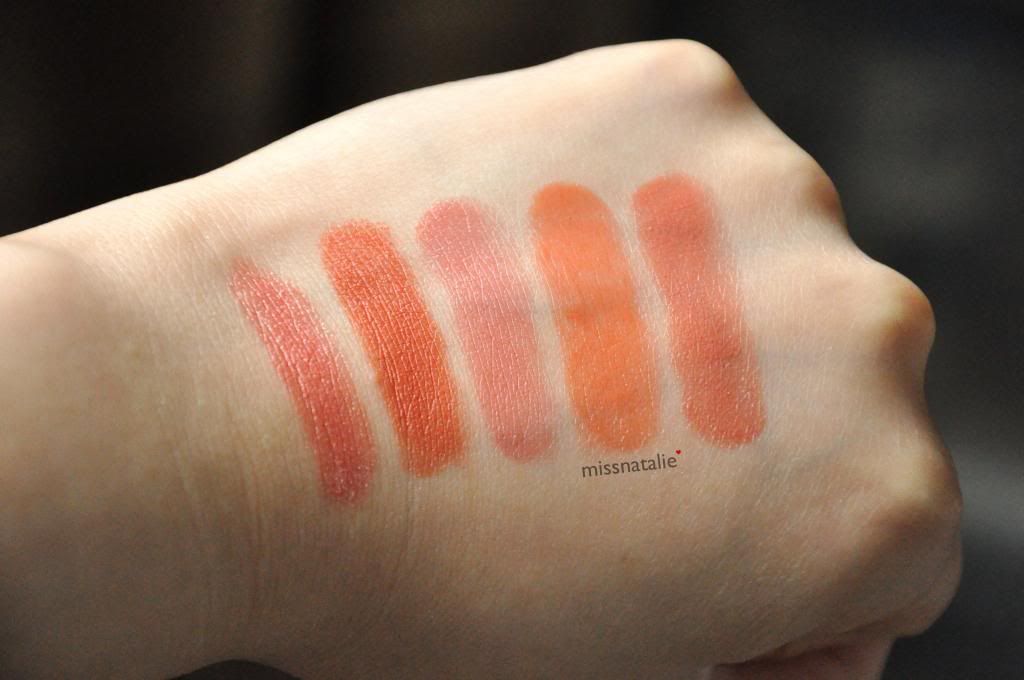 I know I will really enjoy and get some use out of these lipsticks this summer since I've ventured into coloured lipsticks. I hope you enjoyed this post as much as I did creating it.
Stay tuned for when I do my top 5 Summer High-End lipsticks picks! That one will be much harder since I have a lot more to choose from.
"Never give up on something you really want. It's difficult to wait, but more difficult to regret." -LionHeartEagle.blogspot.com