After taking some time to reflect on why I was feeling so down, I have come to the conclusion that what I was experiencing was something similar to a pre-midlife crisis. I say "similar" because it was very short-lived. I'm sure at some point in the future I will have the pleasure of experiencing the full effect of how a pre-midlife crisis feels like, but for now it has been averted.
Last Friday the Mister and I ate at an Indian restaurant called
Amaya
. They have formal restaurants but we ate at one of their food court locations, this one was in Yorkdale mall.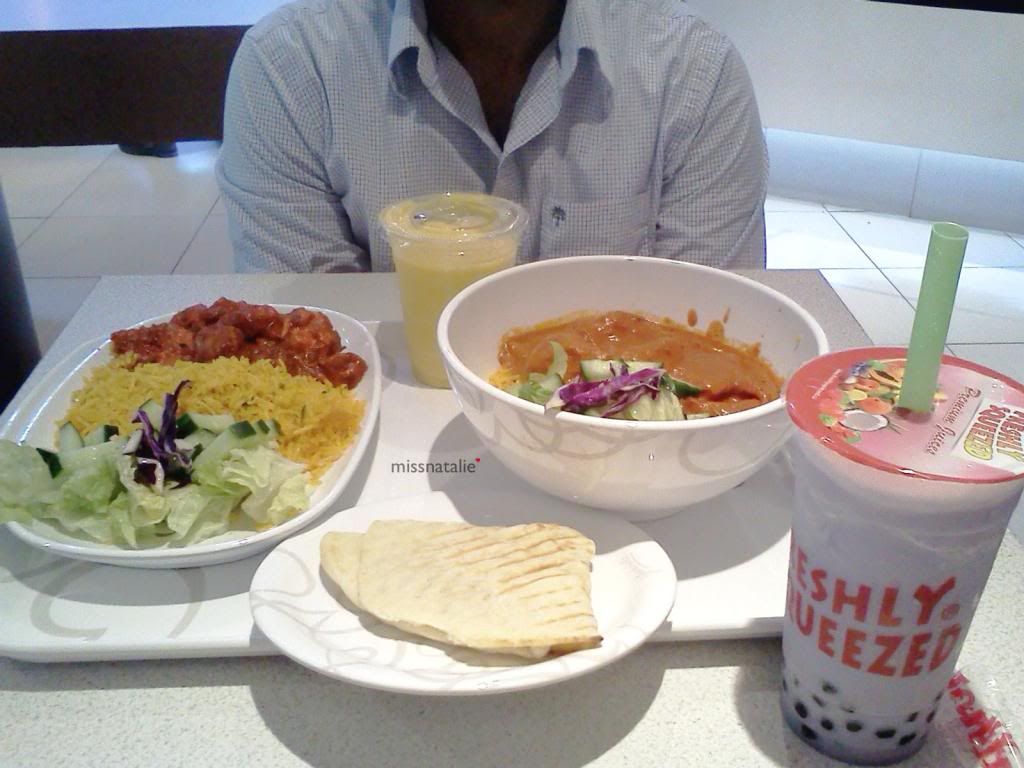 I've never tried Indian food before so I was stepping outside of my comfort zone (at least my bubble tea was there to help keep me comfortable haha). It was quite interesting, a lot more spice than I'm used to, definitely something I would need to build up a taste for (just like I had to do for sushi). I don't know anything about Indian food so the Mister ordered for me. He got the Butter Chicken and Chicken Masala for both of us to eat.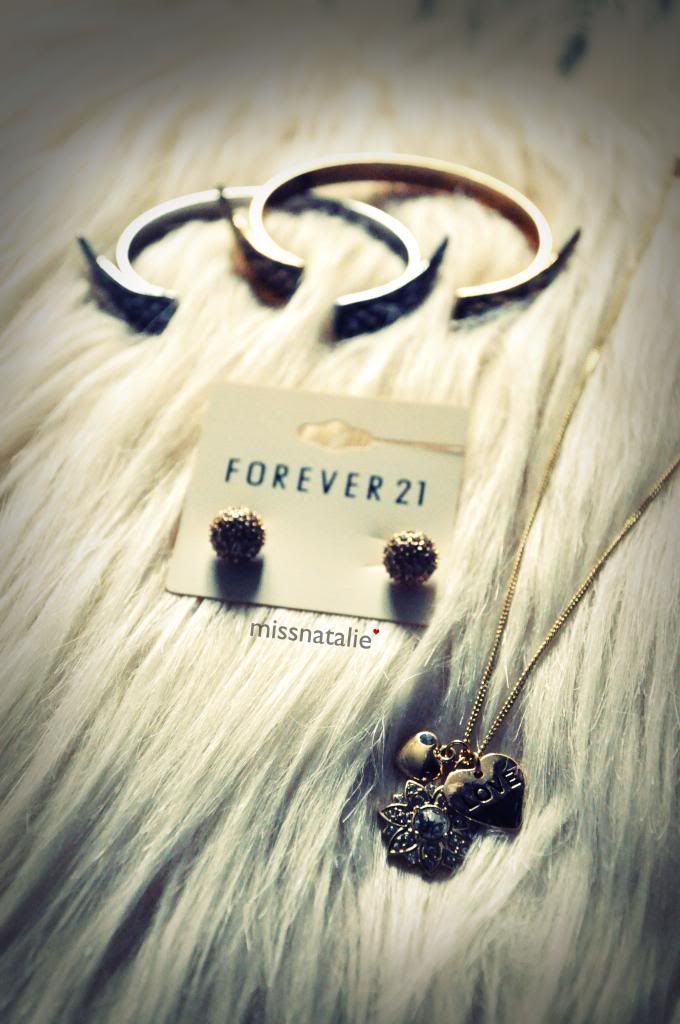 Here are a few jewelry pieces I picked up at Forever21. I wanted a dainty gold necklace that would be perfect to pair with a lot of my outfits. I came upon this love heart necklace that I figured would work if I removed the bejeweled snowflake that made it look cheap. I liked it until it started to tarnish on me after a few wears... I hate when jewelry do that, but I'm not sure what I was expecting from cheap jewelry lol. The earrings are a peach colour and style of earring that I've been wanting after looking at a similar pair at Rainbow Jade.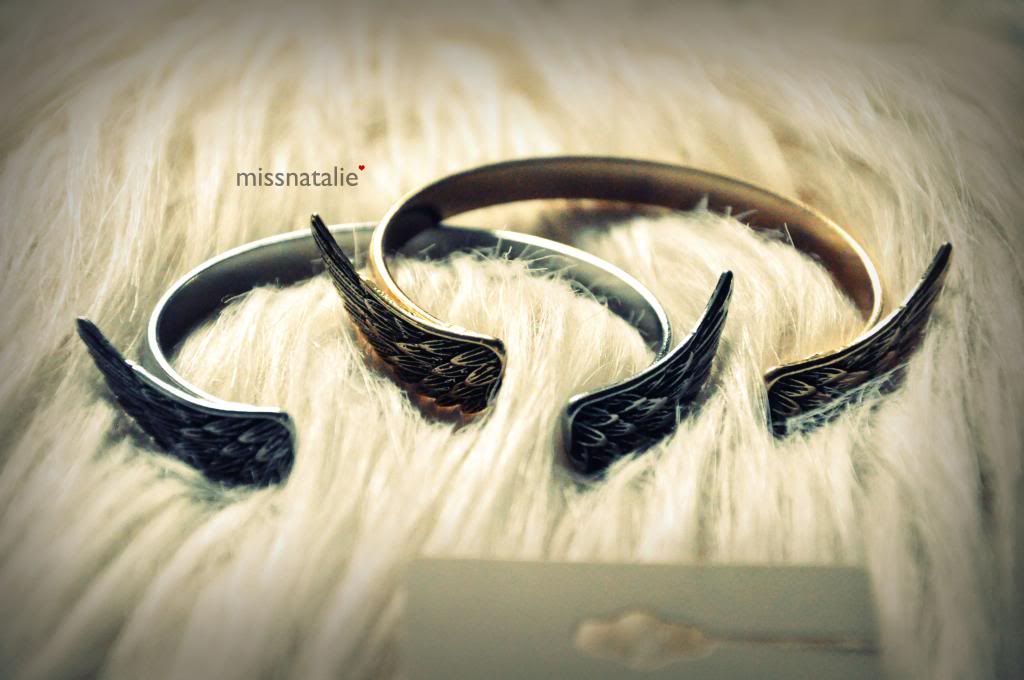 The wing cuffs are amazing. As soon as I came upon them, I knew I had to get at least one. Of course, knowing me, I couldn't decide between gold and silver so I got both. They're really nice to wear alone or to stack with other bracelets. They were $5.80 each which isn't bad considering they're pretty good quality for what you pay for.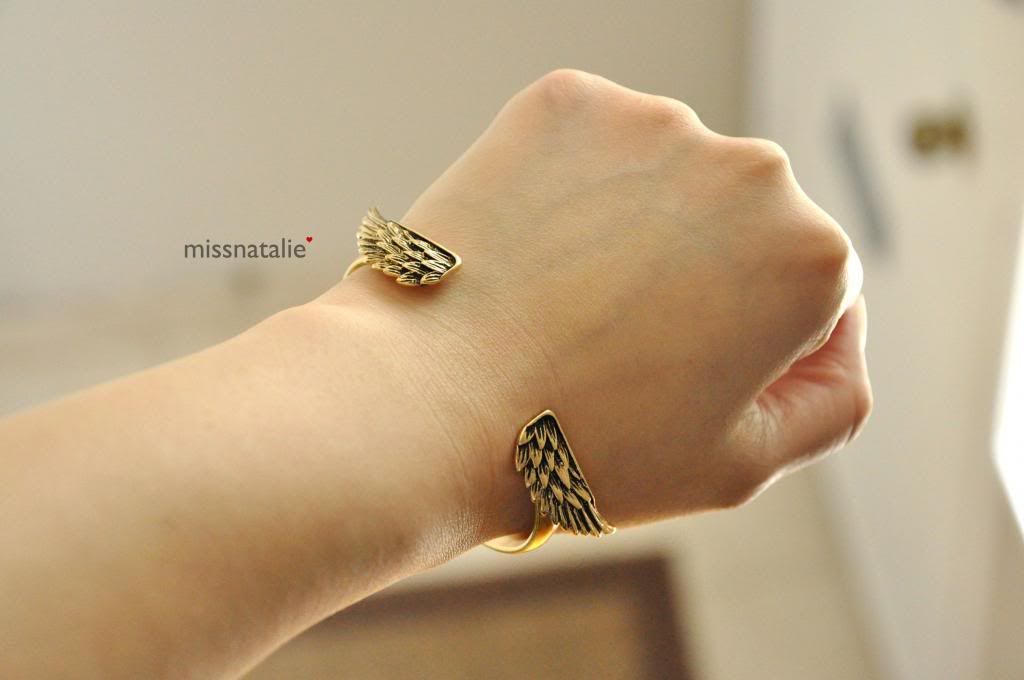 This is how it looks on.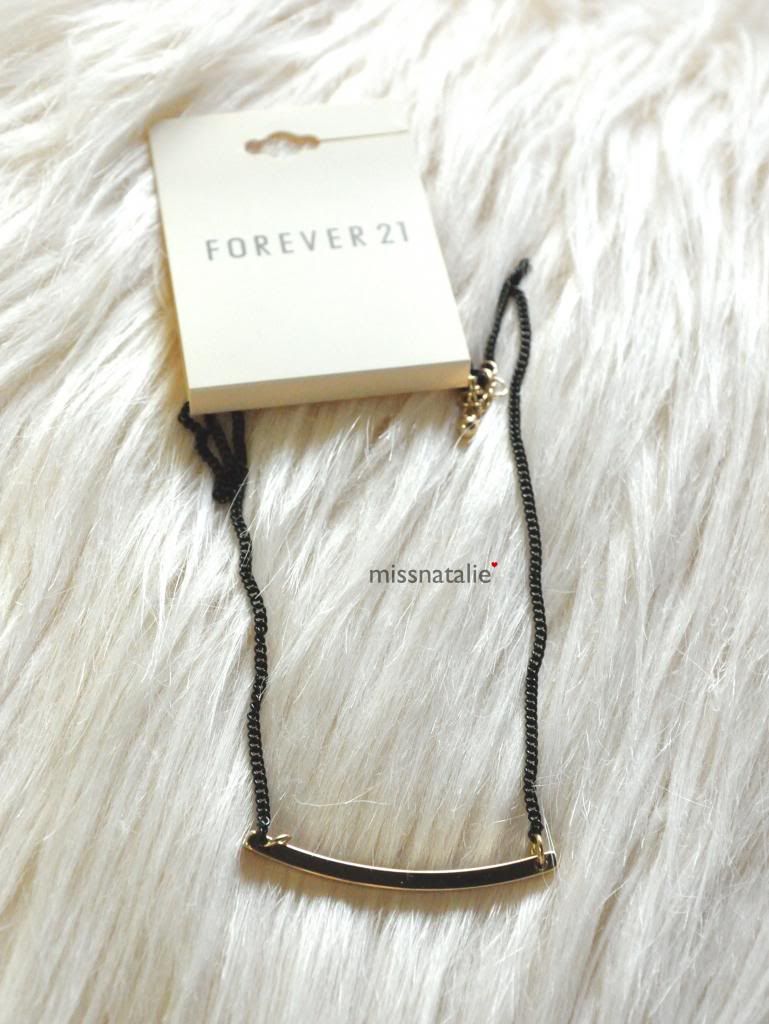 I also found this awesome bar necklace in Forever21 which has that similar style of that overpriced Gorjana necklace I bought. I believe this was under or around $5. This will be cute to wear with all those blouse tops I have.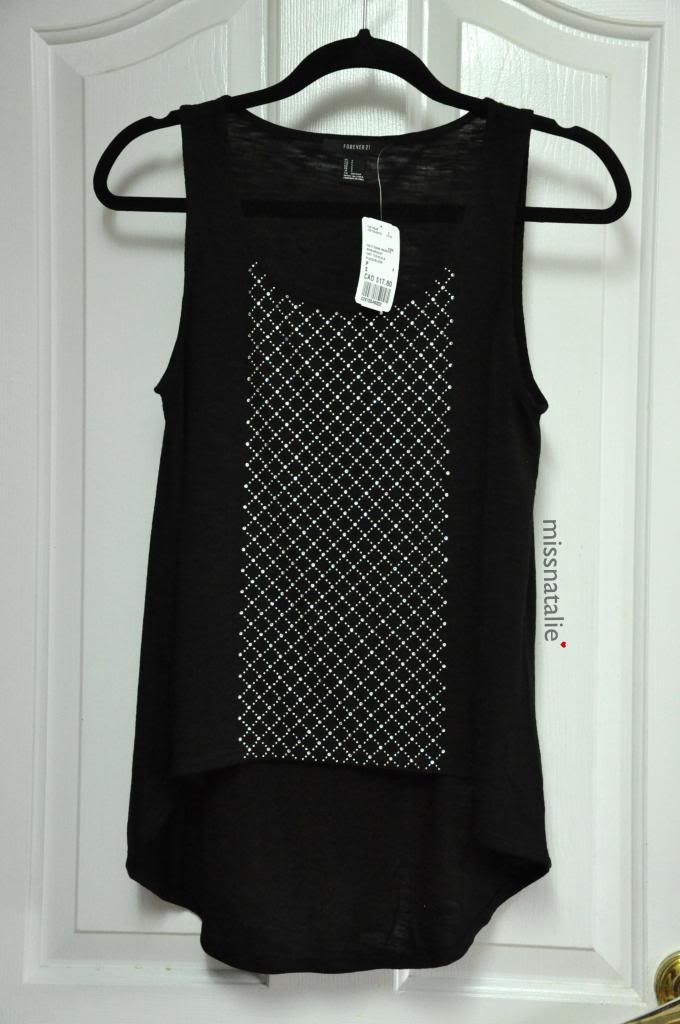 I also picked up this cute little top from Forever21. I'm sure the rhinestones will probably fall off with wear... but I couldn't resist how cute it looked and you know the high-low cut always gets me!
One of my most exciting purchases was this dress. This is my first
casual
dress. I have no qualms about getting this because dresses are something my closet totally lacks. The Mister has been urging me to step out of my comfort zone and accept and be comfortable with my body to be confident enough to wear things like dresses and shorts.
I think the high-low cut is the most obvious thing I love about this dress. I have been trying to track down high-low cut dresses that I like and look good on me. The dress has floral stitching on the the collar which I'm not too big of a fan of but it does add a nice touch of detail.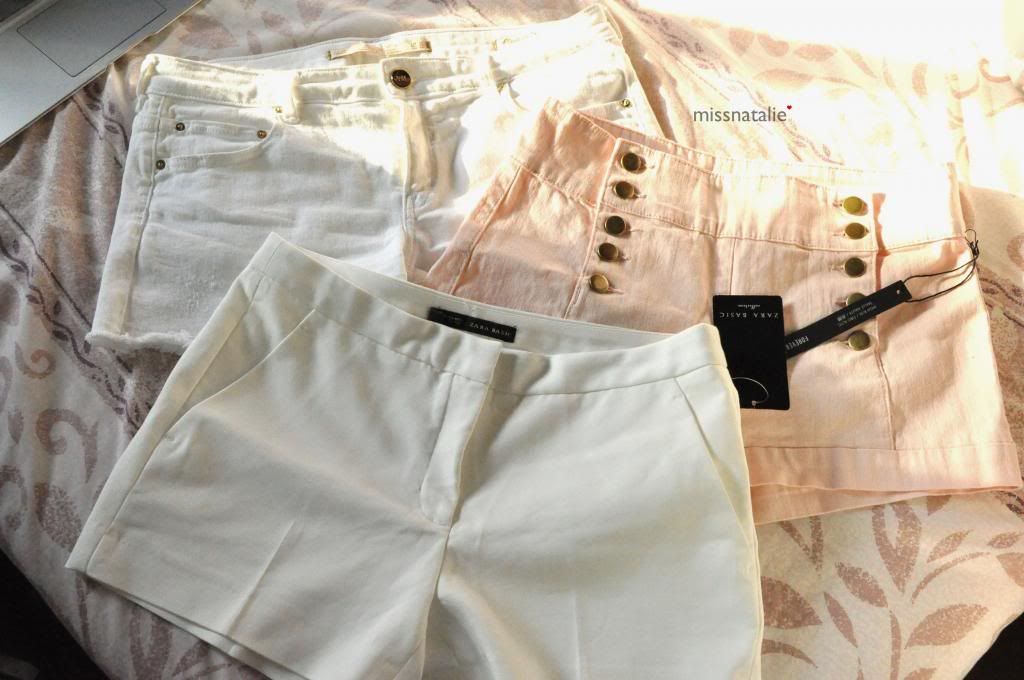 And like I said, thanks to the Mister, I'm more comfortable with my legs enough to wear shorts... so I bought 3 haha. The two white pair of shorts are from Zara (the white jean shorts I got from their Spring/Summer sale they have on right now) and the pink pair are from Forever21. I've been desperately trying to find high-waisted nautical button style shorts but to no avail... these are the only ones I like that I've come across.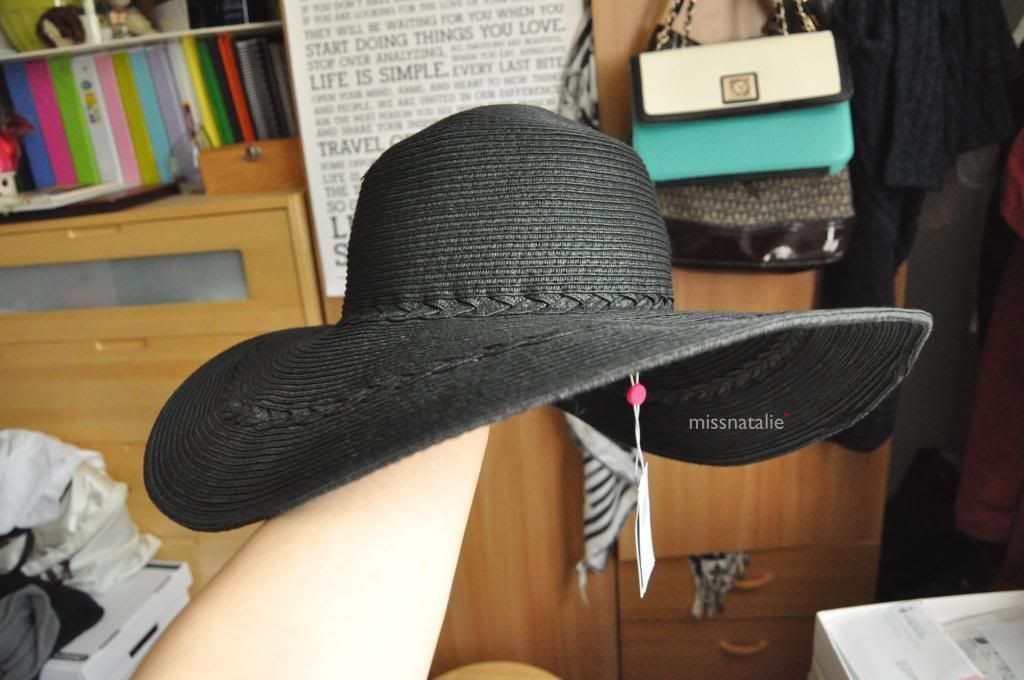 And if the dress and shorts weren't enough to convince you that I'm stepping out of my comfort zone... how about this fabulous floppy sunhat? My sister was looking for a sunhat for her trip to L.A. When we came across a couple in The Bay she pretty much convinced me that I needed to get this black one. I've been wanting a floppy sunhat for years... but I've never had the courage to wear one since I feel like all eyes will be on me. The price tag on this was $45 and I went up to the cash register already committed to pay that price. Little did I know, this was marked down
twice!
So the hat ended up being only $22! What a steal!
After watching a haul video where they mentioned how much they liked the BCBG Bon Chic perfume, I couldn't help but be intrigued. So, on one of our outings, the Mister and I headed into BCBG Maxazria to smell the perfume. I ended up really liking the scent, it's a light sweet feminine kind of smell. The Mister ended up getting this for me after I kept debating back and forth about getting it haha. Thanks babe!
Isn't the bottle sublime? It's so beautiful and elegant that I couldn't resist adding it to my perfume collection. Plus it doesn't hurt that it looks lovely on the vanity.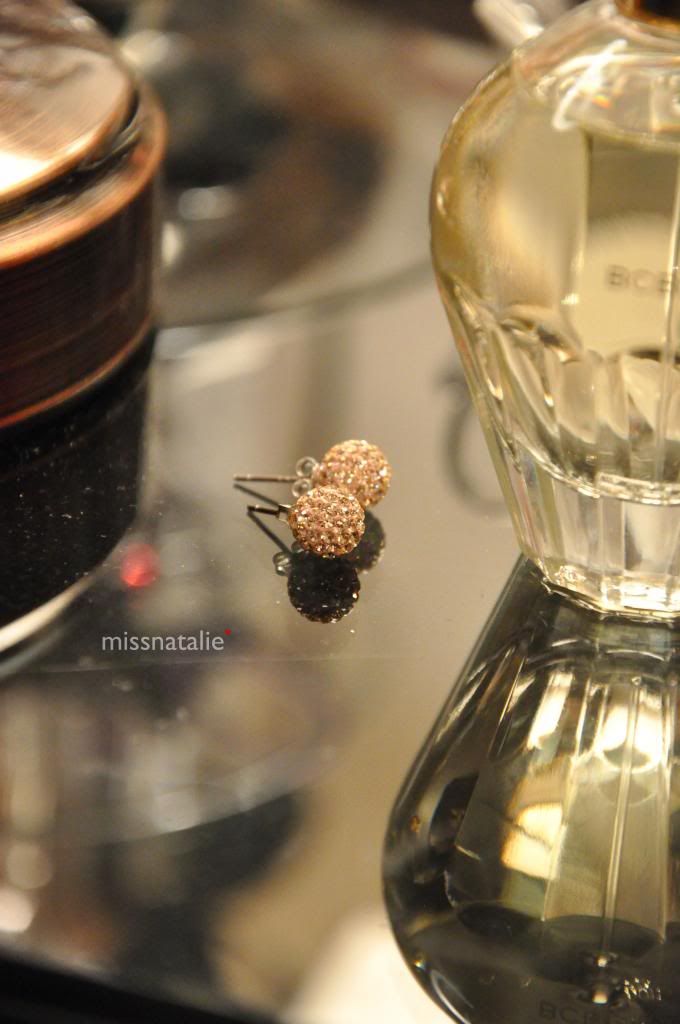 I didn't think the round earrings from Forever21 compared to the ones I saw at Rainbow Jade so eventually I gave in and got myself a pair. They're made with swarovski crystals and they really stand out when I wear them.
"The only thing standing between you and your goal is the bullsh*t story you keep telling yourself as to why you can't achieve it." -Jordan Belfort