You know what makes me happy? Exploring my surroundings. Eating good food. Laughing with my family. Spending time with the Mister. Gardening. Blogging. Shopping. My future home- even if I can only dream about it. Blasting the radio while driving to work. Skincare and makeup. Watching LisalisaD1's Friday hauls and itsJudysLife's vlogs.
I am finding myself in a bit of a rut, which is why I'm trying to remind myself of the things that makes me happy. From time to time I get this way but eventually I get out of this state- the only question is when...
One of my sisters just got back from L.A. this weekend while my other sister is still abroad. I suppose this is a good time to share with you the bag I asked my sister to get for me while she was in New York prior to her L.A. trip.
I was in the market for a new bag, specifically one from Michael Kors and navy in colour because a) I wanted more variety; and b) I don't own any Michael Kors bags or blue bags. I first eyed the
Large Devon Satchel
, which was a big contender and a bag I thought about getting, but I wasn't too fond of how light the navy colour was. Then my eyes caught onto the popular
Jet Set Saffiano Tote
which ended quickly since I didn't like how open it was. Then there was the
Small Sloan Studded Shoulder Bag
, which I thought about for a bit until I realized the studs were a bit too loud. But then while I was browsing in-stores, I spotted the Selma bag. Of course I gave myself time to think it through- as with all my bags. A couple weeks after my sister asked me if I wanted her to get me something since she was going to New York. It was then I decided to finally commit to a bag-
the
bag.
She boarded the plane with this gigantic Michael Kors bag LOL. I'm very grateful for her for getting it for me- even though in the end I didn't save that much since the Cdn dollar isn't strong.
It came all wrapped and protected with tissue paper and dust bag. When I saw this bag in-stores, it didn't stand out among all the other bags with all their shiny hardware. But there was something about its simplicity that drew me in enough to pick it up. The moment I looked in the mirror to see how it looked on was the moment it kicked the Large Devon Satchel off first place on the podium.
It's a completely structured bag, very stiff and will keep it's shape. The sides stick out a bit which creates a unique and interesting silhouette and makes the bag less boxy. Because the sides stick out, it does end up having a small open space on both sides of the bag, but it's not big enough for anyone to easily stick their hands in. It has a longer strap that gives the option of carrying the bag on the shoulder, but because the strap is thin, it's not really comfortable to wear the bag on the shoulder for a long time- especially since I carry a lot of things around.
Front and back. What I love about this bag is how simple yet sophisticated/high-class it looks. It's made of
Saffiano leather
which I've never come across before but find myself seriously loving. The Saffiano leather also makes it a lot more durable than ordinary leather. It looks like a $700+ bag instead of a $400 bag. I also really like how it isn't one of the popular MK bags you see everyone carrying around (ie. the Jet Set Saffiano Totes, the Hamilton Saffiano Totes, or Logo Totes- aka MK totes because they're very popular).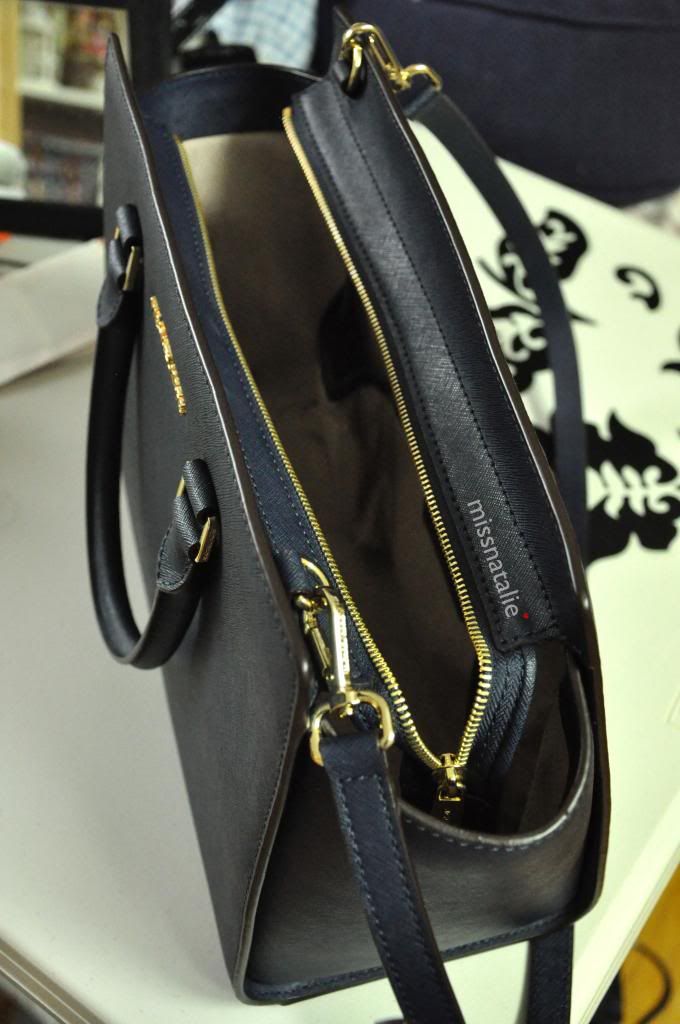 I am so glad I picked this satchel versus a tote. I'm not even exaggerating when I say that everywhere I go I see girls admiring my bag. Even my sister's friends, whom were with her when she bought it for me, commented on how luxurious the bag looked. When I walk into a store, I see sales associates taking a glimpse at my bag out of the corner of my eye. Sometimes I don't even realize it which leaves me wondering if I have something funny stuck to my pants or wherever my bag is located at the time. No other bag that I own (so far) has garnered this much attention before.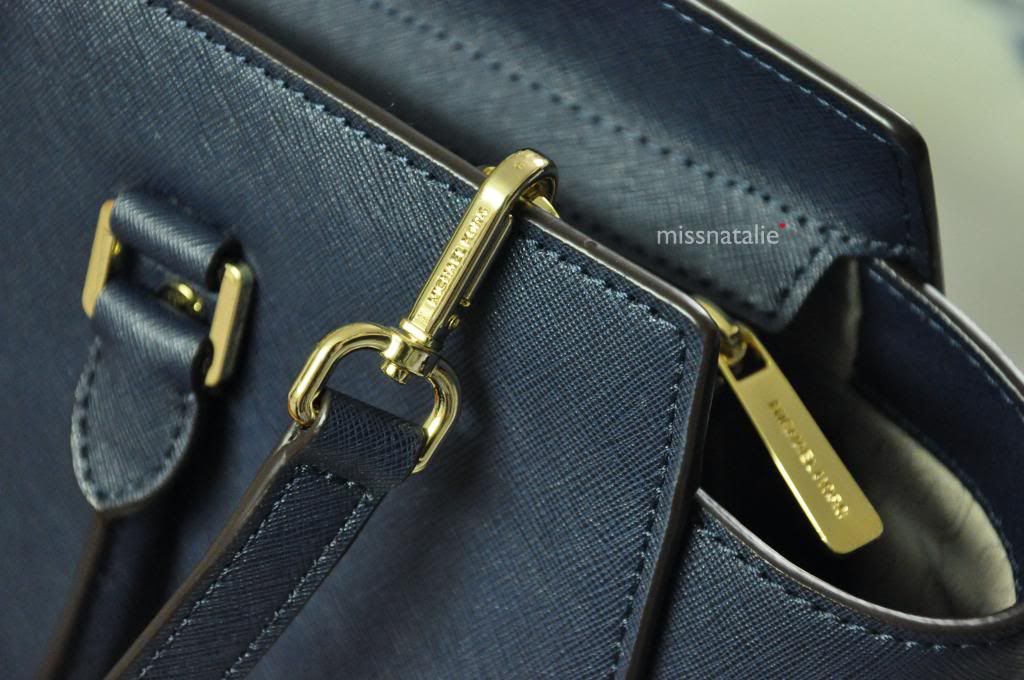 I
love love love
the colour. It's the perfect deep navy blue colour. The Saffiano leather also gives it the feel and look of a more expensive luxury bag. The bag itself is very simple looking which allows the gold hardware to stand out more. You can see it in the photo above, after wearing it by the shoulder strap for some time I realized the strap would sometimes fall off, it was then I realized that I had to turn the hook around (so that the Michael Kors logo faces outwards) so that the part of the hinge that opens doesn't hit the side of the bag. It's hard to explain but I hope you get what I mean.
I really like how inside there are smaller compartments, a zipper compartment, and even a key holder to keep your things organized.
I've been using this bag for the past few weeks and I absolutely have no regrets of getting it. I love it! Totally my style!
"Don't worry about what people think, they don't do it very often." -Unknown