As I was cleaning up my web bookmarks, I came across a bunch of blogs that have been abandoned. Most of the blogs now belong to some random guy who made it a hobby to scavenge and revive blogs that were popular back in the day. Funny enough, both of my previous blog links have been seized by people with the varied spelled name of "Mohammed" (just an observation). When I look at the long list of forgotten (mostly beauty) blogs, I can't help but feel a sense of sadness, but yet, I completely understand why. Who has the time anymore? We've moved onto another chapter of our lives that requires more responsibilities, time, and energy. I don't personally plan to quit any time soon, though I have drastically reduced the amount of time and frequency of blogging.
I do wish I had more time to blog about things as they happen. This way it keeps the topic relevant and makes sense timeline-wise.
I guess that's my cue to catch up!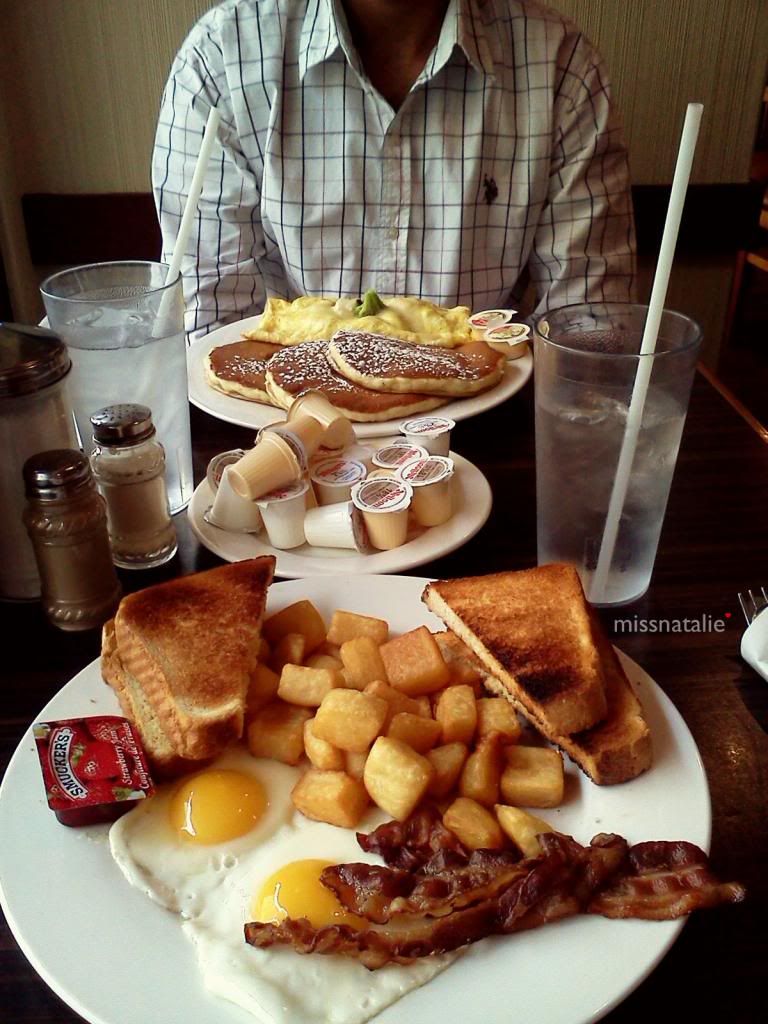 Friday May 17th
. I got bought a deal off of Wagjag to get $20 worth of food for $10 at The
Golden Griddle
. We went to the one on Carlton Street and as it turns out, we didn't like it very much. I personally did not like the server that served us, she was unenthusiastic and a bit rude to be honest. The food also wasn't anything spectacular although I did like my potatoes. I got sunnyside up eggs with a side of bacon which was overcooked, and I only got 3 strips instead of the 4 they're suppose to give me. The Mister did not like his omelette either, I tried a piece and it tasted bland. Overall, it was a bad experience and we thought the food was overpriced for what it was.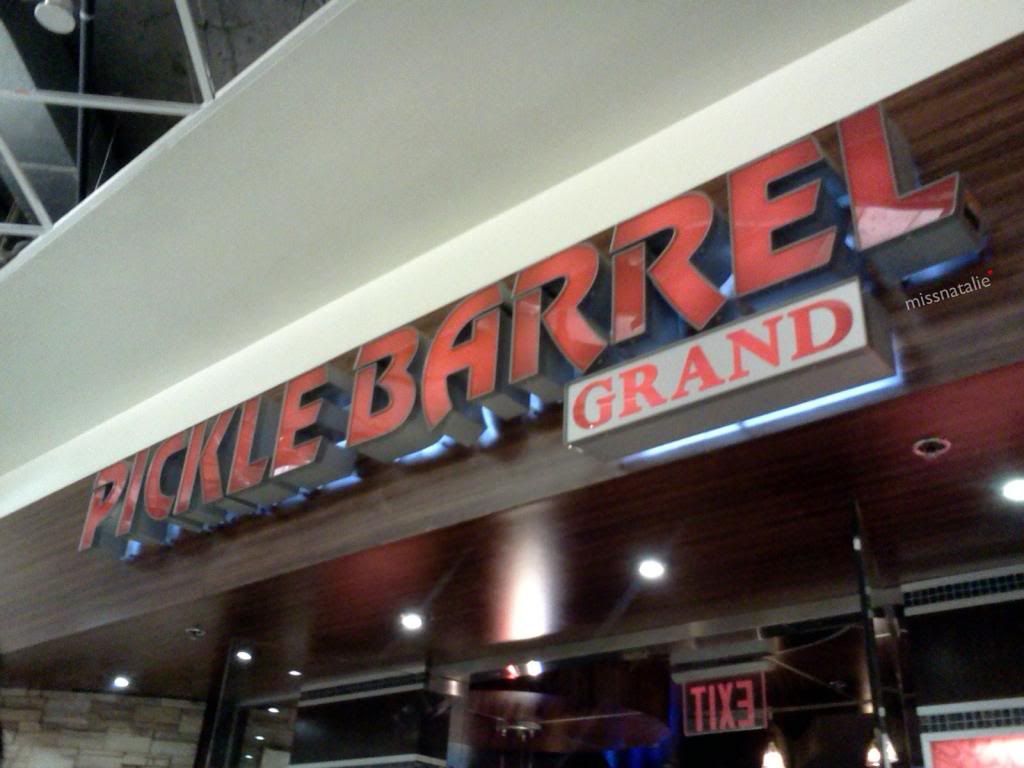 The Mister and I have been visiting
Pickle Barrel
quite a few times over the past little while.
Friday May 31st
. We both got the 8oz Top Striploin. It was tender and pretty good. The Mister also got a martini and I got a Killer Shake in vanilla because I love my sweets too much. I was a bit shocked when it came in a huge cup though.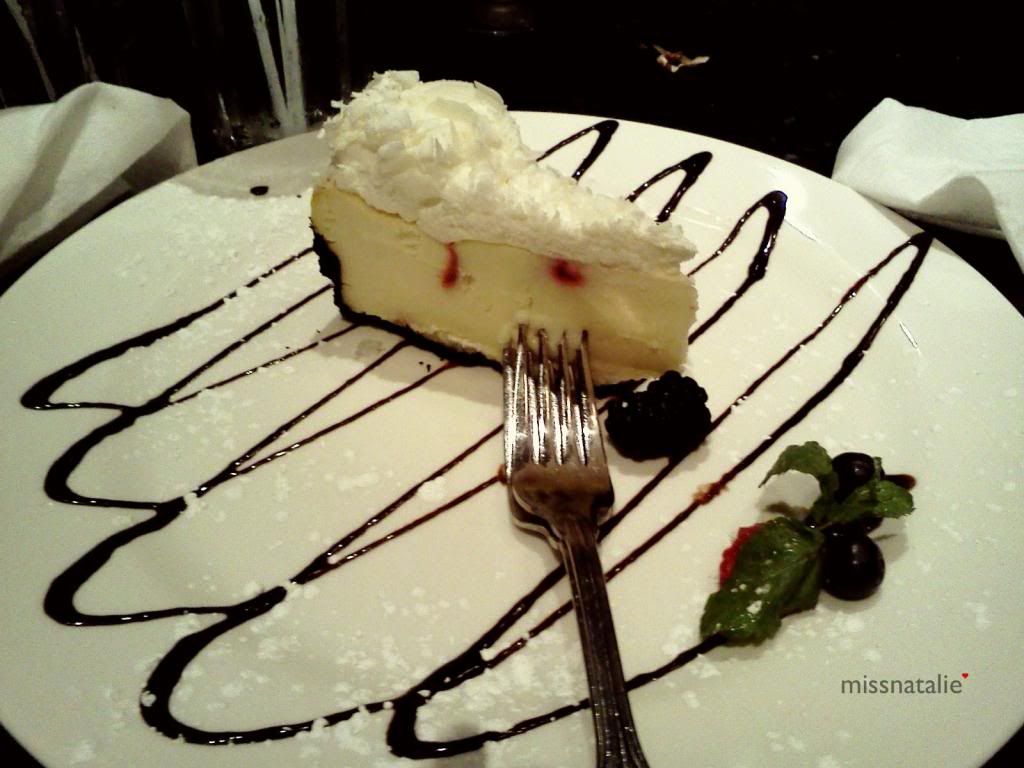 For dessert we got the Strawberry Cheesecake. It was really good. Aside from that, does anyone else find it weird when they use huge plates for small food items?
Friday June 7th
. We hit up Pickle Barrel again as it's one of my favourite restaurants to eat at. I ordered the Crispy Fried Calamari and the Lobster Grilled Cheese. The Mister ordered the Red Thai Curry Chicken. This time the food was pretty disappointing for me. The calamari was a little too oily and the Lobster Grilled Cheese on the multigrain bread was not appetizing at all. I didn't even end up finishing any of the food. Thumbs down this time.
Friday June 14th
. Yay onto something more relevant to the present. This time we went to Moxie's. I got the sparkling water and it tasted gross. I'll never get sparkling water again. It's tricks my brain into thinking that some sweetness will come soon after but it doesn't. Never again.
I ordered some Calamari for the both of us since I was so disappointed in the calamari I had at Pickle Barrel. Let me tell you, the calamari at Moxie's
is so damn good
. So good that I ordered a second round after I ate my main course, the Asian Chopped Salad. It wasn't oily, it was light, rich, and pure deliciousness. I also loved how it came with two dipping sauces (tzatziki and sweet chili sauce) so you don't get bored with one. Both sauces were really good, my favourite was the chili one. The Mister ordered the Red Thai Chicken Curry since he's watching what he eats because he's working out. He told me the Red Thai Chicken Curry at Moxie's is better than the one at Pickle Barrel. And lastly the server we had was spectacular. I even complimented her on how good she is. She recommended we try their new Tiramisu next time since we didn't order any dessert (I was too full). Apparently it's really good and I don't doubt that.
And that's all that I have for now. Hopefully I'll catch you again very soon! xx
"A relationship with no trust is like a car with no gasoline. You can stay in it all you want but it won't go anywhere." -Jasmine G