I made a trip to Winners a couple of weeks ago and came across a couple great finds.
While I was browsing around in the home section this chest of drawers caught my eye. The composition itself reminded me of those acrylic makeup organizers (the
Clear Cube
and
Muji Drawers
) but way more affordable than the Clear Cube at only $49.99 and easier for me to get than the Muji drawers. Also, I always think about my future home and how something I buy would fit into that, I think this chest of drawers would fit nicely with what I have in mind. I played on the idea of storing my makeup in here but I already love my makeup organization via the pull-out drawer. It was then that I thought it would be great to store my jewelry. I like it because it can store a lot as opposed to those traditional jewelry boxes. I keep most of my jewelry here but the majority of my earrings are still stored in my jewelry box on my vanity.
I saw this in the Juniors department and fell in love with the skull design. The skull itself is made of a velour-like fabric. I find myself fascinated by anything skulls right now.
This Sanctuary Clothing long sleeve shirt was a great find. I like the collar detailing and the quality of the fabric itself. It's nice and light yet feels durable and isn't prone to wrinkles as much other shirts I have.
Speaking of other shirts...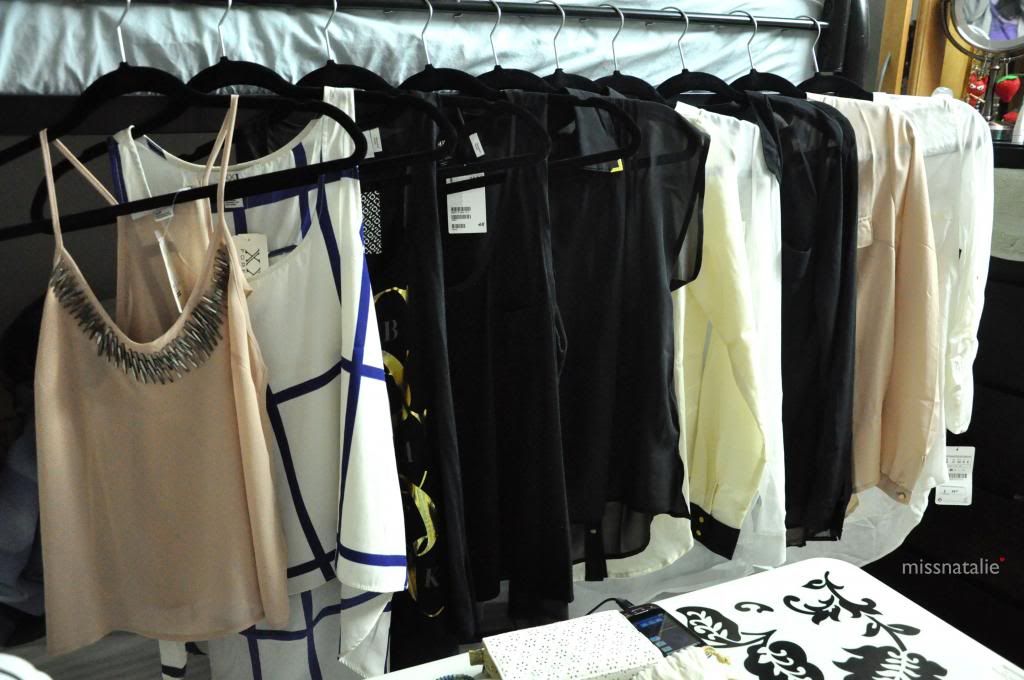 I'm quite appalled at how tops I own that I haven't had the chance to wear yet- with tags still attached! I never thought I'd be one of those people who had things in their closets that have never seen the light of day =S
Lastly are the Juicy Couture shades I've been eyeing for a couple of weeks. I'm glad I didn't get it the day I saw it because they got marked down from $49.99 to $40! The tags says it retails for $120. Very sweet find if you ask me.
I also really like the cute little heart cut-out at the end of one of the sides. I also adore the pink hard case and cleaning cloth that it comes with.
Here are my two designer sunglasses side by side.
And here are all the sunglasses I've ever owned (minus my very first one since I gave that to my cousin long ago). From top to bottom (newest to oldest): Juicy Couture, Coach, Kensie, Oscar de la Renta, Unknown.The pair at the bottom are retired so I don't wear it anymore. You can probably tell what general shape I lean towards since it suits me most. None of these sunglasses are over $50- woot woot.
"The only person you are destined to become is the person you decide to be." -Ralph Waldo Emerson