Don't you hate it when your clothes go missing? I mean it's bad enough if my clothes vanishes into thin air, but it's also annoying when it gets mixed up in one of my sister's closets. I either, a) have to go digging for it or, b) end up forgetting it to only get it back months after. I know some of you might find it strange or even pathetic that I don't do my own laundry, but it's only because I have no space to store a laundry hamper in the room I share with my sister. But now I'm seriously considering getting one anyway even if it does make my place even more crammed. It'd be worth it though because I could be reassured of knowing where all my clothes are and I wouldn't have to worry about my clothes being destroyed (because my mom doesn't separate whites, colour, and dark garments). And the best part, which might be TMI, is that I would be able to buy any undergarment from those sales they have without having to create confusion on which one belongs to who. Usually I buy multiple of the same kind just so no one gets confused, but if I had my own hamper, it wouldn't be a problem.
Today was a stay-in-at-home kind of day. Most places aren't even open and it's not warm enough to feel reassured that the temperature won't suddenly drop later on. On Thursday I got a taste of outside though. I started to prepare my garden bed by weeding and upturning the soil. It felt so great to feel the sun on my skin and dig in the soil again. My hands still smelled like soil even after I washed them with soap and water. It was great.
Before.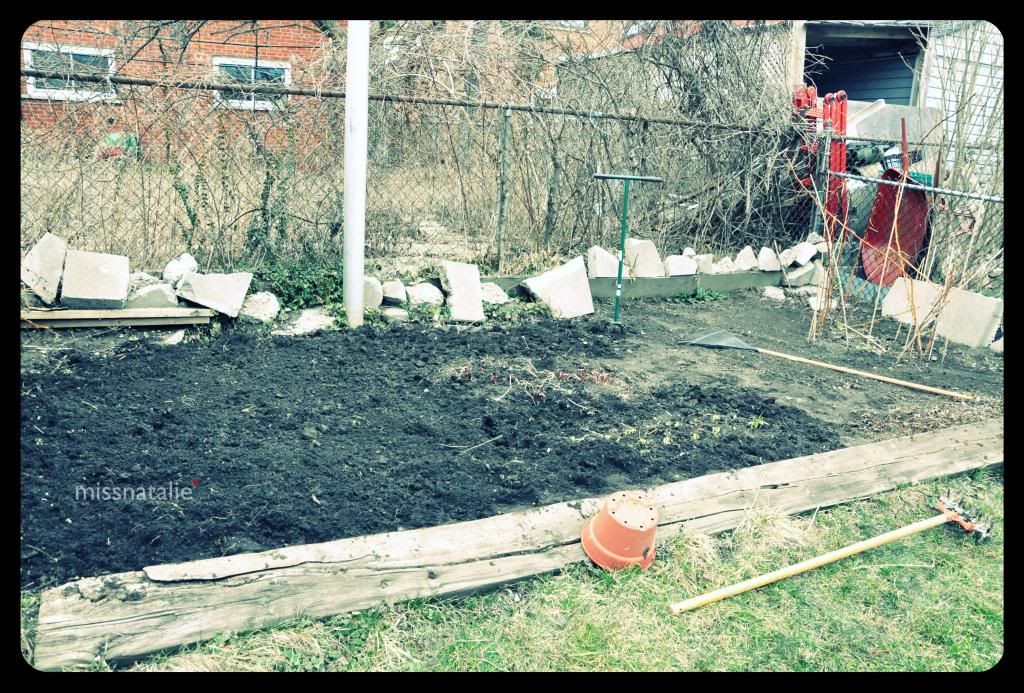 During.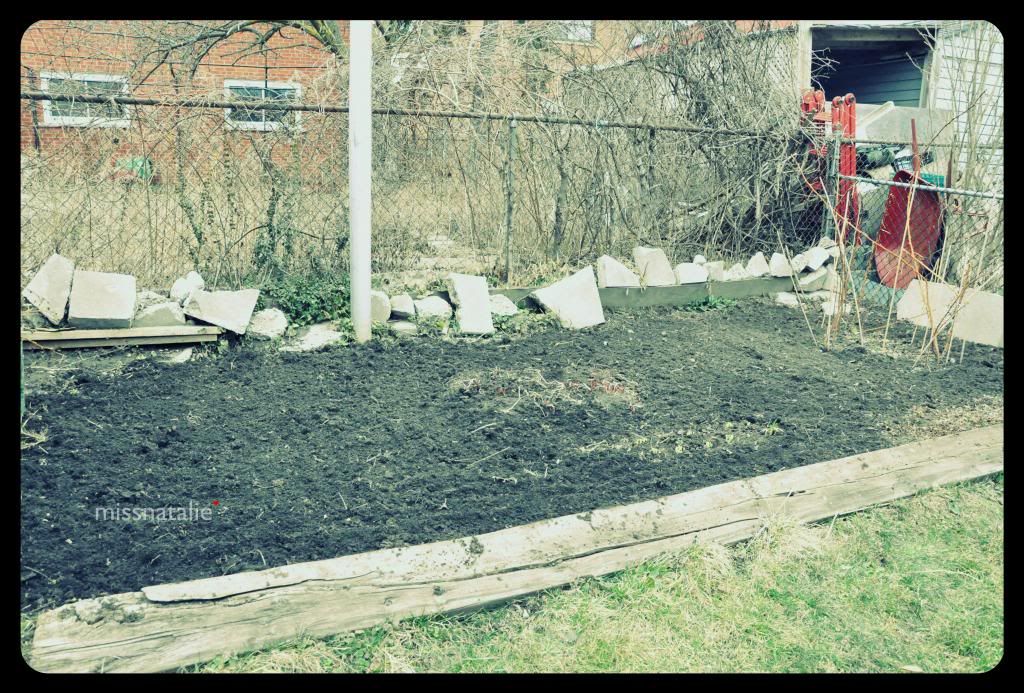 After.
On the long weekend I headed downtown with the Mister since Eaton's was one of the few places opened on Good Friday.
Waiting for the Mister whom arrived very late after having to go back home because he forgot something. I was pretty mad =\ He made up for it though =)
Some of the lines in some of the stores were dreadfully long so I didn't end up buying anything. Just a look here and there sufficed enough for me. So we ended up walking south down Yonge after fetching some food from Burger King.
It was then we came upon the
One King West
hotel. I've mentioned before how I've always wanted to stay a night there just to experience how a place like this might be. I came to know about this place through
Tiffany
, a fellow Torontonian blogger who resides there (it's a hotel and residence). One day I'll book a room but as for now, all we did was just go inside the lobby just to take a glimpse of what it's like.
Taken from the site:
"The prestigious address of One King West was first home to the original Michie & Co. Grocers & Wine Merchants, established in Toronto in the mid-1800s. In 1879, the much sought-after Yonge and King location changed owners to become home to the head office of The Dominion Bank, a residency that would last an impressive 126 years.
In 1914, the bank's rise to national prominence led to the construction of an early 12-story skyscraper. Ownership once again changed hands in 1999 and the Dominion Bank Building, now deemed a Heritage Building, was carefully redesigned for residential use by Stanford Downey Architect. This redesign saw the creation of the second tower adjacent to the building, aptly nicknamed 'The Sliver', due to its dramatically slender profile.
Today, guests of the hotel are treated to the historical splendour of the Dominion Bank Building along with the modern sophistication of luxurious hotel amenities and services."
And now I know why the building looks the way it does. I would have never known that the 12 storey building was built afterwards on top of what was originally there. No wonder there is a colour difference. Man I love learning about history!
The inside was as beautiful as it was on the outside. Very fancy and elegant.
I mean just look at how gorgeous the chandeliers and ceiling are! I wish I was more daring to explore the rest of the place.
I've totally missed blogging about my life. I know it's more important to just live your life, but it takes it to another level to document it. My Spring Forward post kick-started it again. To be honest, although I like blogging about beauty and the things I get, it does get dull after a while. What I really enjoy is reflecting back on my day and what I've been up to. It not only makes it more memorable for me but it's also nice to know that my thoughts and memories are only a click away if I wanted to go "back in time". It's like a journal with pictures- which is so much better in my opinion.
"Knowing how to be solitary is central to the art of loving. When we can be alone, we can be with others without using them as a means to escape." -Bell Hooks