Aside from traveling, dining etc etc., nothing gets me more excited than getting pretty little things- except maybe a new pair of shoes... or a purse... or high-end makeup... okay, let's just say they're one of many things that gets me excited. Here are some pretty little things I've acquired over the past couple of months.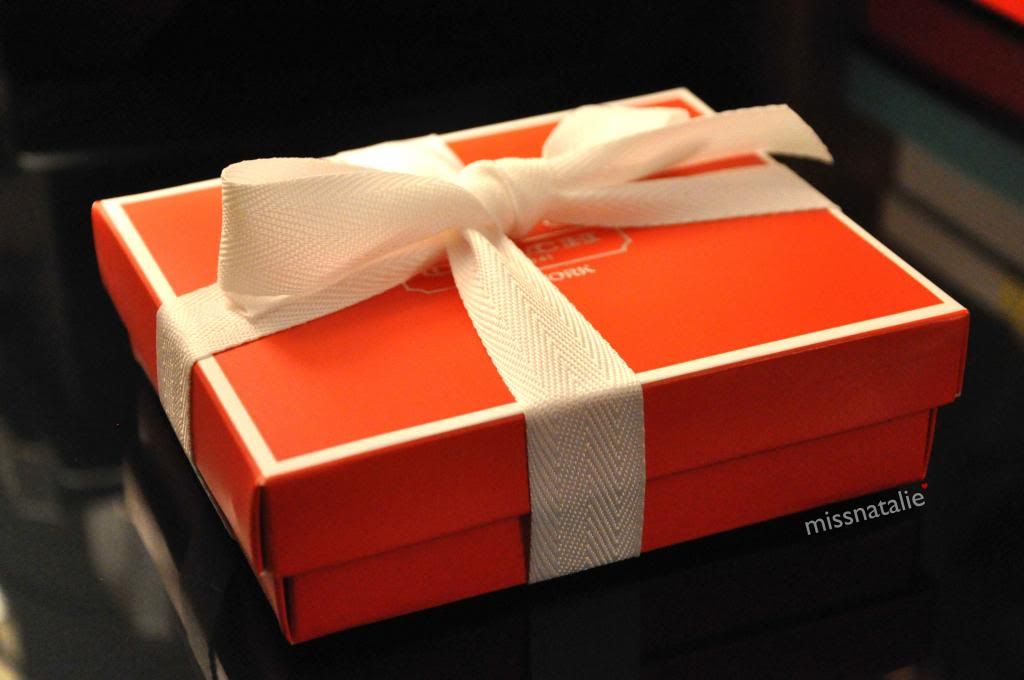 Remember how I got the $50 thank you gift card from that super nice sales associate at Coach when I bought my bag? I played on the the thought of getting myself a nice tote... but then I realized it's probably best that I don't go and splurge again too soon. So I decided to go safe with jewelry.
Coach Thin Op Art Rhinestone Bangle.
There wasn't much to choose from at the store I was in but I did end up finding something I liked. I'm sure my purchase of this bangle doesn't come as a surprise. This was $78 so I did have to pay around $30 for it after the gift card was applied. I forgot to show that it has a few little rhinestones embedded on the sides. It's slightly smaller than my
Kate Spade bangle
(which is by far the largest bangle I own), but it's still not as small as I would like for my wrist. It's do-able though.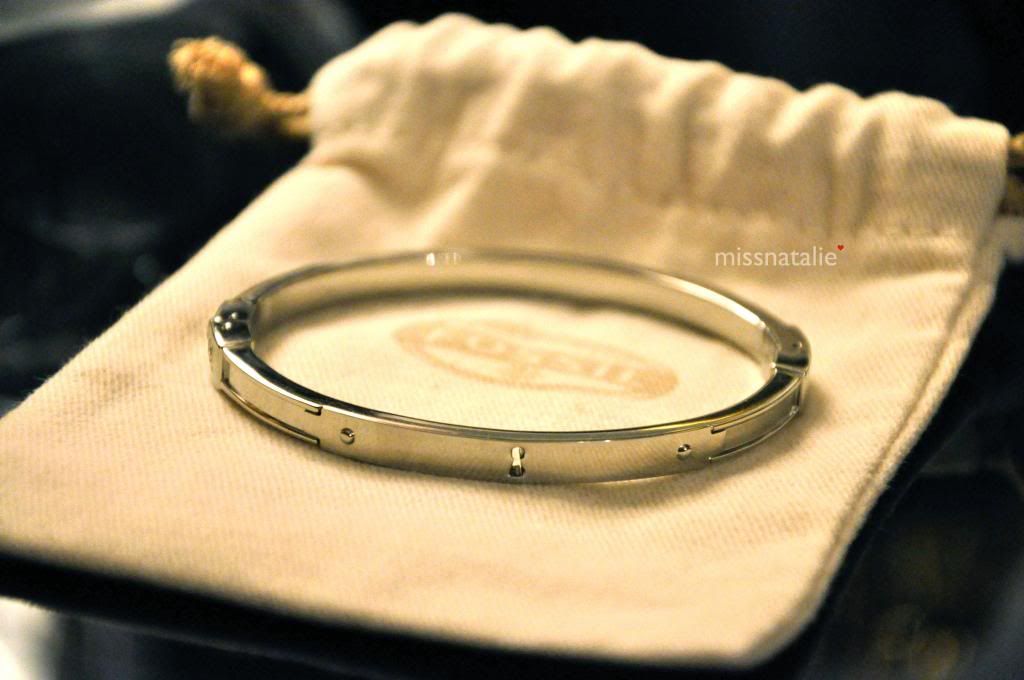 Fossil Keyhole Bangle.
I ended up loving the rose gold
Fossil bangle
my sister gifted me for Christmas so much that I wanted to get another to pair it with. After seeing how well rose gold and silver pair together on their website, I immediately fell in love with the colour mix and wanted it for my own. This was $78- pricey but their bangles fit so nicely on my small wrists. It's oval shaped as opposed to being round.
I haven't bought Juicy Couture jewelry since forever. I've said this before but I'll say it again, Juicy Couture comes out with the strangest things, but once in a blue moon, they come out with a few really nice gems.
Juicy Couture Heart Crown Hoop Earrings "Silver" and "Gold".
I bought the silver pair first and liked it so much that I bought the gold pair too. I admit the crowns got the attention of the little girl inside me. I like how dainty they are and how the little hearts hang. I'm a studs kind of girl so I'm trying to ease my way into wearing dangle earrings. This is a good medium or half-way point.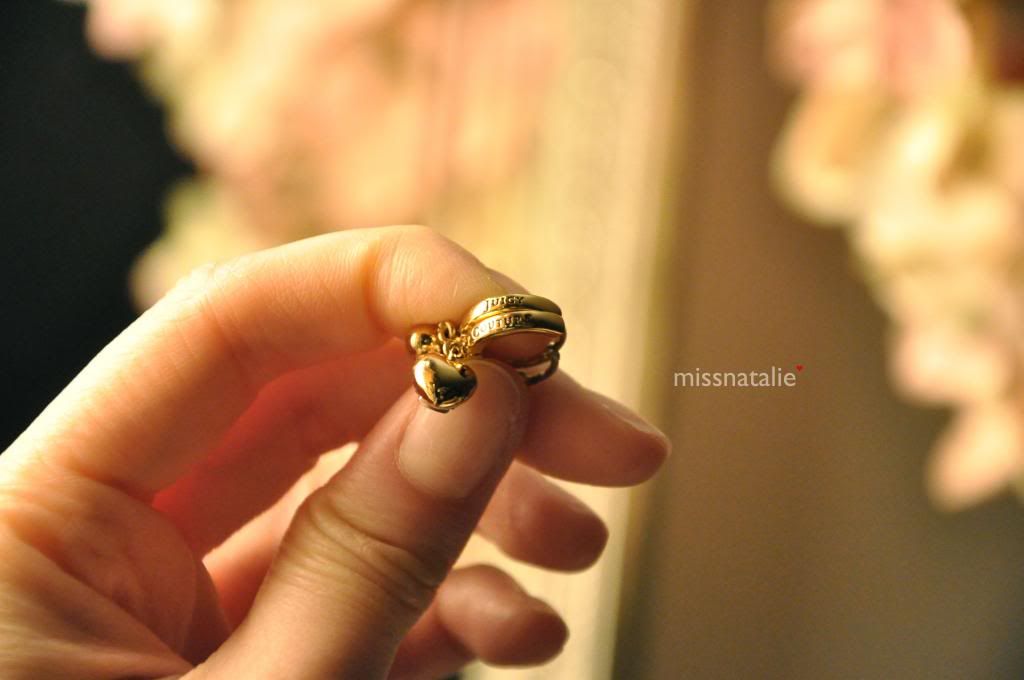 I give points for the small fine detail that went into this.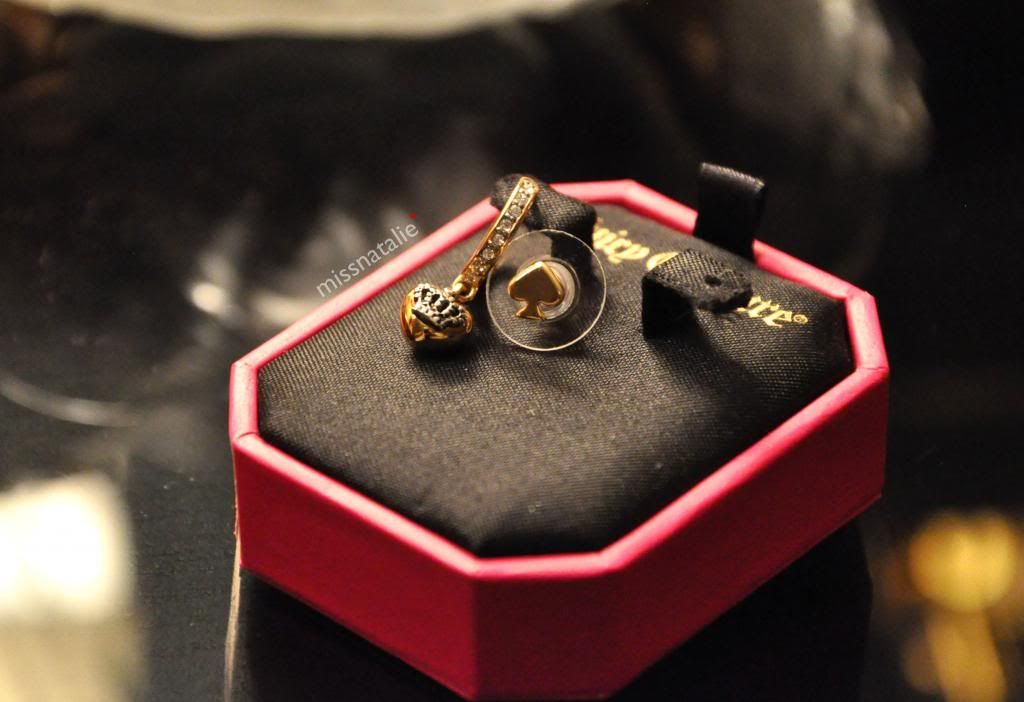 I like pairing the gold pair with my Kate Spade earrings (I have two piercings on each ear if you were wondering what the heck I was talking about). I still have yet to find something to pair with the silver ones.
The next pair of earrings were something I actually had to hunt down. I was in the market for a good pair of
really shiny
diamond-like studs. Not real diamonds yet (because I can't afford that right now) but a pair that would shine brightly unlike any other earring I own. I've heard and seen with my own eyes how really shiny earrings could bring out your eyes and brighten your face. After thinking for some time and surfing the web, I found myself mesmerized with a pair of stud earrings from Swarovski.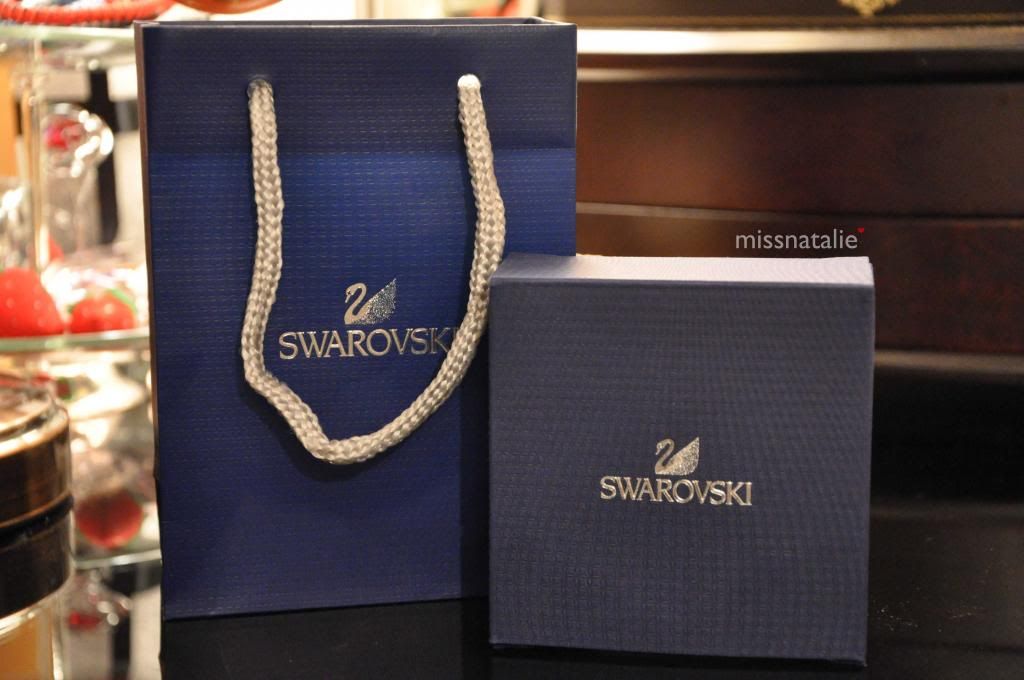 I've walked by the Swarovski store many times before but never once set foot in there. It always looked so fancy yet intimidating, and with little money I had back then, I thought there was no point in checking it out. This time it was a different story. I was on a mission. A mission to see if those earrings I saw on their site was exactly what I was looking for. Obviously they met my criteria because I walked out with them!
What is it about boxes that I like so much anyway? The box is very sturdy- I like.
Swarovski Solitaire Pierced Earrings.
Ladies, my first
Swarovski
piece. They are crystal solitaire. They're slightly bigger (maybe by 1mm) than I would have liked (because I have small ear lobes) but they do exactly what I had hoped for, which is to shine brightly- and boy do they ever. I recommend these if you want really shiny earrings. They're pricey at $70 but they are worth every penny in my opinion.
And to end the post with a few more affordable pieces, some necklaces I found at Forever21!
Surprisingly with all Forever21 has to offer, I don't often come across that many jewelry pieces that I would be willing to buy. But this time when I went with my boyfriend, it was a total success. Maybe he's a good luck charm? ;)
And from the pieces I pick up, there are only a couple that I would say are real gems. The necklace on the left is one of those pieces. It's dainty, it's soft gold, it has cute luck charms, and a hint of colour- totally Spring worthy. I really really like it. It would pair so well with blouses and anything that needs that simple touch. The best part, it's under $5. [I'll have to come back and update you guys on prices here as I don't have it on hand].
The center piece is a necklace similar to other ones I have but it has an edge to it. I like pairing these chunkier necklaces with oversized sweaters- but now it's Spring so I'll be saving it for next Fall/Winter.
The necklace to the right was something I thought would be nice worn with all the blouses and sheer tops I got.
But anyway, if there is one necklace I recommend checking out, it's the gold luck charms one! I'm serious! Check it out!
"The law is the wisdom of the ages wrapped in the opinion of the moment." -Drop Dead Diva (tv show)