I haven't done a beauty review for some time now. I figured a lot of you might be bored with all the haulage I've been doing, but it's literally all that I have been doing... aside from hanging out with this guy I like (I don't know where that's going, so I don't want to say much lol). Anyway, for the last few months I've really been into hair products.
L'Oreal Arginine Resist X3
.
Taken from the site:
"Nourishes the root. Hair is stronger. Restructures from root to tip 64% less hair fall after the 1st application. Hair becomes 2X more resistant to breakage. 95% of women saw a difference.
Arginine: A key ingredient essential for your hair.
L'Oréal laboratories have harnessed the power of Arginine, an amino acid that occurs naturally in the fibre and around the hair follicle, to restructure fragile hair that has a tendency to fall out."
Finally, a hair care line that is geared towards fragile hair that tends to fall out. When it launched I was immediately intrigued because my hair at the time was falling out like crazy for some reason. I am no longer currently using this L'Oreal Arginine line because I have since done with it, but I did use it for several months after it launched in stores. I even ended up repurchasing the biggest size available for the shampoo and conditioner after I finished with the 385ml bottles and I also had repurchased both the treatment and the spray once more after I finished with the first bottles I bought.
The
L'Oreal Arginine Resist X3 Shampoo
and
L'Oreal Arginine Resist X3 Conditioner
lathered well and felt nourishing for my hair. I liked it because it didn't make my hair feel heavy overtime like the
Re-Nutrition line
or
Shiseido Tsubaki lines
did. After using these, I did notice less hair loss and eventually my hair did return back to a normal healthy hair loss cycle. You can't expect to not lose hair at all as it is healthy and normal to lose some hair daily, but if you start noticing that you're losing more hair than average (like I did) then you should definitely look into trying to prevent that.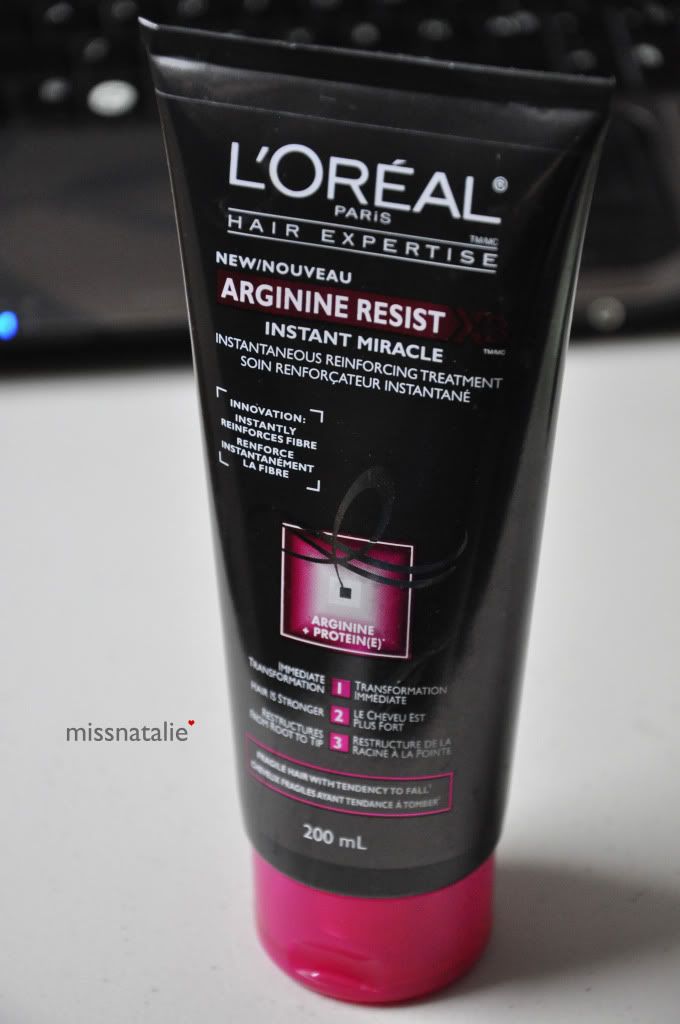 I really loved the
L'Oreal Arginine Resist Instantaneous Reinforcing Treatment
as it made my hair feel silky and soft. I also really liked it because there's no waiting time required! It says to apply it to your roots to your ends which made me skeptical because normally treatments like this would weigh my hair down if applied to the roots, but it did the complete opposite! My hair is very fine and silky so I always end up having flat hair, but after using this treatment all over my hair it actually ended up giving my roots some lift! It immediately absorbs and gets to work so that you can rinse it out right after. I like instant products like this because it's a time-saver if you're rushed for time, plus who likes waiting in the shower? Out of all the products in this line, this one is my favourite.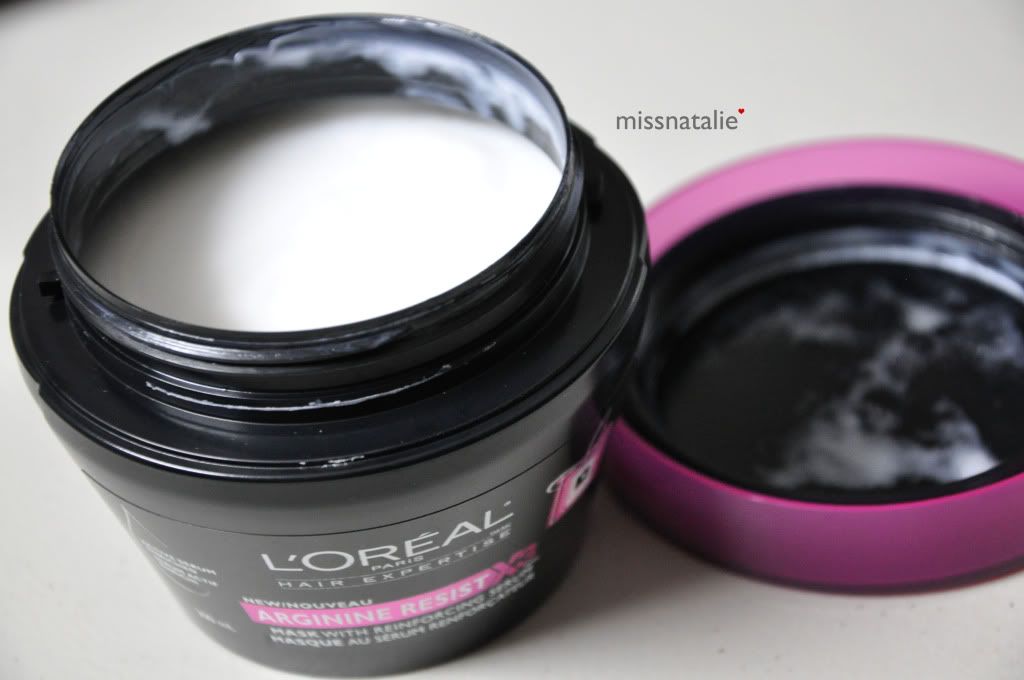 The
L'Oreal Arginine Resist X3 Mask With Reinforcing Serum
was an okay product for me. So far I'm not really impressed with the hair masks I've tried from L'Oreal. This is the second hair mask I've tried from them, the first being from the
Re-Nutrition line
which did pretty much nothing for my hair. This one isn't terrible but it didn't feel nourishing enough for a mask. I prefer the treatment over this mask which is why I didn't end up repurchasing it.
I always use a haircare leave-in spray prior to blowdrying my hair. This
L'Oreal Arginine Resist X3 Reinforcing Spray
doesn't make my hair feel silky and soft like the
Garnier Fructis Triple Nutrition Double Care Detangling spray
(which is still, by the way, an
amazing
leave-in spray), but I think it does help to nourish my hair for less hair fall-out.
Overall, I give the L'Oreal Arginine Resist line two thumbs up. L'Oreal has really upped their game in the beauty industry. Currently, they are my favourite drugstore brand for makeup.
"No person is worth your sanity." -Unknown