You might recall me saying that I would share what I got from
Gorjana
's Cyber Monday sale once I found the time to do so. I came to know about Gorjana through one of their web advertisements. I was immediately mesmerized with their jewelry, everything looked so beautiful and well made. After browsing through their collections, one particular piece stood out to me, and that was the
Taner Bar Small Necklace
. For months I eyed the necklace but didn't take the plunge due to the high shipping rate of $15.00 to Canada. I think $15 is a bit much for something that is so light. So when their Cyber Monday deal of free worldwide shipping and 40% off your order came around, you bet I jumped on the band wagon. Not only did I buy the Taner Bar necklace, I impulsively bought a bracelet too. I couldn't resist the "good deal".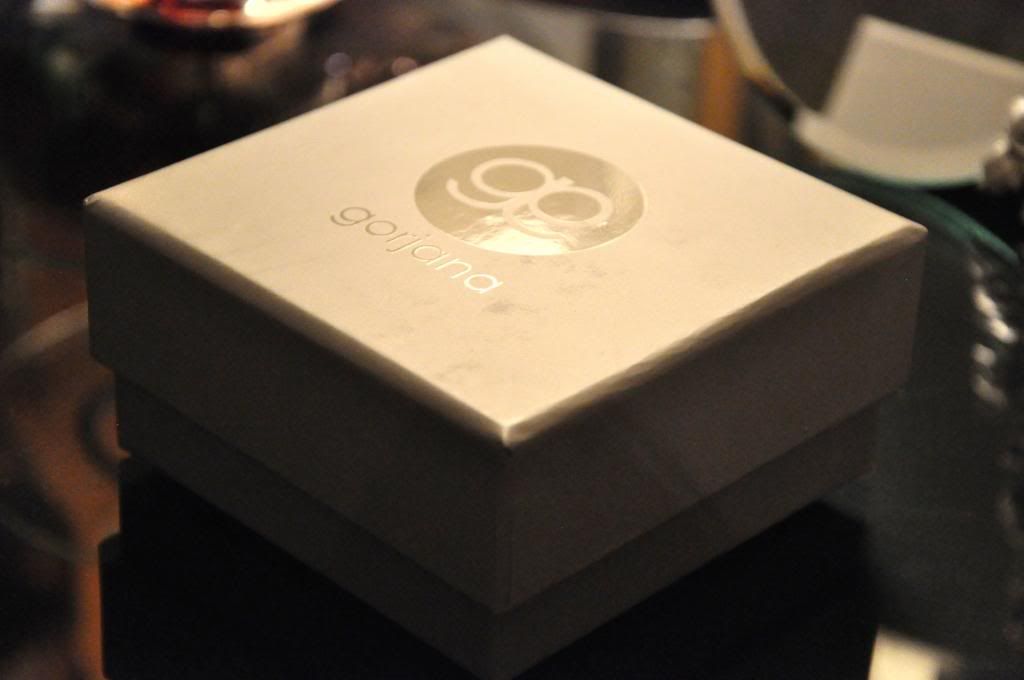 And yet, with all that said, it all goes downhill from here... When my order came in the mail, I wasn't home to accept it so I had to go to the postal office to pick it up. The big unpleasant surprise was finding that I was being charged COD- which stands for
Cash on Delivery
. Taken from Canada Post's site:
"Collect on Delivery is a domestic service option purchased by senders that allows them to collect an amount from receivers upon delivery. We collect the payment before handing over the parcel, and send it securely to the sender on the receiver's behalf."
Although the site does state that as a buyer I am responsible for any custom charges my country may have... being charged $27 didn't seem to be a custom charge... at least, that's not what I'm getting from the above definition of COD. Nowhere on the site nor anywhere in my invoice/confirmation did it state that I would be charged this. Despite being super pissed that I was being charged $27 on top of the $97 (already 40% off discounted price) for
two
pieces of jewelry, I paid anyway because I had been waiting for so long to get my hands on some Gorjana pieces.
It came in a box wrapped in paper tissue. This was the actual box the jewelry is stored in. Very nice and sturdy-well made.
Inside the box were little pouches that the jewelry is kept in. The little pouches felt really soft- again, this gave me hope that my money was well spent.
The first item was my beloved Taner Bar Necklace (small) that I've been eyeing for months. I wanted it because I thought that a piece like this laying across my decollete would be so beautiful. It would give a touch of elegance, plus it looked beautiful on the celebrities I saw wearing it.
However... don't be fooled. I was fooled by the photo on Gorjana's website. I am completely disappointed with the necklace. The gold is an awful cheap yellow gold colour- something reminiscent of those cheap jewelry you get out of those coin toy dispensers for $1. And although I do enjoy jewelry when it's lightweight, this necklace is too lightweight- it doesn't even
feel
like it was made with quality at all. I expect more for something that retails for $60- hell, I wouldn't even pay a cent if I knew it was this bad.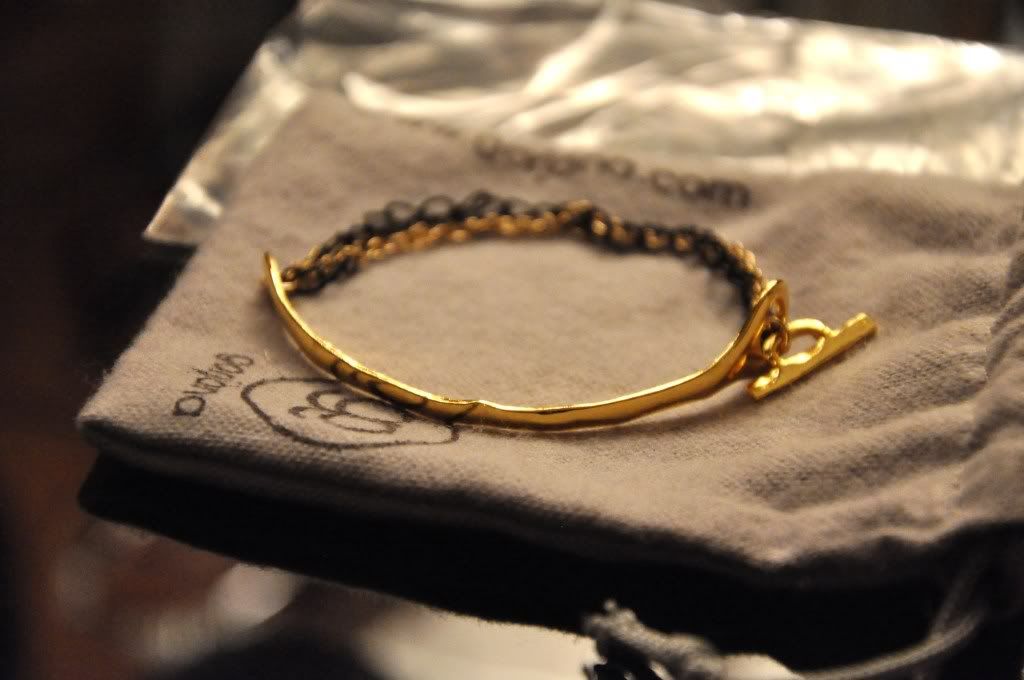 The other item (the impulse buy) was this Cassia bracelet. This retails for $95 (yes, nine-five). It looks beautiful though right? I thought so too, especially the picture they had of it on their website; but in person it looks awful, complete garbage.
In pictures the bracelet looks like it would have some good weight to it, but in reality, it's too light and feels so cheap (even if you don't factor in the $95 cost). I just couldn't believe my eyes when I saw it in person. I was astounded at how
cheap
the bracelet looked. And guess what?!
I LOST THE BRACELET after ONE wear!
The bracelet hook/toggle was so poorly constructed that it kept getting undone when I wore it. I should have took it off and put it in my bag until I could figure out a way to wear it without it coming undone... but I was determined to wear it because I spent a good chunk of money on it (with 40% off I spent about $57 on it). What a waste!
Before losing the bracelet, I contacted Gorjana and got my money back for the $27 COD that they charged me with. This is what they had to say about the COD charge:
"It seems that Canada Post has suddenly been charging packages that have a declared value over $20. If you can provide a receipt from the COD charge, we will reimburse you that fee."
I don't know how true that is, but honestly, through the hassle of contacting them to get reimbursed and the poor quality of their jewelry, it's safe to say, I'm left extremely disappointed with Gorjana. Update: I wore the necklace once and have kept it in the dust bag since then, yet it still ended up tarnishing on me.
Their jewelry "looks" beautiful but looks can be deceiving, and in case, they are. I can only speak on behalf of the two pieces I got, but even if two pieces like this couldn't meet my standards, then I doubt their other pieces could be any better. Given the high price point, poor quality and terrible customer service, I'm completely unimpressed. I don't plan to ever buy from them again and wouldn't recommend you do either.
"If you really want to do something, you will find a way. If you don't, you will find an excuse." -Jim Rohn