No time than the present time right?
Because it's the holiday season, my workplace has been busier than ever. This past Saturday I worked for 16 hours, and if you thought that it couldn't get any worse, just yesterday (Monday), I worked for 18 hours!! I'll be getting some good overtime... but it's exhausting. I'm not the type of person who can do all-nighters, so it was a feat for me.
So today I thought I would finally share what I bought during the Black Friday and Cyber Monday sales. I said I would share once I received my Cyber Monday purchase in the mail. I actually got my package earlier this month but didn't have the time to sit down and blog about it.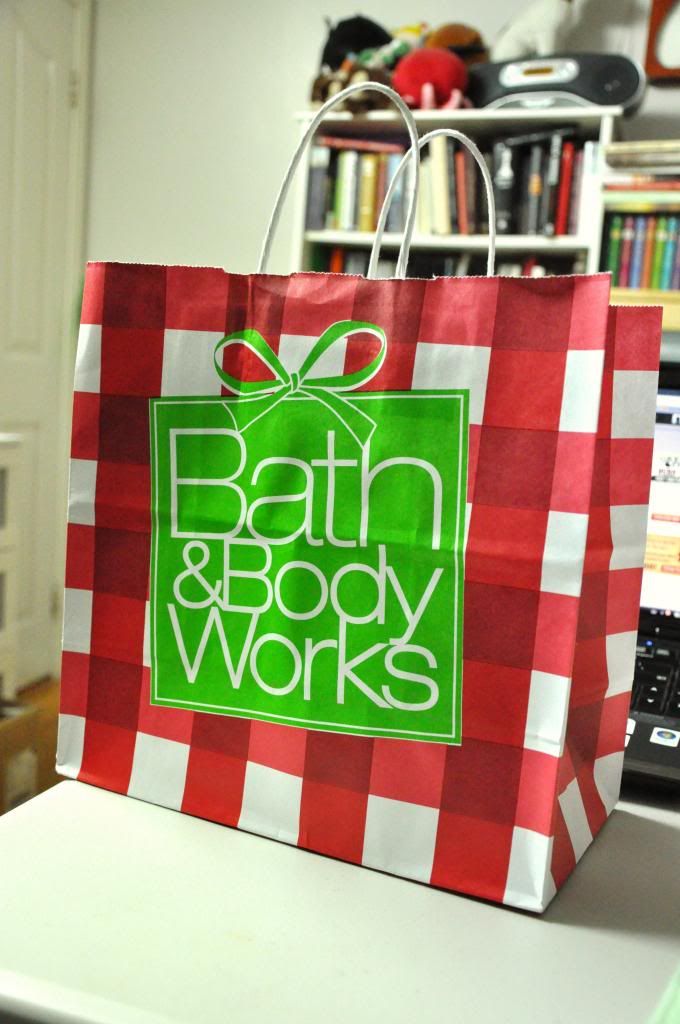 Surprise surprise. Of course I would go check out the deals that were going on at Bath and Body Works!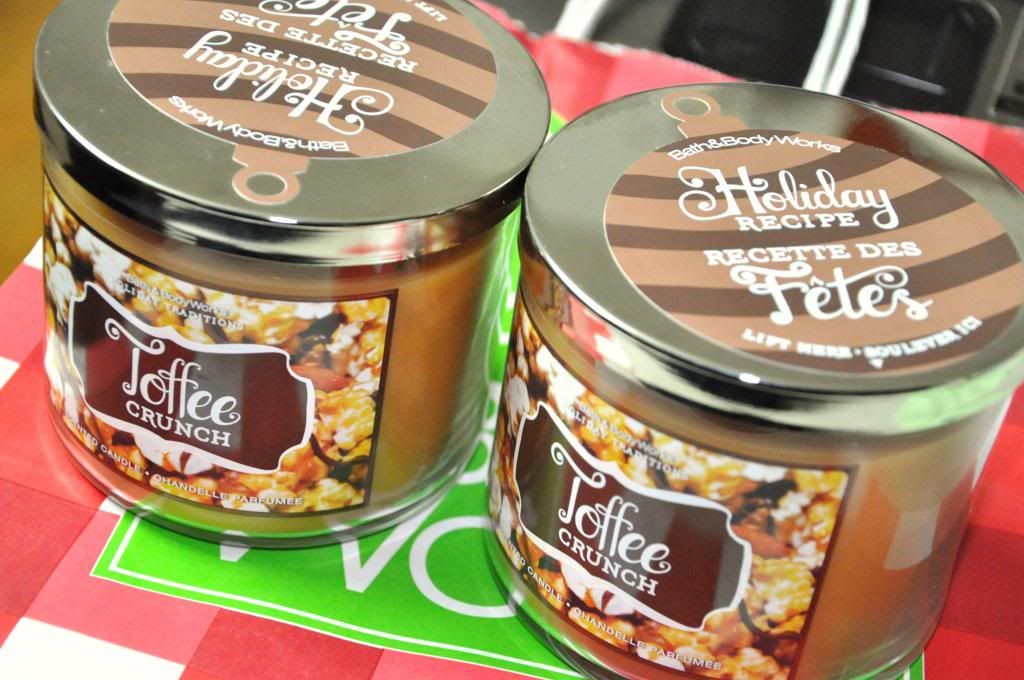 The candles pictured above weren't exactly Black Friday buys, as I purchased them just before Black Friday, but the deal and date were close enough that I thought I would include them in this post. After receiving an email with 30% off my purchase and being informed of their new candles for the winter season, I was determined to get Winter Candy Apple and Toffee Crunch. However, when I got to the store, and much to my dismay, most of the candles I wanted to see in person were sold out. The only one available that I was interested in were the Toffee Crunch. Because it was the last day to use the 30% off discount on top of their Buy 2 16oz candles for $30, I figured it wouldn't hurt to have a back up of it. I got these candles for only $10.50 each. The Toffee Crunch is very strong, it should only be burned in a big open space. They also burn rather quickly than the other BBW candles I own.
The Black Friday deal for the 16oz candles at Bath and Body Works was 2 candles for $22. $11 each is less than a better deal than what I can do other times with a discount coupon (as seen above) but once I saw that they had both Winter Candy Apple and French Baguette available, I figured I should get them before they sold out. I already have French Baguette from the Paris Amour collection but I didn't have a back-up and I desperately wanted one badly. I was relieved when I saw they had it again. I burned it and it smells heavenly. It's definitely one of my favourite BBW candles, soft and subtle.
The other Black Friday purchases were made at Chapters Indigo.
Chapters Indigo's Enamel Bangle - Violet, Black, White.
I was pleasantly surprised to find jewelry being sold at Chapters as I associate them with books and home decor items. The first time I saw them in-stores I had to resist and let myself sit on the idea of getting them before deciding if they were worth it or not. Once I read what material they were made of online, "Enamel metal bangle with 14-karat gold plating," and after comparing the price to other pricier bangles that look almost identical, $12 a piece was starting to look pretty good. What's even better was finding out that they were on sale once I got to cash! With a 20% off discount and a promotional discount, they came to only $7.29 each! They feel very sturdy and most importantly, they're not too big that they'll fall off my wrist. There's many colours to choose from and also thicker bangle available too. The violet looks more like royal blue to me.
I also bought a book from Chapters called "How to Look Expensive". The author puts an important emphasis on the choice of word "expensive" as it doesn't mean how to look loaded or rich. I saw this being displayed out on a table and was immediately intrigued.
And because my brain is not functioning right now (too much work) I'll take a summary from
Chapter's website
,
"Andrea Pomerantz Lustig has spent twenty years as a beauty editor, and her contact list is packed with the names of the most exclusive stylists in the business. In How to Look Expensive, she combines her own experience with highly coveted secrets she's learned from the experts to help readers achieve buttery highlights, luminous skin, flawless makeup, and more, all on a budget. Delivering red-carpet looks without putting readers in the red, tips include: How to get expensive-looking hair color at an inexpensive salon; Superluxe DIY skincare cocktails for less than $20; The cheap cosmetic secrets of expensive makeup artists; Tips for princess-perfect skin on a pauper's budget; "Work Your Beauty Budget" sections that help you make the most of every dollar. With How to Look Expensive, every woman can afford to get gold-card gorgeous, and reap the self-confidence that comes with it."
The book also has beautiful illustrations. Because of the promotional sale, I also got about $5 off this book (it's $26.50 cdn). I'll be trying some of the products she recommends and mentions in the book. But before I do that, I really want to share some of the products I've tried and tested these past few months... I just haven't had the time. Hopefully I can make time to do this very soon.
Last, but not least, my only purchase from Cyber Monday.
I have been eyeing
Gorjana's website
for a long time now. After seeing their Cyber Monday sale of 40% off plus free shipping, I figured it was the best time to purchase. However, I won't be sharing what I got in this post as there was something disappointing that I encountered... so you'll have to wait until I have time to blog about it in a post of its own.
Until next time... whenever that'll be =S
"Don't let your life be ruined by your heart. For love is suppose to make you happy, not stupid." -Unknown