A few of my coworkers have left, off to the next chapter in their lives. Goodbyes have never been an easy thing for me to accept. I'm the type of person who likes to get to know people and as a result I typically attach myself a little to those I befriend. I get sad easily if I know that I won't be able to see them for a while or ever again, but even though I will miss them dearly, I am happy to see them go off to do better things.
I know I said I was going to share my Sephora purchase alongside my Black Friday and Cyber Monday purchases, but I thought I should share now before it becomes completely irrelevant.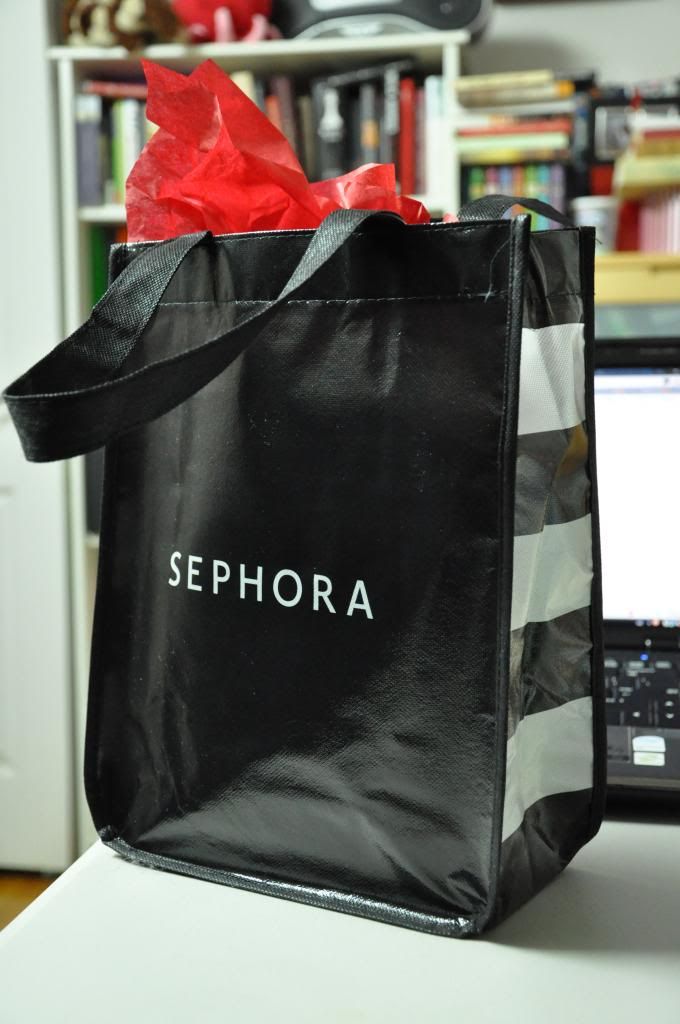 When I received the email to inform me of the VIB sale, I was pleasantly surprised and extremely pleased to know that I qualified for it. This time, Sephora gifted us with a reusable Sephora bag with our purchase. How nice and useful!
Before heading into the sale, I made a balanced shopping list of what I needed and what I wanted. The things I needed were a few Fresh skincare products, namely the Soy Face Cleanser that I ran out of a long time ago and the Soy Face Exfoliant that I'm almost out of. The Rose Face Mask has been something I've been wanting forever, but seeing that it is pretty expensive, I had to wait patiently until Sephora had some sort of sale. The other Fresh item I got was a value gift set with a full-sized Sugar balm in "Berry". I'm excited to use it because I've been swooning over dark lips after seeing Severine in 007 Skyfall. I intended to buy a couple more Fresh skincare items but they were sold out at the time, so instead, I gladly opted for a couple YSL glossy balms.
They also gave me this VIB pamphlet with a 10% off discount card for my next purchase, a private 45-minute makeup session,
and a new Sephora beauty insider card(??). It's silver and has VIB splashed across it. I think it's the new card but I didn't look inside the pamphlet before leaving the store so I didn't have the chance to ask a store associate
. Okay I just checked online to see what the silver card is. Apparently it's given to customers with VIB status. If you eventually lose that status, it will be replaced with a normal beauty insider card the next time you visit. Gotcha.
Anyway, if and when I have time, I will go into more detail of what I got. For now, I bid you adieu. And you know how much I hate farewells.
"Death leaves a heartache no one can heal; love leaves a memory no one can steal." -From a headstone in Ireland