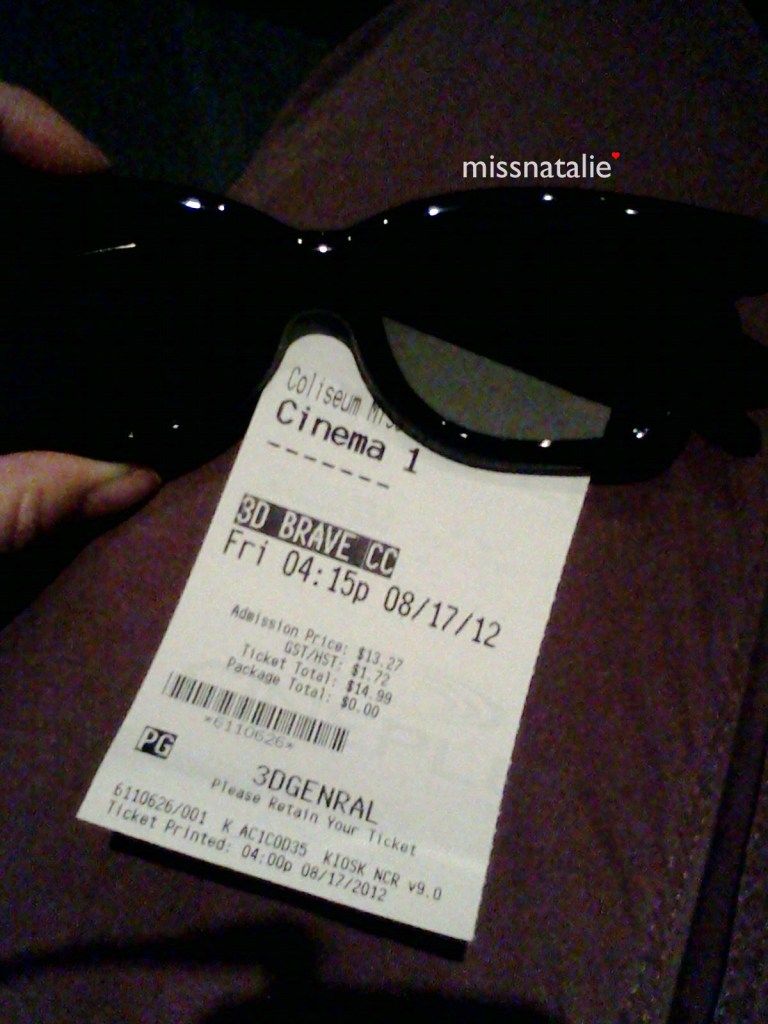 Two weeks ago I managed to go see Brave in 3D on one of my days off. It became a little bit of a ritual of going shopping and catching a movie afterwards by myself. It's quite pleasurable as I do not have to worry whether my company is bored or not. Brave was a pretty good movie albeit they did seem to waste a lot of time on side characters and unnecessary scenes which made the movie itself seem short of the actual story line. Oddly the 3D on the screen during the previews and the beginning of the movie wasn't working which made me think that there was something wrong with my glasses. After exchanging for a new pair and coming to the realization that the screen was still blurry, I concluded that the projector(s) must be misaligned. Even though there were a few other people in the theatre with me, only a couple people seemed to notice the blurriness but didn't end up doing anything about it. I, on the other hand, refused to sit through a blurry 3D movie that I paid $14.99 for. After informing a worker that the 3D wasn't working, it was fixed and that was the end of that fiasco.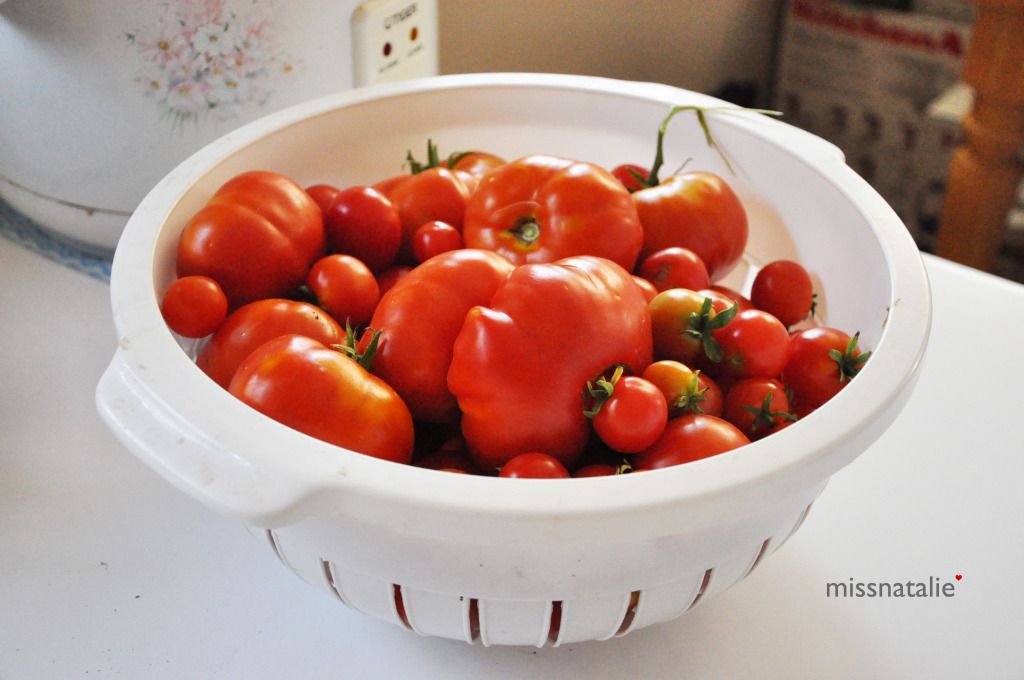 Lots of ripe tomato pickings from the backyard garden. My steak tomatoes are still ripening and they are HUGE. Will show you one once I am able to pick them. The ones in the above picture are normal sized tomatoes and tiny tim tomatoes.
I realize that next year I will have to buy metal/steel tomato cages because the wire ones can't bear the weight of the heavier tomato plants- especially the steak tomato plants. My plants have fallen all over but they've managed to survive to produce the fruit I grew them for.
I spotted my one of my favourite drinks on sale at No Frills and decided to pick up a few.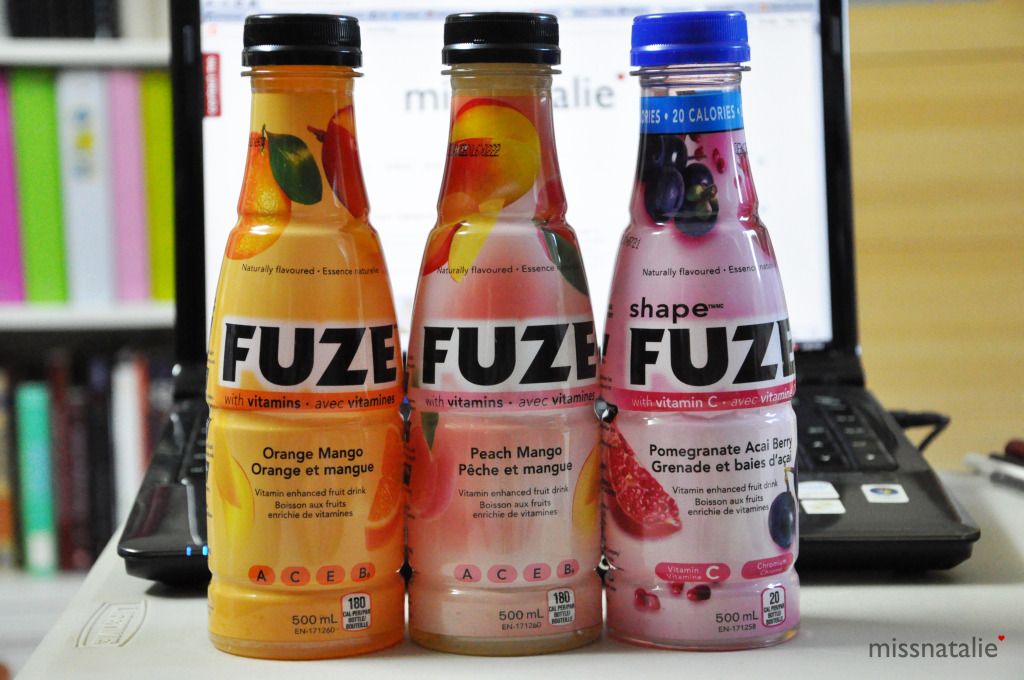 I got the three flavours above. Can you believe Pomegranate Acai Berry is only 20 calories a bottle?? It's because it's from their Shape line. Still delicious though!
Taken from the site:
"For you, 'healthy body, healthy mind' isn't a cliche. It's a way of life. Your body is your temple, and you work hard to stay in shape - physically and mentally. That's where Fuze Refresh comes in. With a unique combination of seven essential vitamins, calcium and exotic fruit flavours, it helps in the maintence of your health. Your vitamins and mineralts never tasted so good."
But aside from the good taste, I really like Fuze because of the vitamins the beverage contains.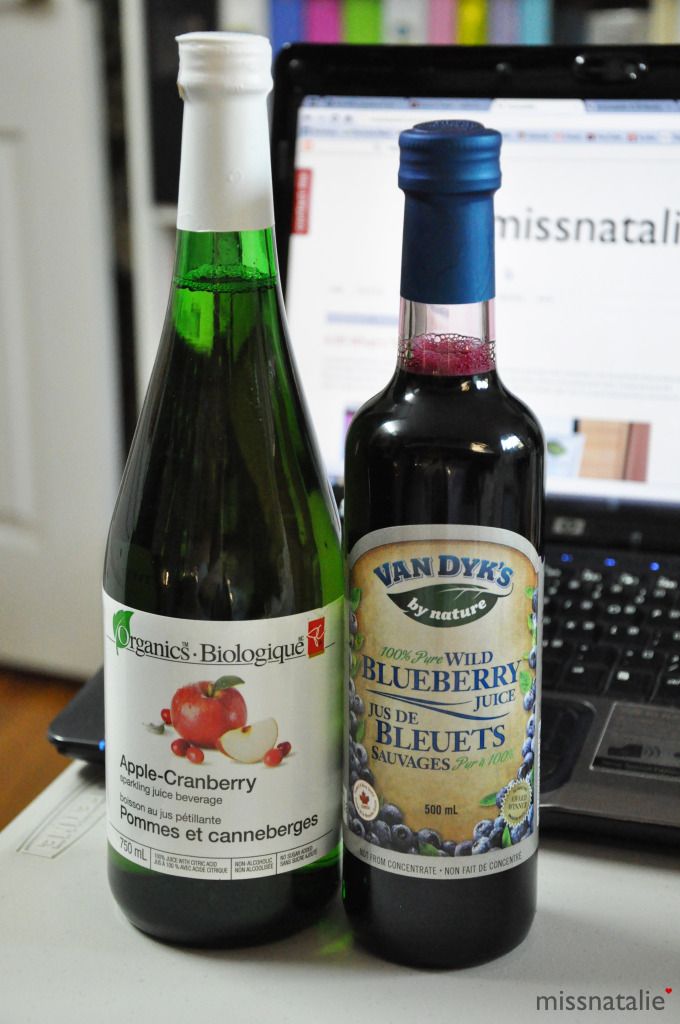 I have yet to venture into the world of alcohol, but it doesn't mean that the heavy glass bottles don't fancy me. Don't you find that drinks taste better out of a glass bottle? I bought the sparkling juice beverage for my family and the blueberry juice for my brother as I had been meaning to buy that for him for some time now (he has a thing for blueberries).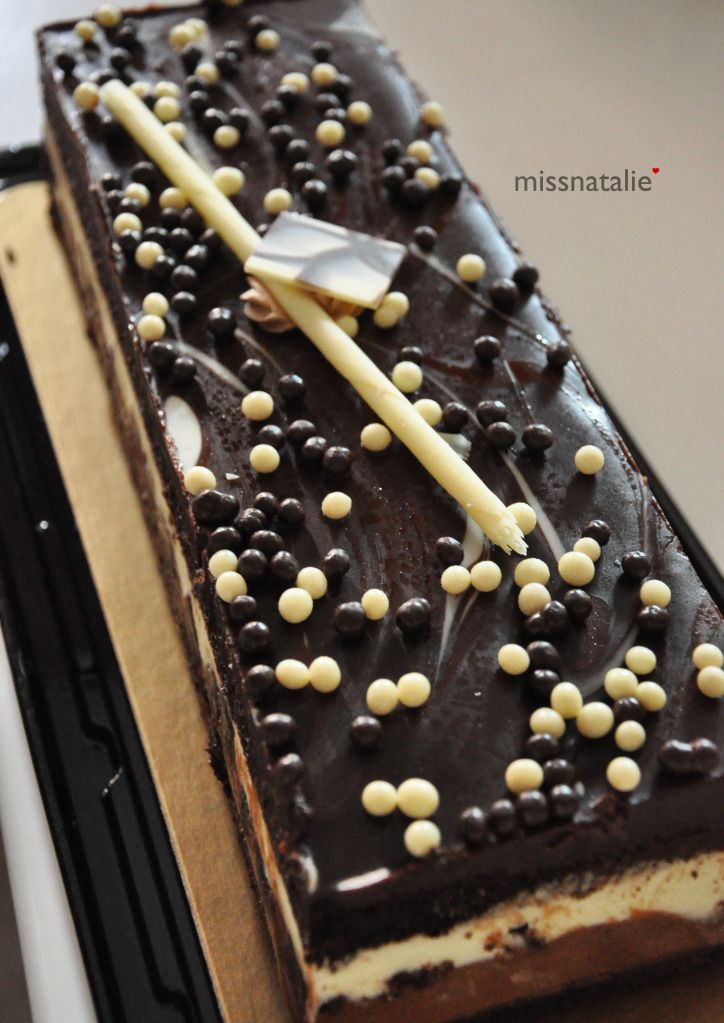 This "Tuxedo Cake" was from Costco and boy was it ever delicious. It had a mousse filling and some sort of cheesecake cream filling. It was death by chocolate. So good.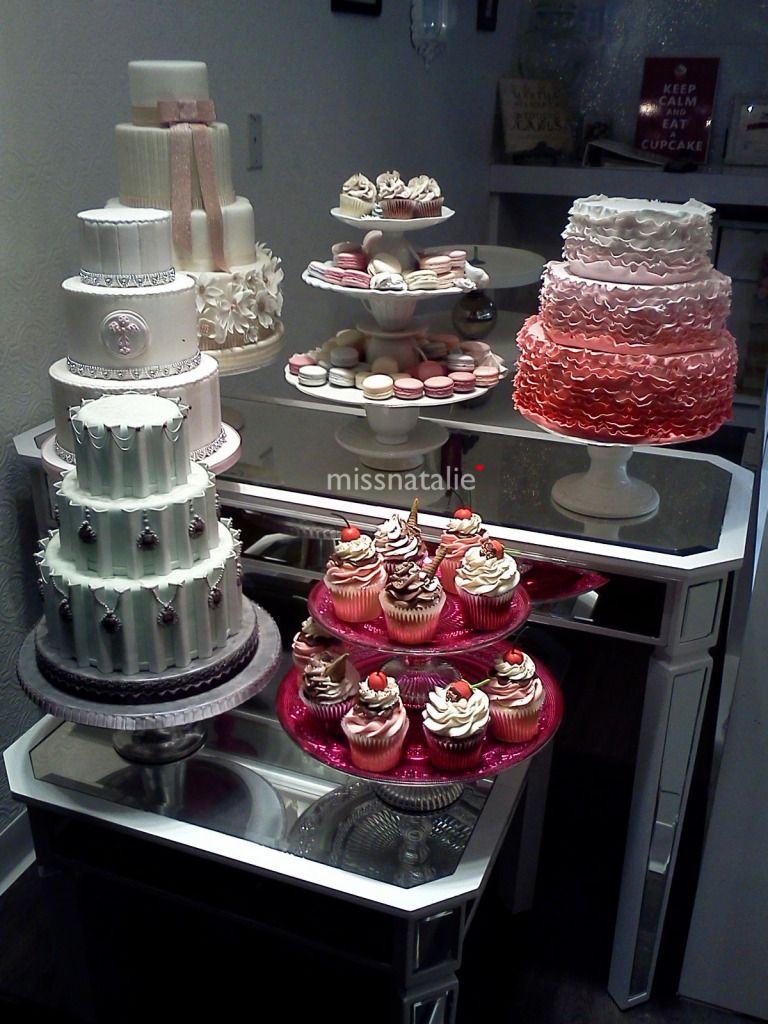 Saw the
We Bake In Heels
store at Vaughn Mills. It looked quite impressive to me. If they're still around for my wedding day, I might just go to them to have my cake done.
Has anyone spotted the new Annabelle displays? It looks much more compact and organized the previous shelving. It actually draws my attention in and makes me want to buy something.
Seems all the brands over here are getting on the bb cream madness. I remember the Asian ones were popular a few years ago. I don't plan on buying any North American bb cream because it's probably more like a tinted moisturizer than what a real bb cream is suppose to be.
This was taken at HMV. I haven't been in that store in ages. Not only that, I haven't bought a cd in ages! I did manage to pick up a couple of dvds though.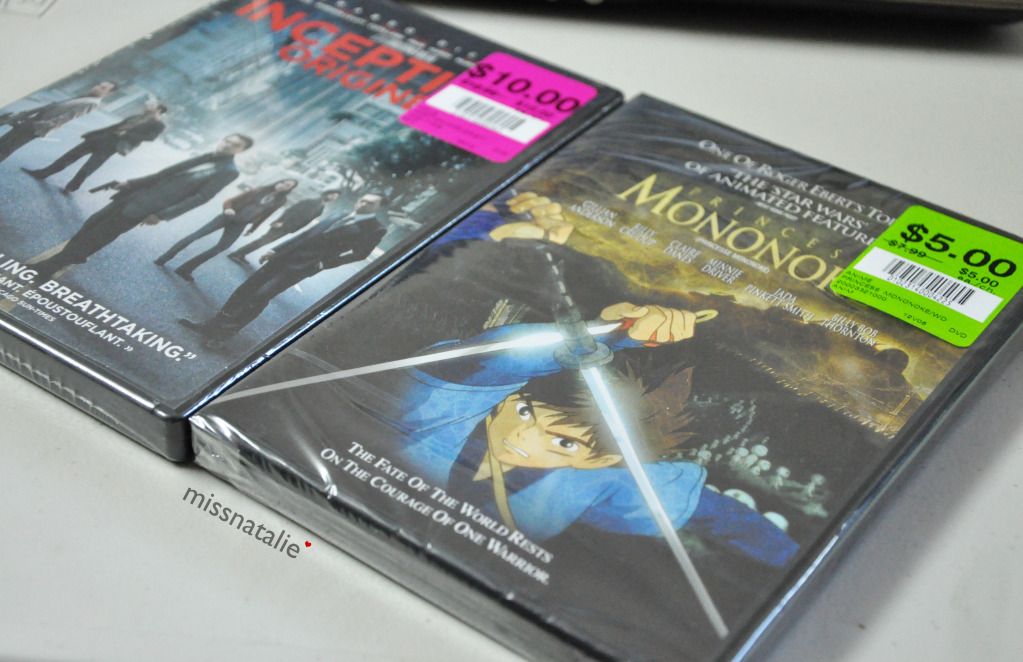 Inception was mind-blowing so I wanted to have that. Films by Hayao Miyazaki are always amazing so at only $5, it's a total steal. I forget what Princess Mononoke is about, it's been that long.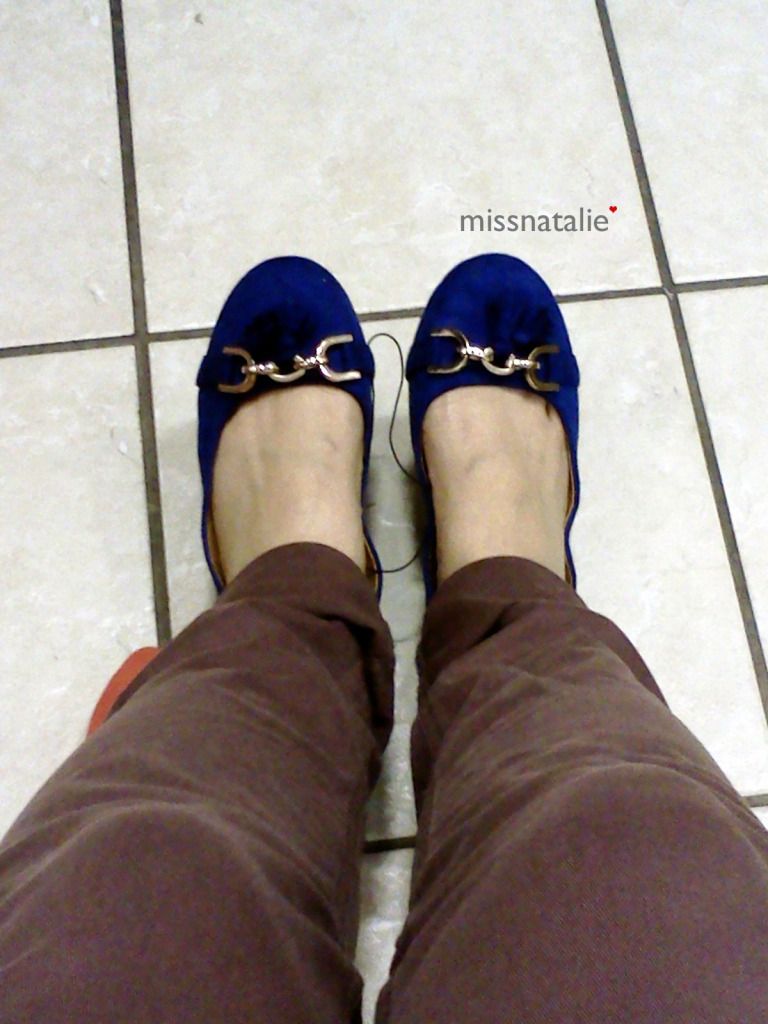 I spotted these blue flats at Urban Planet that are strikingly similar to a pair of Aldo ones I bought (but have yet to share with you guys). Of course the Aldo ones are made of real leather and are better quality, but it just goes to show you that you don't need to spend a lot to get the look.
"Dear enemies haters and doubters. I have so much more for you to be mad at, just be patient." -Hplyrikz.tumblr.com