There are many different ways you can define and measure success in life. Most people measure it through money and wealth, others may measure it through fame, prestige, education, skill, marriage, number of friends you have... etc. I personally measure it through happiness. If you're happy doing what you're doing, then you've succeeded in my eyes. I always was the "work to live" type instead of the "live to work" type. I think I finally realized that I will never find my true niche in the workplace because it doesn't lie in what kind of career/job I have. I just want to be happy... and happiness is created and obtained through many means for me. Hoorah for happiness!
Outfit: Bluenotes tee | Vero Moda Jeans cardigan | Esprit Five Slim pants | Dollhouse flats | Esprit Collection bag | DIY necklace | BCBGeneration Dream Affirmation bracelet (rose gold).
I wish I had a big mirror like this at home.
Here is a closeup of the necklace I repurposed. I love how a simple necklace like this can bring some more interest to an otherwise normal tee. I'm not very fashionable so to speak, so wearing a necklace such as this really pulls my look together. I only wish the chain was a little longer, but what can you do.
And since we're on the topic of jewelry...
I bought another necklace, er... two to be exact since it came as a pair. It's okay though because it was only $7.95, right? XD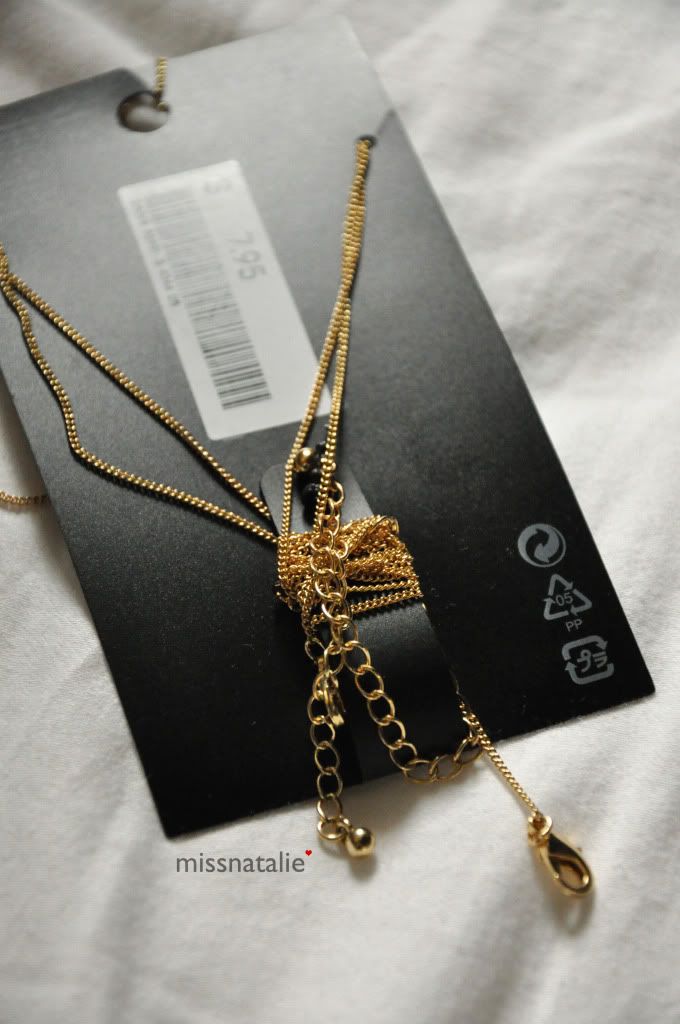 I saw this necklace before but passed on it because it was nearly impossible to see what the length of the necklace was. But when I saw it in stores again, I was determined to untangle it and find out the length. I stood there for a few minutes and finally was able to get it loose.
I love this style of necklace. It's simple and complements an outfit well.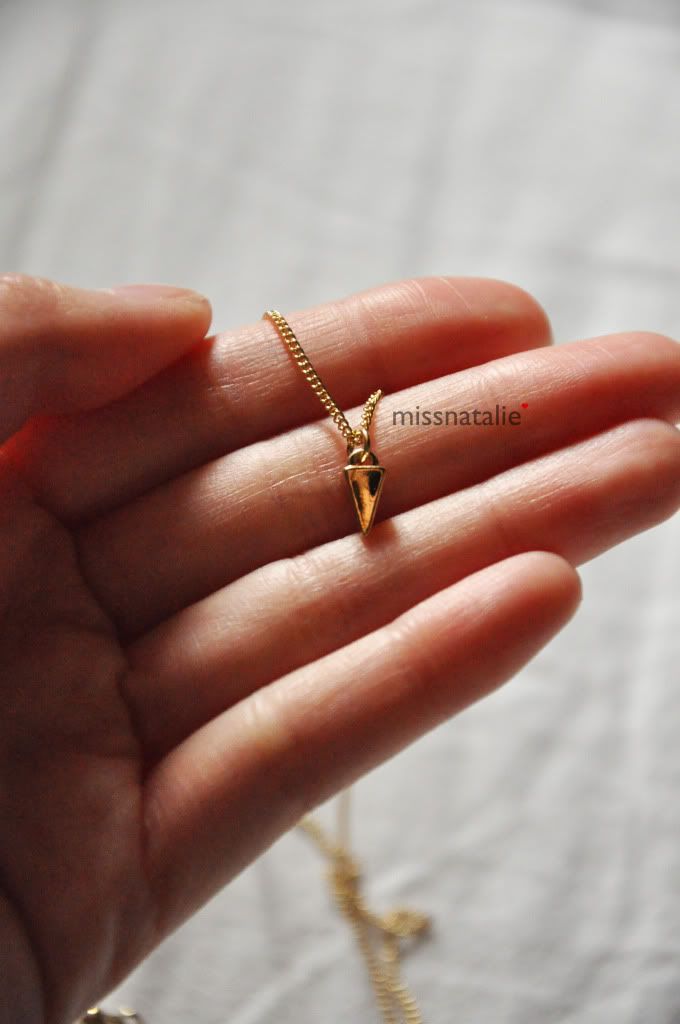 I could pair these two necklaces together or wear them separately. This was a really great buy and I'm glad I took the time to check it out.
With all the gold jewelry I have now, can you believe that I didn't own a single piece of gold jewelry a couple years back? Silver was the "it" colour for me. Now look at me!
I found this awesome studded faux leather wrap bracelet but I don't think it's actually made by Expression. Someone might have just stuck it on there because I didn't see a price for it. That and I didn't see any other similar styles by Expression around (I could be wrong though). I didn't get it though because I was too lazy to go find someone to price it for me.
Went and looked at the BCBGeneration bracelets again. This time I spotted this dainty gold bracelet. With 20% off it was only $20. I didn't get this either because I noticed the right side band was a little lop-sided. Plus I didn't think $20 was justifiable for this piece (it didn't feel that sturdy). Cute though.
What type(s) of jewelry are you into lately?
"The best and most beautiful things in this world cannot be seen or even heard, but must be felt with the heart." -Helen Keller