My first purchase from
Sasa.com
turned out to be so pleasant that I went ahead and ordered a couple more things. The great thing about Sasa.com is how often they have
free worldwide shipping
when you spend $29 or more- which is very easy to do if you're beauty obsessed. It takes about only a week for the packages to get to my door which is fast considering it's shipped from overseas.
Taken from the site:
"Established in 1978, Sa Sa has grown from a 40 sq. ft. retail space to become today's regional "beauty" enterprise and is now the largest cosmetics retail chain in Asia and one of the top ten retail groups in Hong Kong.
Maintaining its position as the dominant and most preferred cosmetics retailing group in Asia is the Group's vision. Our four-fold mission is to offer quality and comprehensive beauty solutions to our customers; to share success with our staff; to become long-term partnership with our vendors; and to adhere to the principles of good corporate citizenship."
After I finished my Shiseido Bio-performance eye cream (which I loved), I wanted to try something new since it's a good idea to switch up the skincare routine once in a while so that the skin doesn't become immune to the product's effects. I decided to get
Laneige's Perfect Renew Dual Touch Eyes
- something I had been wanting to try for a long time now.
Laneige Perfect Renew Dual Touch Eyes:
(Taken from
Sasa.com
)
"Laneige Perfect Renew Dual Touch Eyes is a set of eye cream that provides double care for the eye are during night and day. This set of eye care treatment could help anti-aging and providing bright and smooth eye area. The day cream used to protect your eyes area, avoid the UV rays and provide you a pair of moist eyes. Night cream is to provide you nutrition during sleeping time, and repair the damage suffered from the day."
Just from description alone it already had me convinced that I must try it. I love how it had two different eye creams for day and night because it makes sense to use eye cream that has SPF in the daytime. For $50 you get a collective eye cream amount of 30ml which is double the amount of what most other companies offer.
The day eye cream has a sun protection factor of 25 which is quite high for any eye cream I've seen. Protecting the eye area from the sun will help prevent sun damage which accelerates the signs of aging such as wrinkles and age spots. Their night eye cream promises to repair and provide aging care but unfortunately I don't see nor experienced the results to those claims. The day eye cream has a thicker consistency than the night eye cream. Both are great for hydration and perhaps a step towards the prevention of aging, but I would not go as far as to recommend it as an anti-aging eye cream that would reverse and repair. I saw no difference in my fine lines (yes, oddly at my age I have fine lines).
The presentation looks impressive (like a little station) and I like that they include a little spatula to scoop the product out.
Although the packaging is rather bulky, you can actually make it travel friendly by easily popping out the individual capules. How convenient!
Here was my second order. As you can see, Sasa makes sure they package their products very well. What did I get you ask?
Collagen powder.
Why collagen powder? After being fed up with little to no results from eye creams claiming anti-aging results, I figured it was probably best to cure from within. After all, we are what we eat. I've read about collagen powder before years ago but never took the leap to try it. But after some careful research and reading many good reviews and results, I decided to give
Fine's collagen powder
a go.
Fine Hyaluron and Collagen:
(Taken from
Sasa.com
)
"Fine Hyaluron & Collagen replenishes skin with essential nutrients. After use, skin becomes elastic and lifted up. Prolonged use maintains healthy, radiant and youthful skin.
Unlike other collagen additives, Fine Hyaluron & Collagen adopts tasteless collagen extracted from fish. As it is decomposed into very fine molecules, it could be effectively absorbed. Blended with other beauty ingredients, it works to suppress the production of melanin, moisturize skin and reduce the appearance of imperfections such as spots, lines and dark circles."
Hyaluronic Acid - maintains watery and supple skin.
Collagen - helps vitalize skin.
Elastin - improves elasticity of skin.
Adlay Extract - detoxifies and whitens skin.
Vitamin C - accelerates metabolism.
Vitamin H - maintains healthy skin.
At $49 for a 210g can, it's definitely not cheap. But Sasa has these Buy 2 Get 1 Free promotions on Fine products (currently happening), so when you divide the difference, it's about $30 a can- which still isn't particularly cheap but taking care of my skin is important to me, so I don't mind the investment.
It's made in Japan which makes it even better in my own biased opinion. It seems to be a very popular item on Sasa's
Japanese charts
, which is how I stumbled upon it. It ranks top seller and best rated product sold from Japan. That must mean something right? It's set in a very cute sealed tin can.
Each can comes with it's own spoon. You're basically suppose to consume a full spoon each day. You can dilute it in warm water, milk, or coffee (like I do)... or you can even consume it with desserts supposedly like in ice cream or yogurt (though I've never tried). I've only tried it with my coffee since it has this milk taste to it. It does change the taste of your drink slightly so do keep that in mind. It dissolves just fine.
After some diligence, I'm almost finished with my first can. I have noticed drastic improvements in the fine lines underneath my eyes- more than any eye cream has ever done for me. I also gave my mom a can and she liked it so much she bought refills.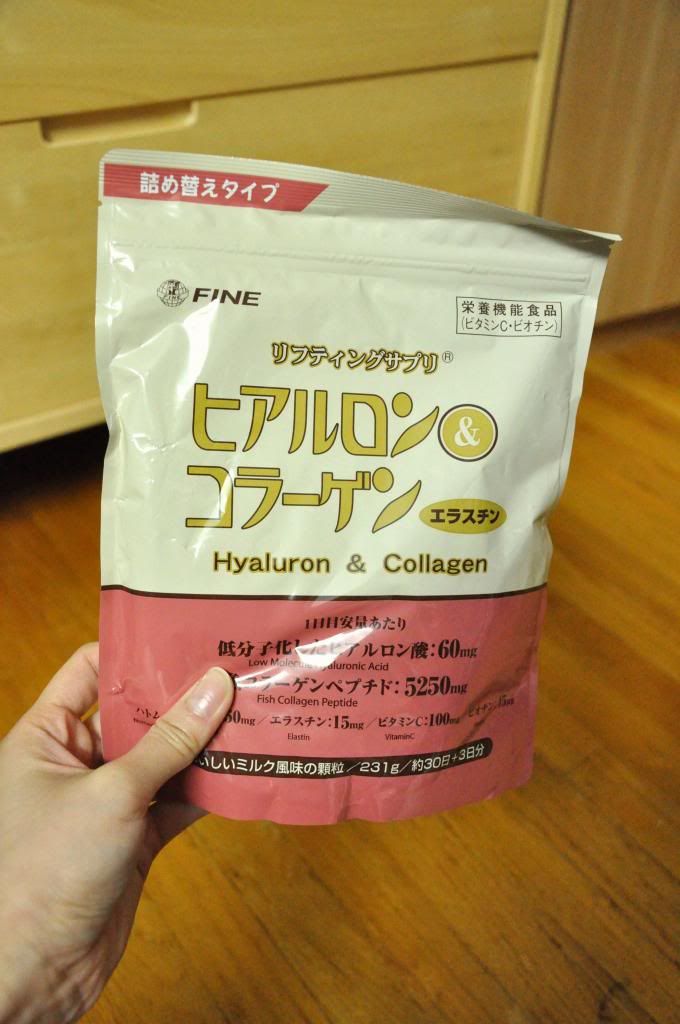 And yes, they do offer refills so keep those cans! It's slightly cheaper and you do get a tiny bit more than the can too.
I've also read that
Meiji
also make a pretty good collagen powder. I might try that after I'm done with Fine just to compare.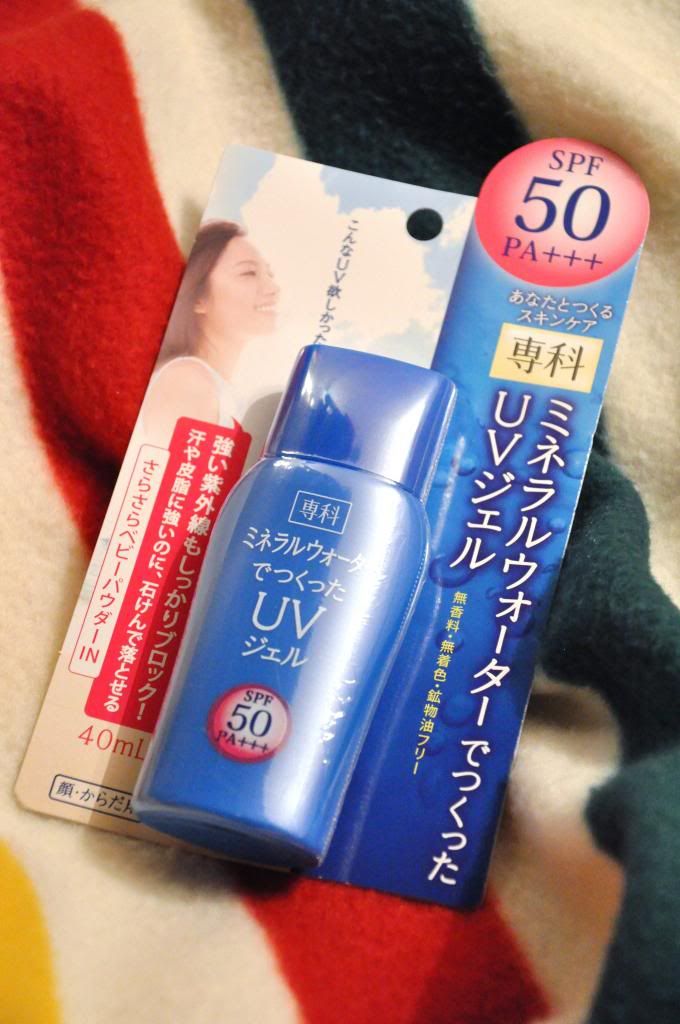 Lastly I got this Shiseido drugstore gel sunscreen that I've been wanting to try out forever. I haven't even opened it yet but hopefully I will soon.
If you plan to order from Sasa, I highly recommend waiting for their free shipping worldwide offers when you spend $29+. They have them quite often so it's never that long of a wait. I've even seen promotions of spending as little as $15 for free worldwide shipping, so try to avoid shipping costs when you buy from Sasa.
And for a little update, good news! My light has been fixed and my laptop is working fine now after I downloaded all the necessary Window updates to make my laptop current as of today.
"Everybody wants happiness nobody wants pain. But you can't have a rainbow without a little rain." -Unknown