You know what else I love about Fall? Boots. Ankle boots, mid-calf boots, flat boots, riding boots... I heart boots. Slipping on a pair can instantly make any outfit chic. I love browsing for boots at
Aldo
and
Call It Spring
. The most I've ever spent on boots was on an Aldo pair that was right around $180 I believe. I have never purchased a pair of designer boots before though. While browsing around in Winners (typical), I stumbled upon this
gorgeous
pair of suede boots and instantly fell in love.
I present to you, my first ever designer boots, Coach. I love how it's so classy and sophisticated.
How could I have resisted it such a gorgeous pair of boots? I couldn't have, I shouldn't have, afterall, if you find something you like at a place like Winners, grab it or else be ready to say goodbye forever.
I'm not sure how accurate the comparable price is, but I do know that a lot of their items are cheaper than regular retail value. Now $220 (with tax) is the most I have ever spent on boots.
The zipper detail gives it that little bit of edge. I like how it's located on side of the boot that faces out so you can see it.
When you invest in a pair of good boots, you can really tell the difference in quality. It's well made and comfortable to wear. My feet are not used to wearing heels, but I can stand to wear these for 4 hours before it starts to hurt.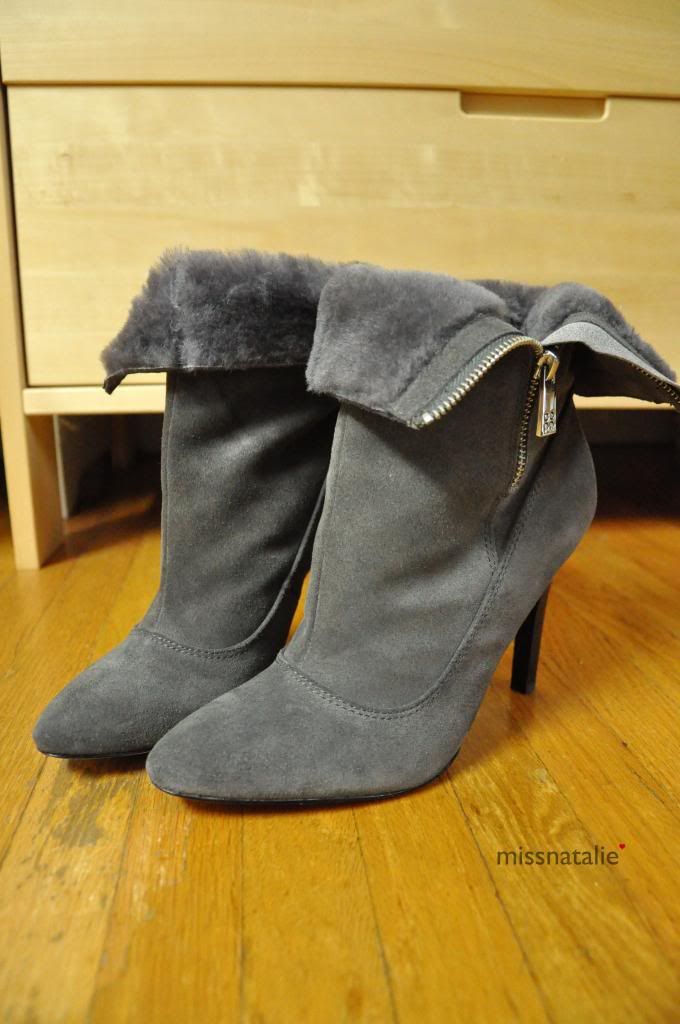 I can also wear the tops down for a different look. I love these boots so much. I take care of them by spraying them with a protector spray so it can be dirt resistant.
And that's not the only thing I found at Winners. A few other visits had me finding Bliss products at a fraction of the price!
I've been wanting to try their Steep Clean Pore Purifying Facial Mask for a long time now. I got it for only $24.99 (retail price is $59.00)! As for the Thinny Thin Chin Neck Firming Cream, I've been on the hunt for a good neck cream and after reading great reviews on it, I decided to go with it. I was actually waiting for the Sephora sale to purchase it, but they never ended up making the sale public. You can imagine how happy I was when I spotted it at Winners instead. I only paid $19.99 (retail price is $48.00). The only downside with Bliss products is how crappy their packaging is. For the price you pay, the packaging is very flimsy and very drugstore-like. I detest their packaging but the only reason I still want to try them is because they get amazing reviews.
I'm holding off on using them until I use up some of my older skincare. I'm slowly trying to collect all the skincare I've wanted to try to make my ultimate skincare routine.
"Too much caring will only harm the other person. Don't put too much attention to those whom you can't take responsibility for. It may be the best way for you, but only for you." -Manager Park (Lie To Me Kdrama)