To quickly update you on what's been happening with me: 1) I forgot my ipod touch in my sweater pocket and unfortunately it went in the wash so now it's completely dead; and 2) I put a small dent in the family car because I was backing out of the garage at night and didn't see my sister's boyfriend's car in the driveway. Hm, let's see... what else? Ugh. A string of bad luck guys- not good.
Anyway onto better things... the week of the 17th, I decided to splurge on some L'Oreal Infallible shadows. I already owned two shades in "Burning Black" and "Midnight Blue" but was never impressed with them because they felt dry, had a lot of fallout, and were hard to blend. This was the reason why I never formally introduced these
L'Oreal Infallible eyeshadows
on my blog before with the exception of a mention of "Midnight Blue" from
Ichigobunnie
's package in
this post
. I had actually preferred the Maybelline Color Tattoos over these but of course you can't really compare the two since that is cream based and this is powder based. As time went by, I just couldn't ignore all the raves these L'Oreal shadows were getting. I figured there must be something that I was missing, so I decided to give these Infallible shadows another go.
After watching a number of videos, I knew that I had to get my hands on "Endless Chocolat" which looked like a gorgeous deep brown and "Amber Rush" which was a colour a lot of people recommended in their monthly favourites.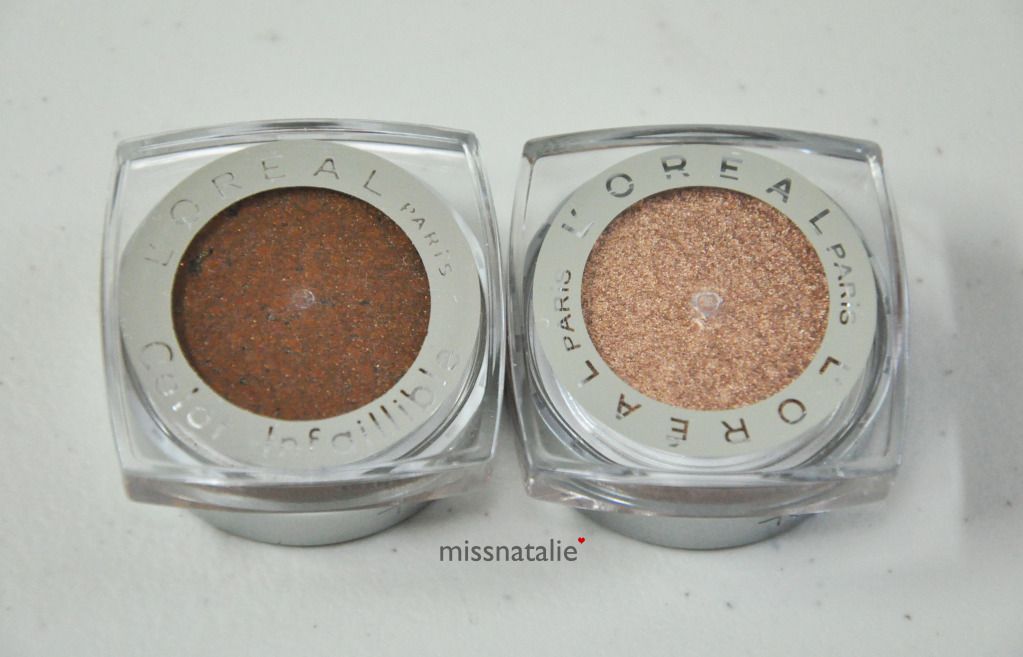 "Endless Chocolat" (left) and "Amber Rush" (right). If you're wondering why there's such a drastic colour difference with "Endless Chocolat", that's because there is. In person there's a slight colour difference with what it looks like in the pot and what it shows in the back of the pot- weird right? When swatched, it looks exactly as it does in the pot (not the colour seen on the back).
When I swatched these babies, it was completely different to what I experienced with my first two shadows. It seems texture and pigmentation depends on the individual shadows. "Endless Chocolat" has a sheen finish, it's pigmented, a bit dry (not as dry as the "Midnight Blue" or "Burning Black" though), and has a little bit of fallout. While "Amber Rush" has a shimmery finish, it's very smooth, buttery, and super pigmented; I also don't get any fallout when I use it.
I completely understand why "Amber Rush" is a favourite among a lot of youtubers. It's a gorgeous shade! I love using it as the main colour all over my eye. It really brightens and gives that bit of colour and "oomph" to my eyes. I also like using "Endless Chocolat" more close to my lash line to add a natural eyeliner effect or to do a subtle smokey look. I have more shades and swatches to share but that will have to wait. I'll also swatch everything together after I introduce all the colours I own.
The only thing that bothers me about the L'Oreal Infallible eyeshadow line is the difference in pigmentation and texture among the individual colours themselves. And not to mention the difference in the names and colour availability in different countries. Why do they have to make it gosh darn confusing?? Don't quote me but if you want "Amber Rush" I think it might be a limited edition shade so you might want to hurry out and get it. I got mine from one their limited edition collection stands at Shoppers. I really wish they would update their site and clearly state what is in their permanent line and what is LE. It's annoying going to different stores and seeing all sorts of different and varying shades available every time.
I need consistency
!!
And because I'm unavailable to blog a lot these days, some bonus pics!
Now you can clearly see my tomato plants- I have 10 growing in total! Three are cherry tomatoes and the rest are steak tomatoes. You can also catch a glimpse of my lettuce that are growing at the bottom there. I was hoping for a second harvest this summer.
They're already starting to fruit! :D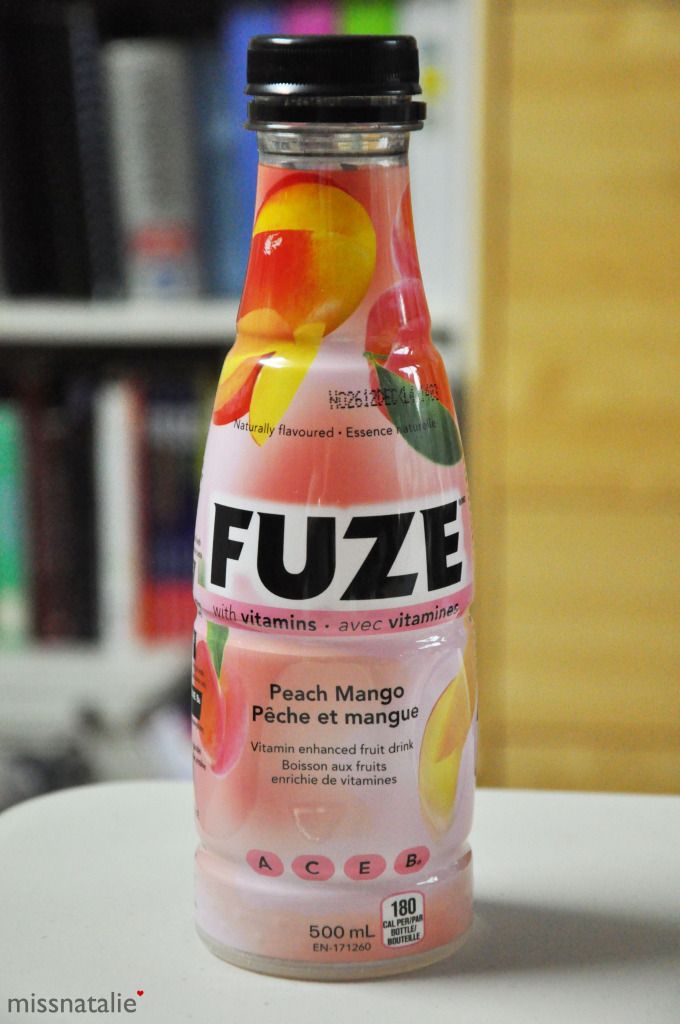 Have any of you tried this
Fuze
drink? They're infused with vitamins. I've tried their berry one (can't remember the name exactly) from their shape line before and that was pretty good. This Peach Mango one from their normal line was absolutely delish. I would definitely buy this one again.
"Trying to forget someone you love is like trying to remember someone you never even knew." -Unknown