With all the shopping trips I've been going on lately, it feels like I've been throwing out money left and right.
I don't go all out or anything, so maybe I'm just not used to spending anymore. I remember a couple years ago when I didn't even think twice when it came to buying cosmetics. That was back when I started my first blog and when I started to expand my makeup stash. Sephora was my haven while my wallet was my prisoner haha.
One thing that hasn't changed though is my love for sales. I am a sales/deal hunter and almost always try to buy things on sale or at a good price. I'm sure many of you are aware of Bath & Body Works' big Semi-Annual sale that's going on right now, if not, then now you do. You can save up to 75% off select items. It was rather unfortunate that I bought a couple of their hand sanitizers at 3 for $5
right
before the sale happened though. That was the first time I shopped at BBW so I had no clues when it comes to their sales. Regardless, I was still super excited for their sale because I've always wanted to try their candles for the longest time ever. The regular price of $22.50 for a candle is a little ridiculous in my opinion, so when I saw they were having 50% off their candles, I grabbed a couple.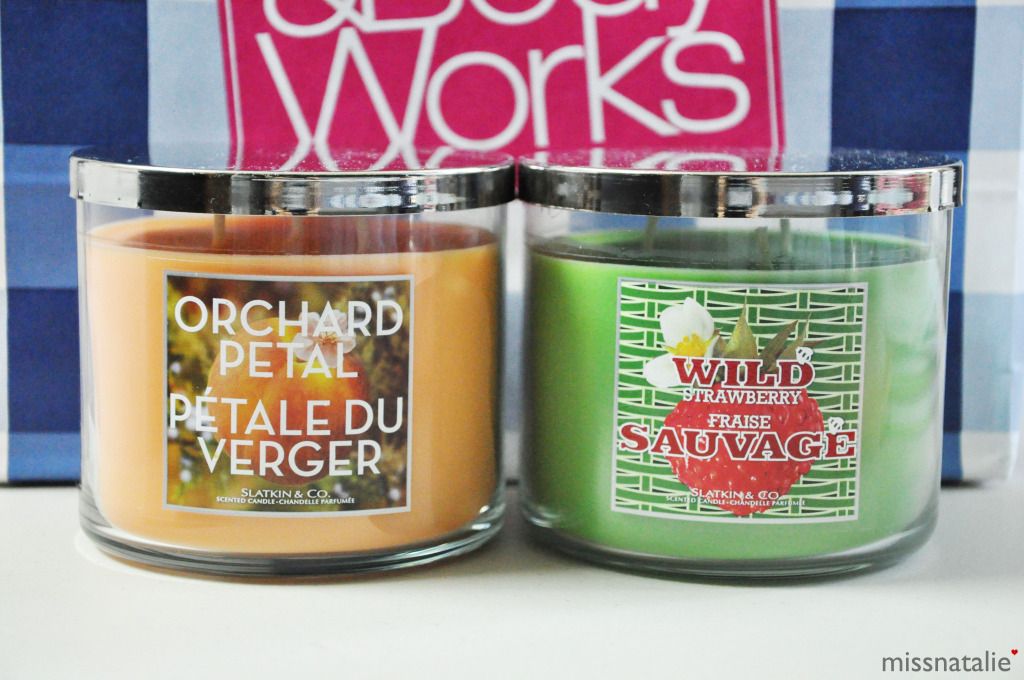 This is what I ended up getting. I immediately loved Orchard Petal candle the moment I smelled it. The store I went to didn't have as great of a variety so I ended up getting Wild Strawberry candle since I love strawberries anyway. With 50% off, these came to $11.25 a piece.
Lighting my first BBW candle!
Bath & Body Works candles
are really really nice. I now understand why they cost so much- although I would never pay full price for them. When you open the lid you can smell it already and the moment you light it, instant fragrance starts circulating the room. They not only smell awesome, they're super fragrant, and they look really nice too even without a candle holder! Oh and I also love how it comes with a lid so that dust doesn't get in. I also use the lid to put out the candle so that it contains the smoke (I hate the smell when you blow it out). And the next time you open it. the smoke will have dispersed by then, so no yucky smoke smell!
As the sale went on, they ended up further marking down some more of their items (candles at $10 and hand sanitizers at 5/$5 instead of 4/$5 that they had before). Of course I was little mad but at the same time happy because I could go back and grab a couple more candles and more hand sanitizers haha.
And this is what I ended up getting the second time around. It seems that the sale gets better as time goes on but things do run out so it's probably best to grab what you want instead of risking them running out. I actually got 3 Paris Amour hand sanitizers because they ran out of the Midnight Pomegranate and the Fresh Market Apple one that I wanted more of. It's okay though because Paris Amour equally smells good. As for candles, I got a backup of the Orchard Petal candle because I love the smell so much and I also picked up Sweet Pea because it too smells super good too.
I love using
Bath & Body Works hand sanitizers
because they not only do the job of getting rid of germs, they smell great! I never liked the alcohol smell of normal sanitizers. These BBW ones are at least pleasurable to use.
I also dropped by The Body Shop because they were having this awesome Buy 1 Get 1 sale.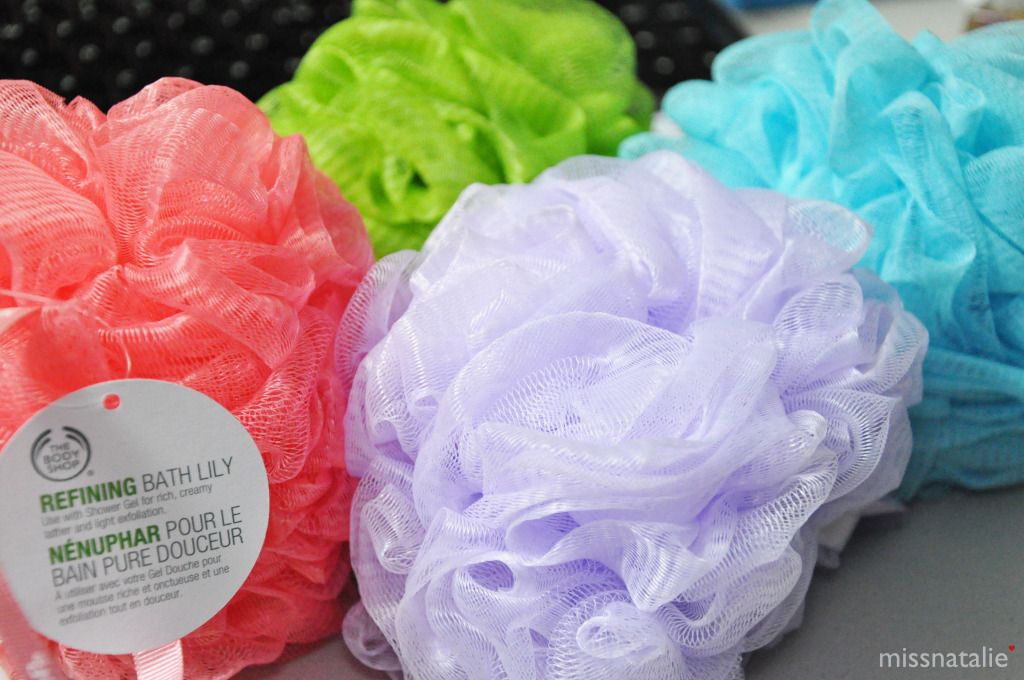 I love the Body Shop's Refining Bath Lily. They are the absolute best. At 50% off these only came to $1.50 each. I can't stand the dollar store loofahs because they're not full and fall apart easy, while loofahs at Shoppers are too expensive, and loofahs at places like Walmart are not as soft as The Body Shop ones. They're soft not abrasive, they're full and firm, they lather well, they last for a while, and they're available in a bunch of fun colours. I always stock up when they have a good sale going on.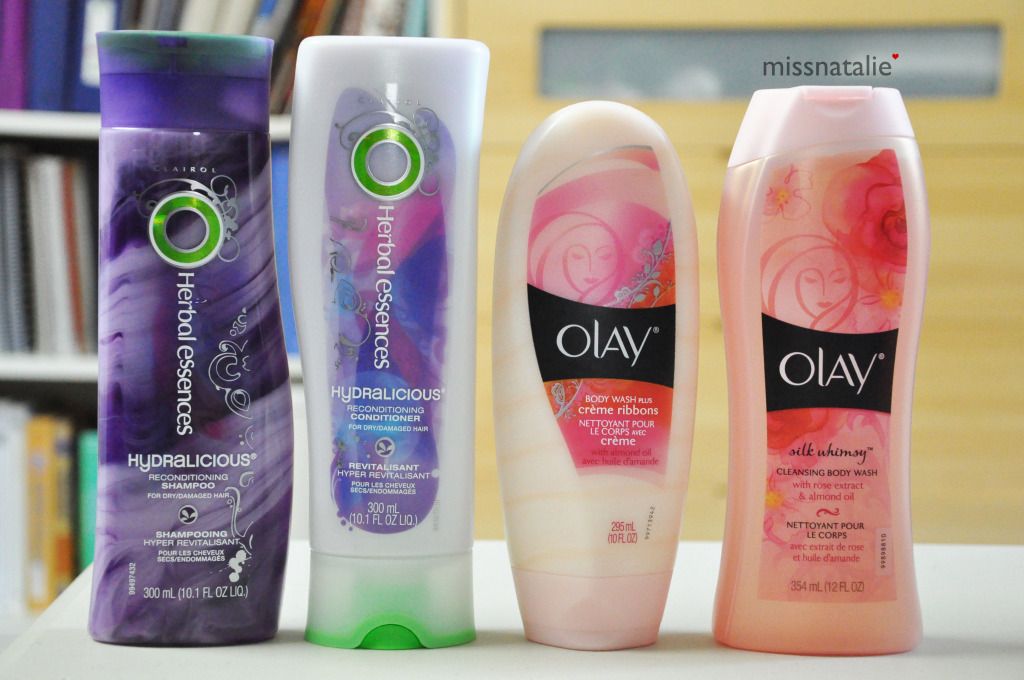 And since we're on the subject of bath stuff, I also grabbed all of these products on sale at Walmart. The Herbal Essences was only $2 a bottle! I like switching up my shampoo and conditioner once in a while so that the product doesn't stop working after my hair gets used to it. Herbal Essences Hydralicious is great to use when my hair is a little on the dry side. It doesn't cure it as I have to use additional products to revive my hair, but it's a great moisturizing shampoo and conditioner among other drugstore shampoos and conditioners. Getting the Olay Body Wash Creme Ribbons was a mistake because I got tricked into thinking that it was from their Silk Whimsy line!! But getting the Olay Silk Whimsy Cleansing Body Wash was intended because I love the scent. Yesterday I finally opened and used the body lotion from the same line and it was heaven! I will do a separate mini review on that hopefully soon.
Lastly for today's post, I was walking in the mall when I decided to head into Carlton Cards to have a look around. Lo and behold, they were having a 75% off sale and they had a huge section of cards that were only $1 each!!
I'm not a card person... but I could not help it when I saw how dirt cheap these were. Each card usually retails for about $3-5. Now tell me how I could have possibly passed that up. With that great of a deal I actually ended up going back and stocked up on some more. The first trip I went I got 8 cards and then when I went back I got 9. In total I saved over $60. $60!!! As with anything else card or paper related, I'm usually drawn to simplicity and/or elegance, so that's what I mostly ended up getting. Unfortunately there wasn't that great of a birthday card selection... but I did end up getting a lot of wedding and even baby cards haha. Hey, you never know right?
Here are a few of my favourites. It also gives you a sense of what kinds of card and paper craft stuff I'd be into. If you're curious to what the Happy Anniversary card says inside, it says, "No matter watt." I thought it was cute haha. And the picture of the bulb actually has a clear plastic background and real wire for wire hearts. Pretty neat right? Only a buck! Still can't get over it!
"If you focus on what you left behind, you'll never be able to see what lies ahead." -Remy