Happy Star Wars Day! May the fourth be with you.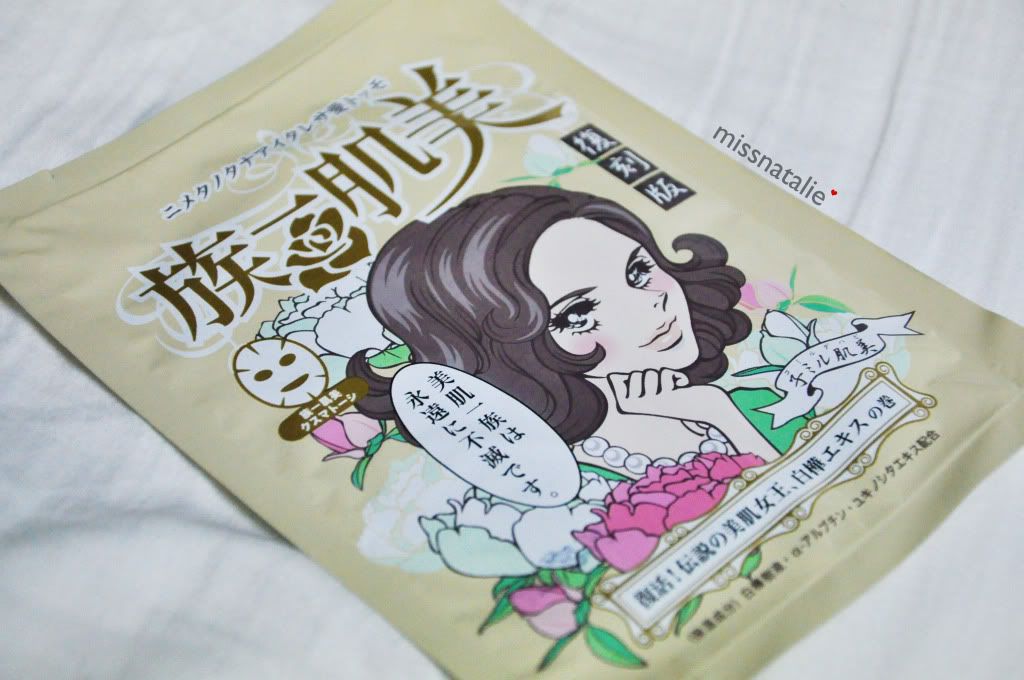 I saved this Bihada Ichizoku mask for what seemed like the longest time ever. I always told myself that I would use it for a special occasion, but every time a special occasion rolled around, I would forget to use it and then save it for the next time I would forget again. It's no surprise I've held onto it for so long, after all this mask sells for
$10 a piece
. But last night, I finally told myself that there's no point in saving it if I keep forgetting it. So, I finally used it.
Bihada Ichizoku Rumiko Moisturizing Mask (White Birch):
(Taken from
YesStyle
) -
"A pre-cut facial mask soaked with generous White Birch Essence to soothe and pacify sensitive skin. Known for its anti-inflammatory qualities, the White Birch plant alleviates redness, itchiness and other symptoms of skin allergies. The addition of Saxifragaceae essence doubles the anti-inflammatory benefits of the moisturizing mask, while also cooling skin on contact, leading to a very relaxing experience. By Bihada Ichizoku."
The packaging is obviously
beautiful
(which is why it was so hard to let go of). The sheet mask itself was thick and the serum was thick and rich- I'm unsure if that had to do with how long I kept it for though. The smell was wonderful. But aside from all these wonderful qualities about the mask... it broke me out LOL. It could have been something in the ingredients or maybe it was too rich for my skin. But my skin did feel more plump and hydrated after using it. Would I personally buy this mask? Not for $10 I won't. Ten bucks is just too much for a one-time use product. I would rather pay 3-10x the amount for a serum that I can use on a regular basis to get the benefits of hydration and anti-aging.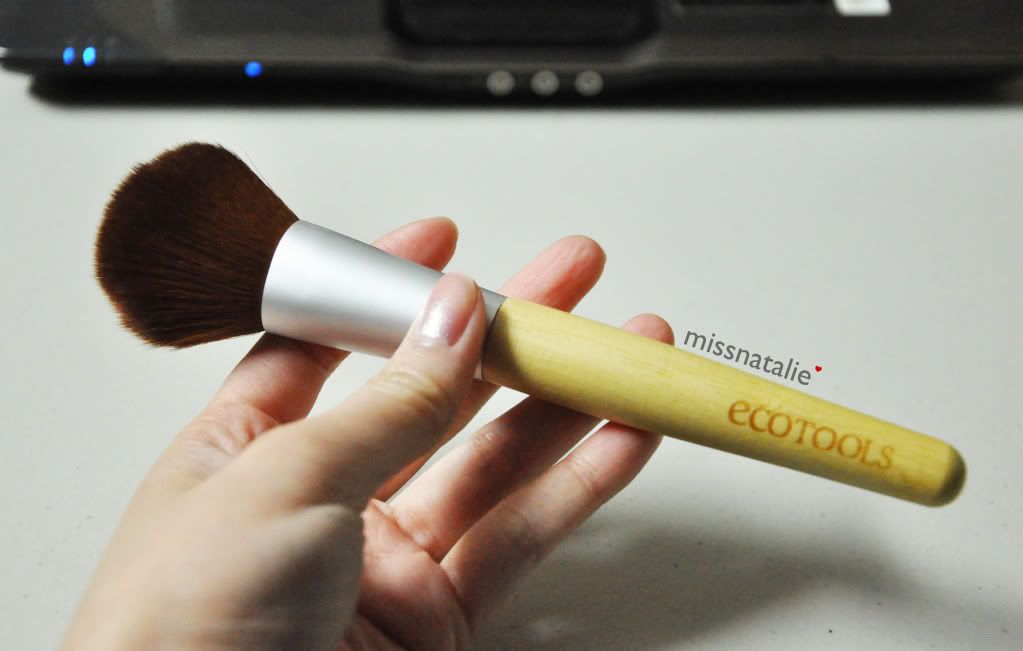 This is the EcoTools blush brush. I was excited to use this to apply blush but I didn't realize that the brush head was going to be so dense. I like my blush brushes to be tapered and not too compact because it's easy to go overboard with blush.
Here is a comparison of the EcoTools brush with my Annabelle and Posh blush brushes. Notice how the Annabelle and Posh brushes are not as dense as the EcoTools. I think the EcoTools blush brush would be great to use for contouring though, so I think I'll be using it for that.
Garnier Fructis hair products! I've been using these for the last month and now I can finally let you guys know what I think of them. Both the mask and treatment have since been repackaged but I think the product inside might be the same- but don't quote me on that.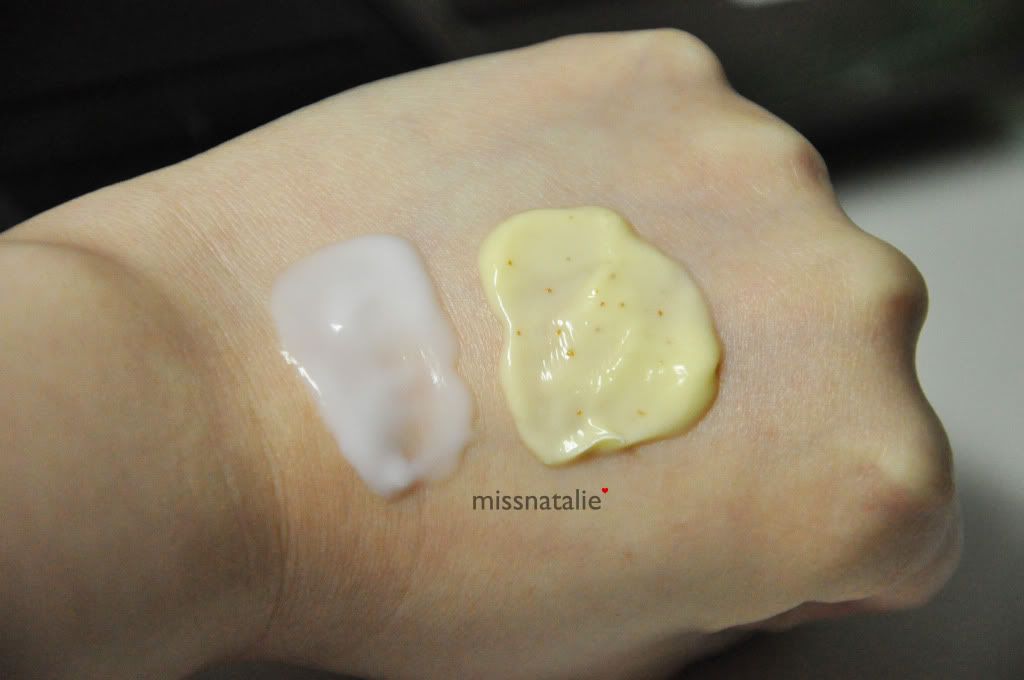 Instant Repair Mask [left];
Dryness Reversal Treatment
[right]. No swatch for the leave-in detangling spray because you can already see it in the bottle.
Garnier Fructis Instant Repair Mask
from the Damage Repair line
:
Replenishes hair's natural substance to repair damaged zones from deep within. 1. Plant proteins penetrate inside hair; 2. Damaged zones are sealed.
You apply this mask from root to tip after shampooing but I only apply it midway down. The mask is okay for drugstore- especially for the price (it's only about $3 if you buy it at Walmart). But even though the price is good for the tube, it's not that economical because it gets used up pretty quickly. I end up using a palm sized amount because the mask isn't as thick or creamy as other masks I've tried. You have to work quickly to distribute it evenly in your hair too because as soon as it hits wet hair it will literally melt and disappear. The smell is the typical of Garnier products. The great thing about this mask though is that there is no waiting required (I leave it on for a bit before rinsing it out though). My hair feels a bit silkier and stronger after using it. The results aren't long lasting enough for a mask though. I just don't find it nourishing enough for a product that is suppose to repair my hair and be used once a week. I won't be repurchasing this.
Garnier Fructis Dryness Reversal Treatment
from the Triple Nutrition line
:
The 3 nutritive fruit oils penetrate to nourish every strand to the core (also enriched with apricot seeds). Olive oil nourishes the inner core. Avocado oil nourishes and softens the middle layer. Shea oil nourishes and smooths the surface.
This deep conditioner is pretty good for drugstore. After shampooing you apply and leave on for 3 minutes. The conditioner is very thick and creamy, and again, smells typical of Garnier products. It's sounds impressive because of the 3 oils and I like how you can see the little bits of apricot seeds. Although my hair does feel a bit silkier and hydrated after usage, it's not a product I would "rave" about because Shiseido's Tsubaki line performs a lot better. It's a toss if I'd repurchase this, but it's likely that I won't. It just doesn't do enough as a deep conditioner. You can find this at Walmart for also about $3.
I'd also just like to add that I don't believe that one product can give you perfectly hydrated hair, much like how a cleanser won't give you perfect well-kept hydrated skin without using moisturizer. The key is to have a good system in place, a good haircare regimen with products that work well together and work good for your hair type.
Garnier Fructis Double Care Detangling Nourish + Repair Leave-In
from the Triple Nutrition line
:
Detangling milk nourishes and detangles hair without weighing it down. Repairing serum enriched with fruit oils that penetrate each layer of hair, the serum repairs and softens hair.
Finally! A product I can rave about! I really love this leave-in detangling spray. This is a product that you have to shake to mix to activate the product. After showering, I apply it to damp hair and then blow-dry. It leaves my hair feeling so soft and silky smooth. I am extremely impressed because I've never used a leave-in spray that made my hair feel like this before. It just feels so nourishing. As for tangling, I'm not a good candidate to test that claim because my hair doesn't really get tangled. I would assume that it does help though because it makes my hair feel silky. I will most definitely be repurchasing this product.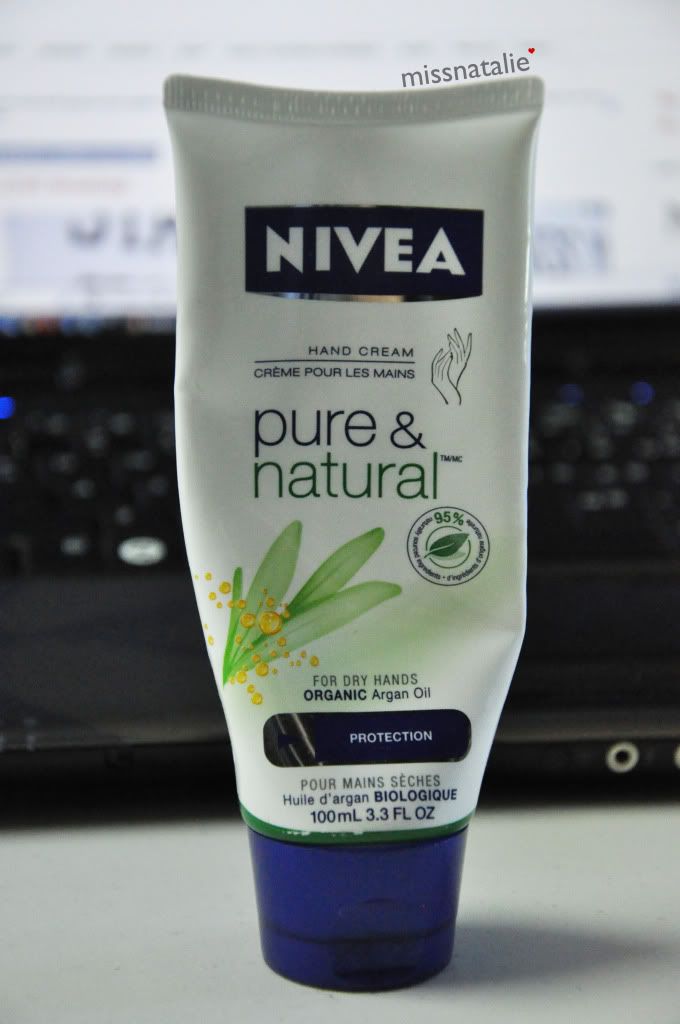 I used this hand cream all winter and now I'm almost finished with the tube.
Nivea Pure & Natural Hand Cream:
With valuable and organically grown Argan Oil intensively protects and nourishes dry hands to make the skin smooth all day long. 95% naturally sourced ingredients.
- NO parabens; NO silicones; NO colorants; NO mineral oils
Crabtree & Evelyn hand creams are my favourite, but this Nivea hand cream comes a close second. The consistency is not too thick but not runny and the smell is pleasant. It absorbs quickly and moisturizes well. I hate hand creams that leave my hands feeling grease and this one doesn't do that at all.
I was interested in trying out this toner from the Pure & Natural line because it seemed really gentle and natural for the skin. My skin is very sensitive, so anything claiming to be natural catches my attention almost automatically.
The
Nivea Pure & Natural Purifying Toner
smells lovely and removes any remaining residues on my face quite nicely. The only weird thing about this toner is that it suds like soap when I apply it with a cotton pad. This doesn't happen with the other Nivea toners I've tried so it's really strange and not something I like about it. I also didn't realize that this had alcohol in it at the time of purchase. I won't be repurchasing, instead I'll be returning back to my favourite Nivea Gentle Toner after I'm done with this bottle.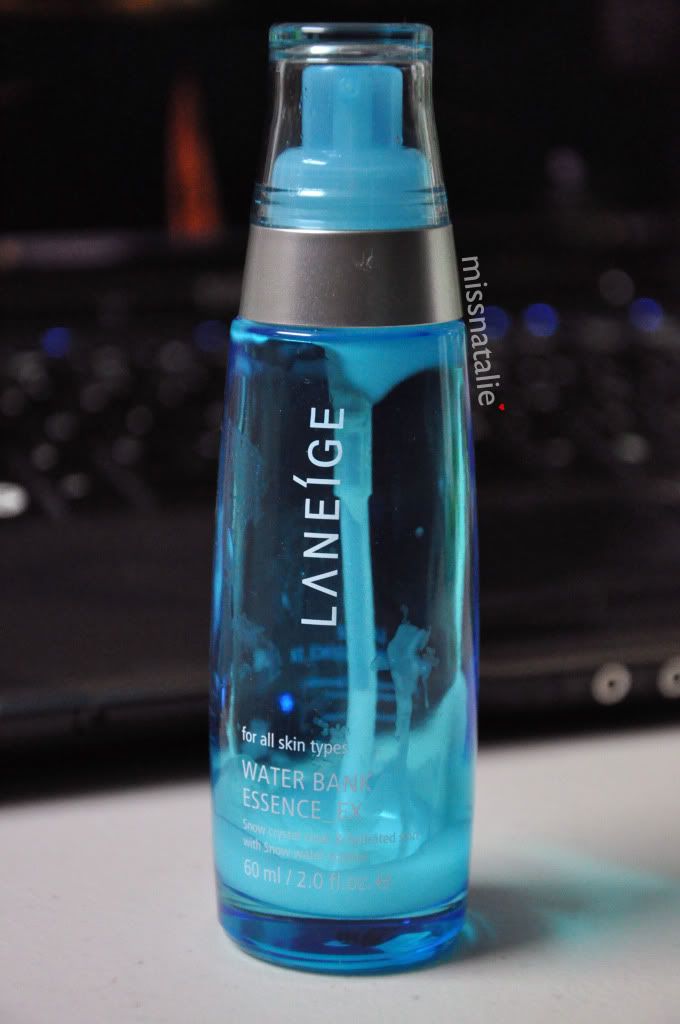 After using this Laneige serum for a few months, I'm almost done!
I was interested in trying out the
Laneige Water Bank Essence EX
because Laneige products in general intrigue me. I got this at a steal price at only $10 in a blog sale (otherwise it goes for $40 retail). As you can see in the picture above, it's very light in consistency. The product is interesting because it feels like water on the skin (seen on the left side of my hand) which spreads easily and absorbs immediately when applied. I find it only okay with hydration and helps products applied after be absorbed a bit better. The only thing about this serum is that it gives me milia here and there if I use it too often. Rather unfortunate how sensitive my skin is isn't it?
I'll probably come back soon with another post like this because I've been using a lot of products lately that I have yet to share my thoughts on =3
"A man who stands for nothing, will fall for anything." -Malcolm X