Tiramisu is a perfect dessert for the holidays. It's simple to prepare as it does not require any baking in the oven whatsoever. It's very yummy and I think it's even comparable to the tiramisu that's served in restaurants. Since it was such a big hit in my house, I'm actually making this again for dessert this Christmas. If you love tiramisu, this will not disappoint.
Ingredients:
6 Egg Whites
6 Egg Yolks
1 cup Sugar, divided (1/3 cup, 2/3 cup)
475g Mascarpone Cheese
1/4 cup Heavy Cream
3 tbsp Vanilla
1 1/4 cups Strong Brewed Cold Coffee
25 Ladyfingers
1 tbsp Cocoa Powder
Method:
In a bowl measure 1/2 cup of instant coffee and 2/3 cup of sugar. Then add 1 1/4 cup of boiling water. Stir until fully mixed together. Place aside and let cool.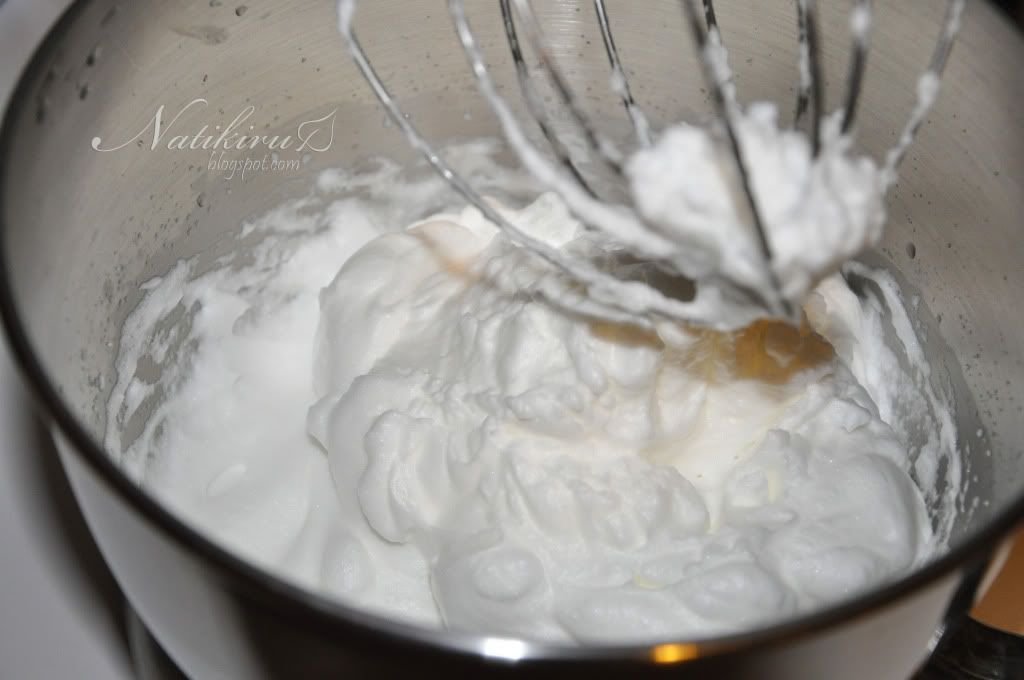 Next, beat 6 egg whites until stiffly beaten. Place aside.
Next, get the 6 egg yolks that was divided from the egg whites earlier and beat with 1/3 cup of sugar.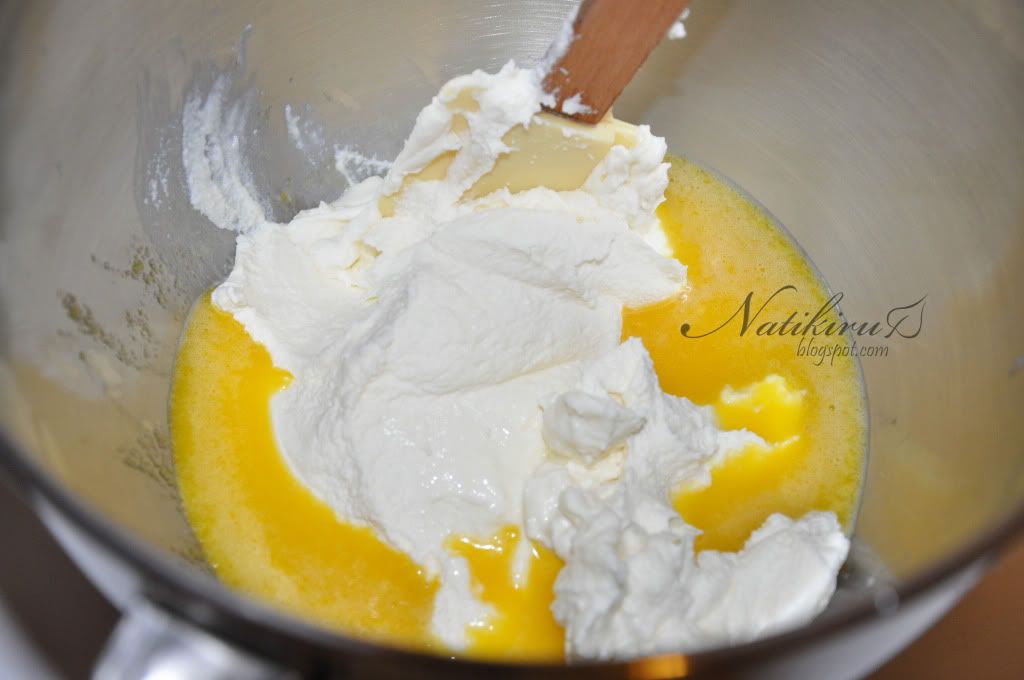 Stir in 475g of mascarpone cheese (mine was the whole container).
Should look like this so far.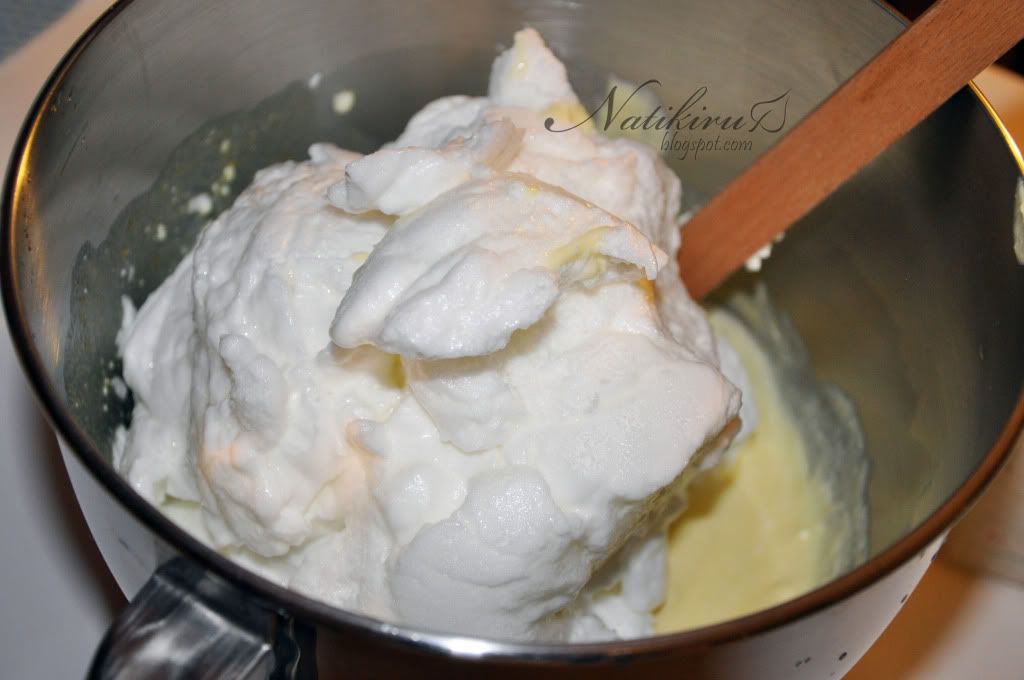 Then stir in the beaten egg whites that you set aside earlier.
Should look like this when you're done.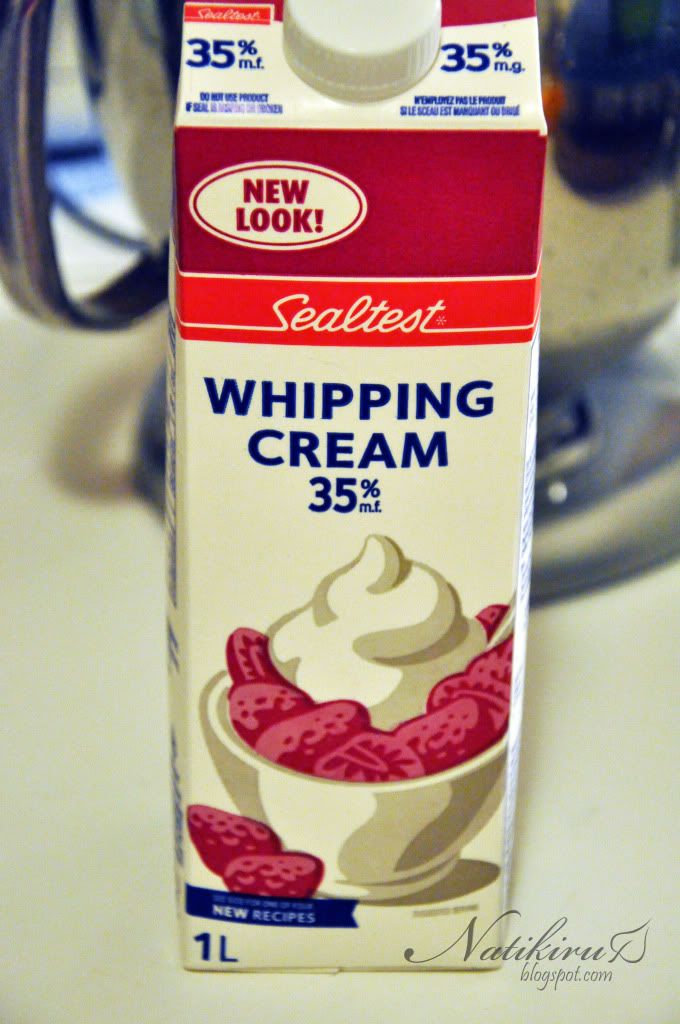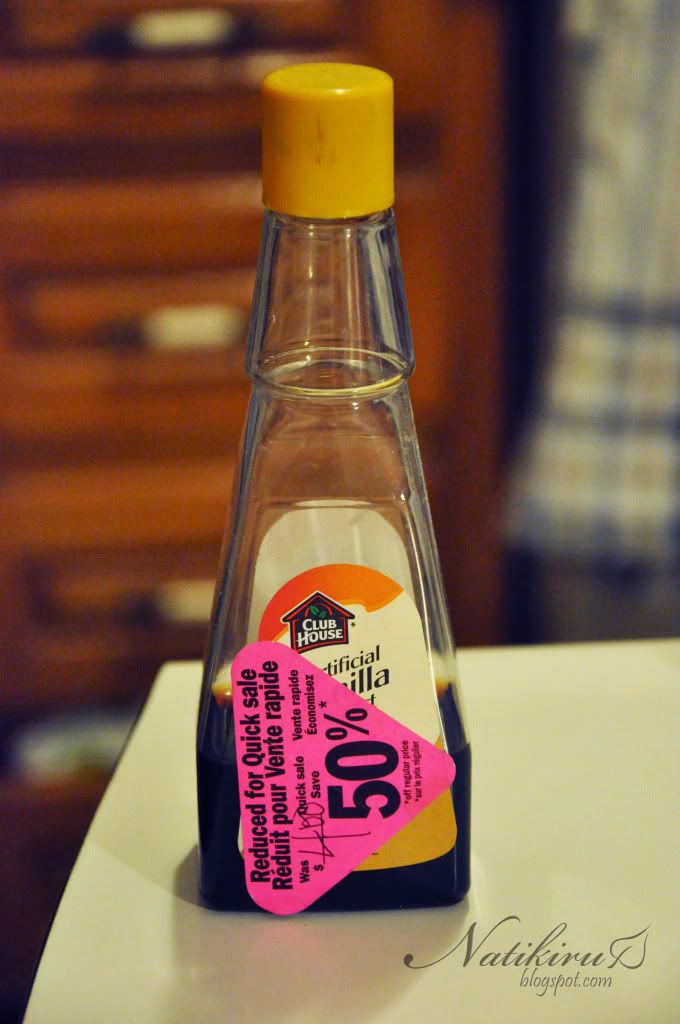 Next add in 1/4 cup cream and 3 tbsp of vanilla extract. Stir mixture until smooth and place aside.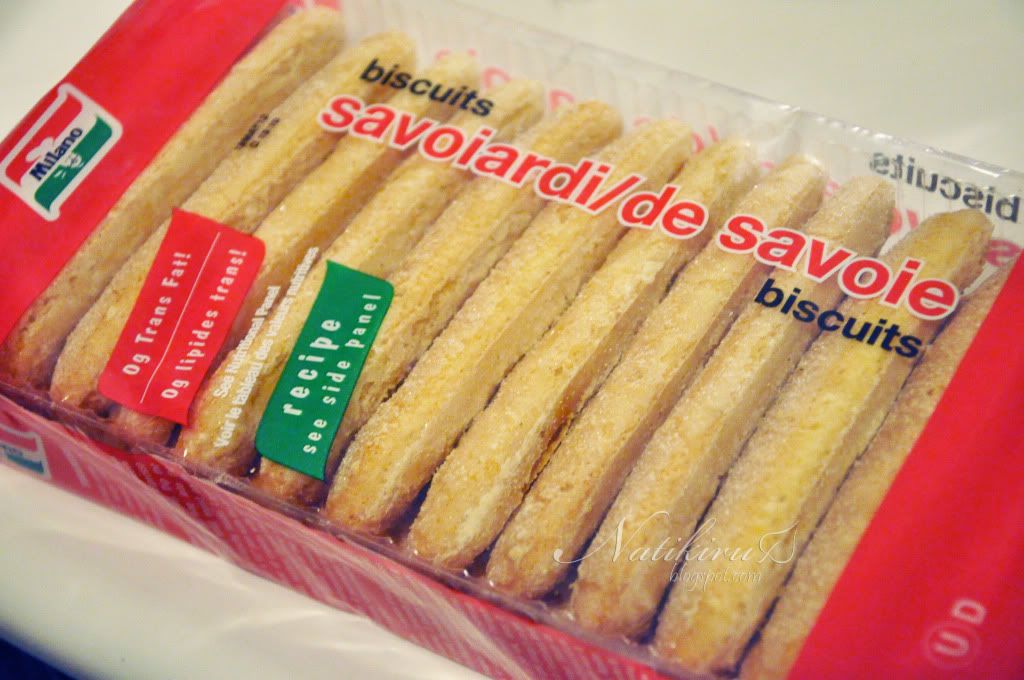 Now to prepare the lady fingers. First check if the strongly brewed coffee has
completely
cooled. *Note that it is
extremely important
that the coffee be cooled* If so, proceed to briefly
dip the lady fingers in or you can do what I did and drop the lady finger in on one side and flipping it onto the other side to coat both sides (I used chop sticks to fetch them out).
Failure to let the coffee cool or not dipping the lady fingers in briefly will result in a soupy tiramisu mess.
Don't worry if the lady fingers still seem hard and stiff at this point. They get softer with time and as they chill in the fridge.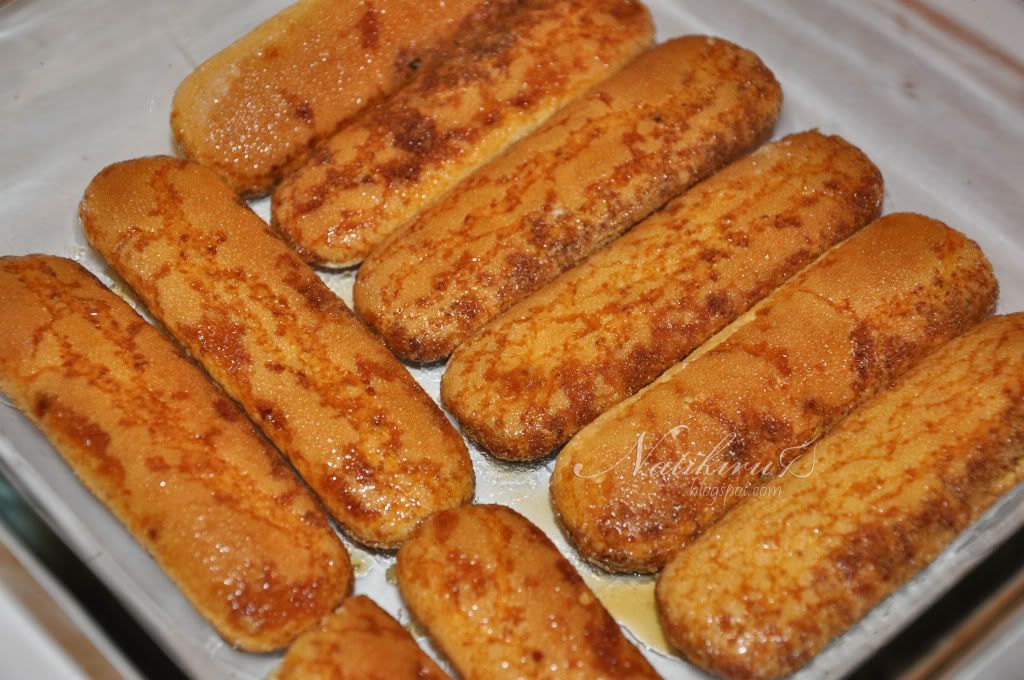 Get a deep baking dish and assemble the lady fingers so that it fits the bottom most efficiently.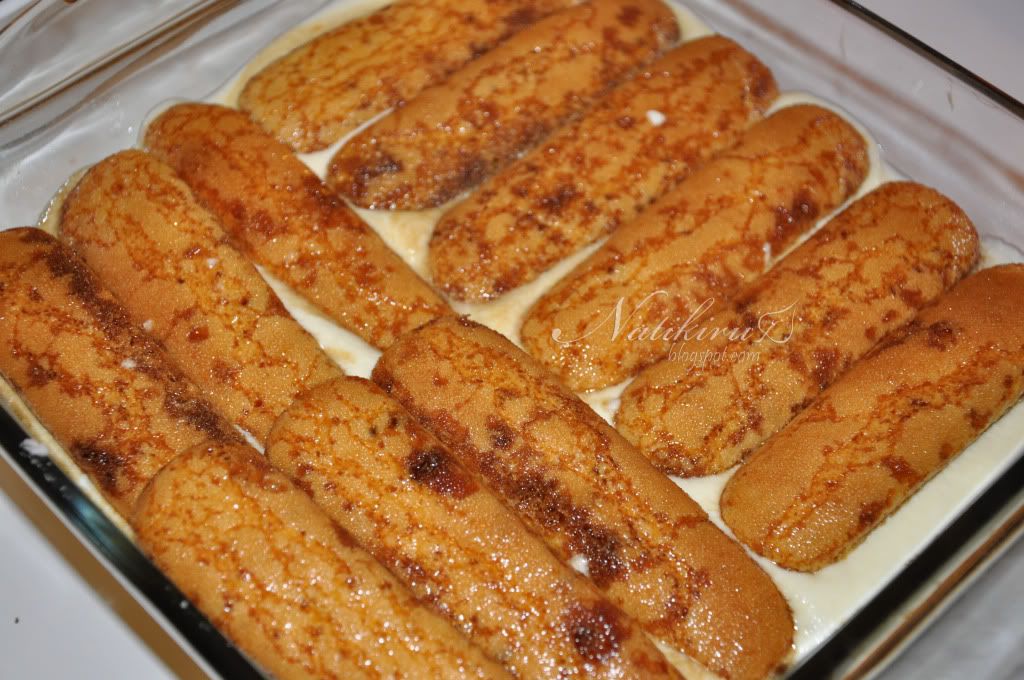 Add an even layer of cheese mixture and another layer of lady fingers. Continue the layer of coffee dipped lady fingers and cheese mixture until it reaches the top of the dish. Remember to finish it off with a layer of cheese mixture.
Cover and place in the fridge to chill for several hours or overnight. (I forgot to cover it here when I took the picture but I did right after).
When you're ready to serve, dust cocoa powder on top. I did mine wrong in the above picture. If you want to dust the whole thing, dust a lot. But you can also choose not to dust until you serve it.
Very delicious. You won't be disappointed. Enjoy!
Source: http://allrecipes.com/Recipe/Tiramisu-4/Detail.aspx
"When one door closes another door opens; but we so often look so long and so regretfully upon the closed door, that we do not see the ones which open for us." -Alexander Graham Bell