Going to
Nuit Blanche
this year with my sister and cousin was a lot more fun and productive than it was last year. This time around we actually looked at the map and planned out where we wanted to go. If you don't refer to the map you'll end up walking in circles and won't see much art. We ended the night off around 12 as I had homework to do the next day. We still had a blast though!
Taken from the site:
"For one sleepless night experience Toronto transformed by hundreds of artists. One night only. All night long. All free.
Nuit Blanche was originally conceived in Paris, France in 2002, in an attempt to bring contemporary art to the masses in public spaces. Now universally translated as 'Sleepless Night', Nuit Blanche brings more than a million people to the streets of Paris every year. In 2005, Paris organizers contacted the City of Toronto's Special Events office with an invitation to join the ranks of approximately six other European cities producing similar all-night events. The international success of Nuit Blanche continues to build each year and has expanded its reach beyond Paris to more than 25 cities across the globe - each offering its own version of the all-night art extravaganza. Toronto was the first North American city to fully replicate the Paris model, and has inspired similar celebrations throughout North America, including San Francisco, New York, Miami and Chicago.
At its core, Nuit Blanche is a 12-hour event with a mandate to make contemporary art accessible to large audiences, while inspiring dialogue and engaging the public to examine its significance and impact on public space. Nuit Blanche is both a 'high art' event and a free populous event that encourages celebration and community engagement. From sunset to sunrise city spaces and neighbourhoods are transformed into temporary exhibitions. Unusual or forbidden spaces become sites of contemporary art open for all-night discovery and rediscovery. Cultural institutions, from museums to galleries to artist run centres, open their doors and offer free access to contemporary art. The everyday is suspended as the city's landscape is changed to welcome a variety of artistic experiences."
There were a lot of places that handed out the Nuit Blanche pamphlets. This was at Yonge-Dundas Square.
I only took pictures of a few art installations that I thought were interesting. Since I have the pamphlet and relevant information in front of me, I can also give you a brief description of what each art installation was about.
Zone B~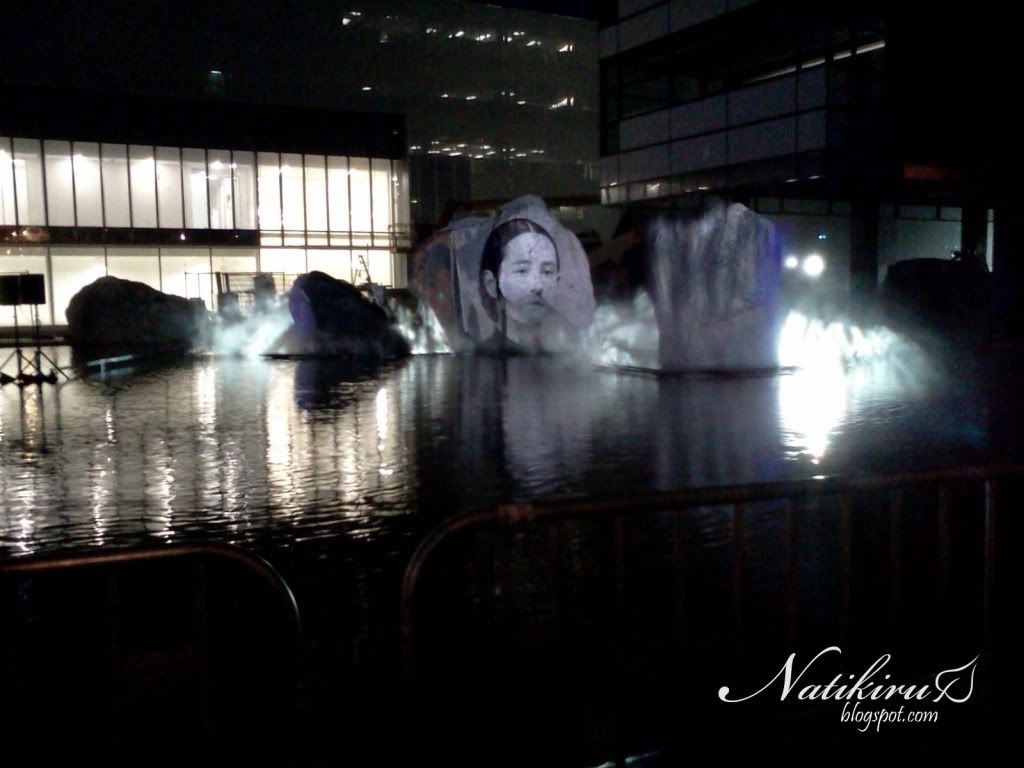 First stop, Ryerson's Lake Devo. They played a narration along with it.
#32 Egerton Falls Using interactive video projection technology and lighting effects, existing rock and water formations in Lake Devo are transformed into Egerton Falls.
The lights moved when you pulled on one of the strings that hung down.
#28 Cirrus Manipulate the angle and formation of an interactive representation of atmospheric clouds suspended in a downtown campus alleyway.
We had a hard time locating this one because it was so faint (the grid wasn't visible in person).
#29 Reeds Animated reeds of light move on a series of windows as if blown by invisible wind. Come watch their movements turn into a whimsical choreography.
Those things you see hanging are robots.
#1 Face Music A companion work to Paparazzi Bots. The group of robotic sculptures compose their own music with input from participants. Micro-video cameras mounted on the robots move toward people's bodies and faces while capturing human snapshots. The facial images will be digitally processed, pixelated and transformed into a constantly evolving generative soundscape, where facial features are turning into sound melody and rhythm.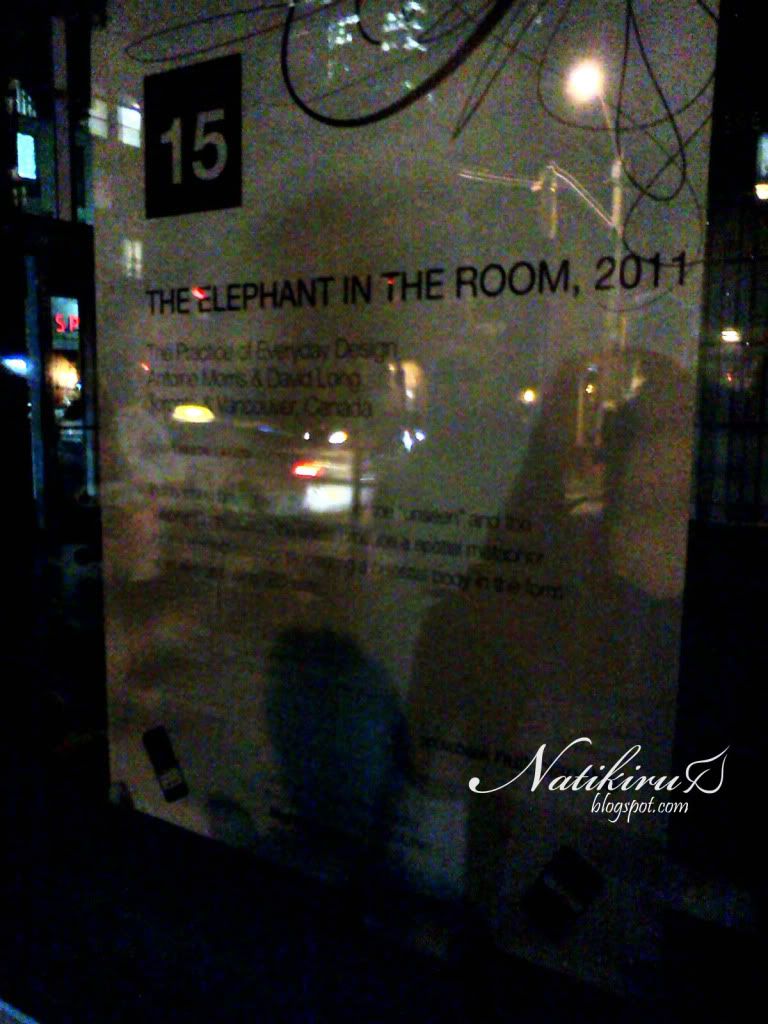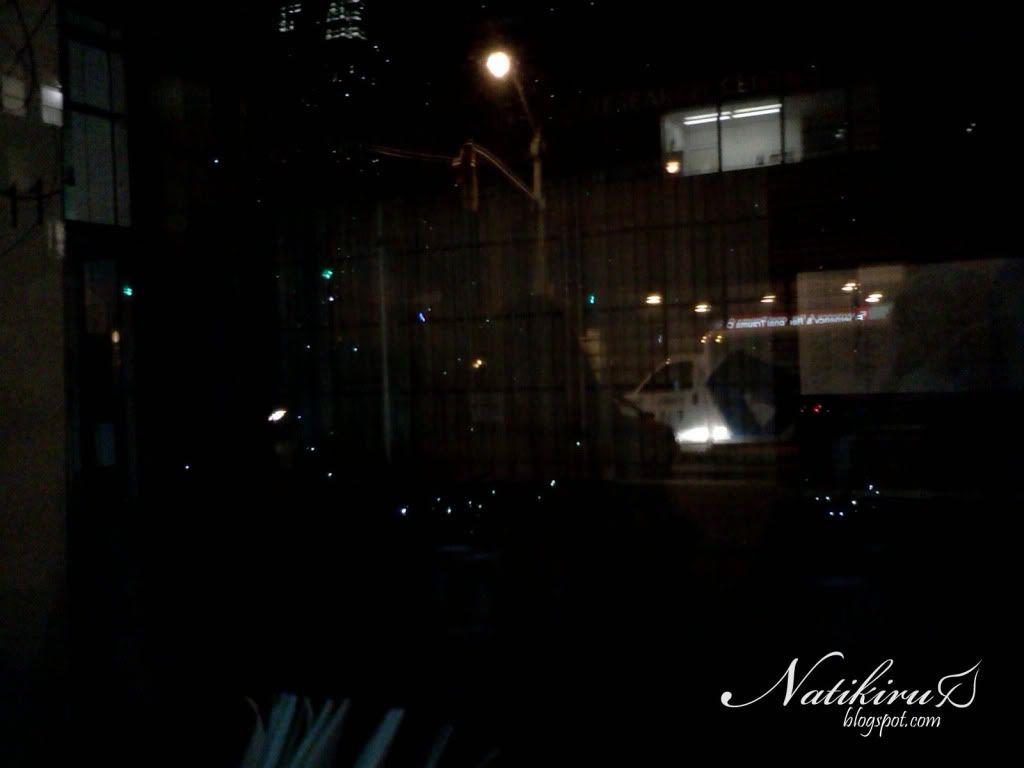 This was my favourite art installation although it was hard to make it out. More people should seriously stop ignoring the elephant in the room.
#15 Elephant in the Room Playing on the notion of "unseen" and "unspeakable" taboo of the "elephant in the room", the artists will present a celestial body in the form of an elephant composed of LED "stars" that emerge in a darkened room.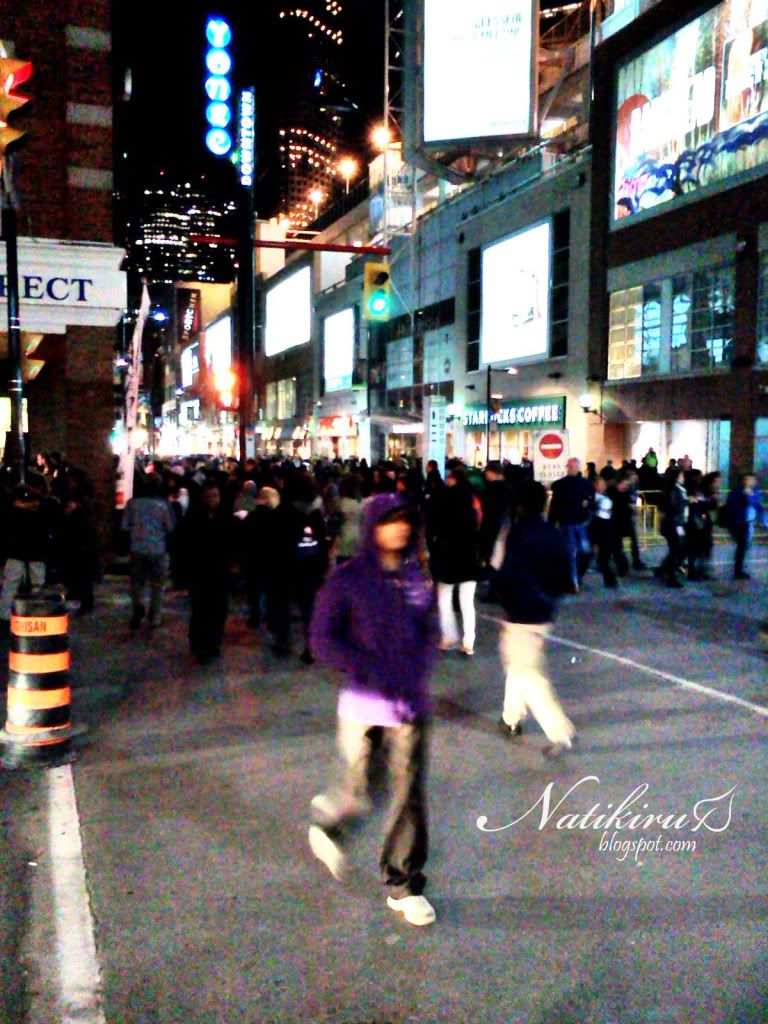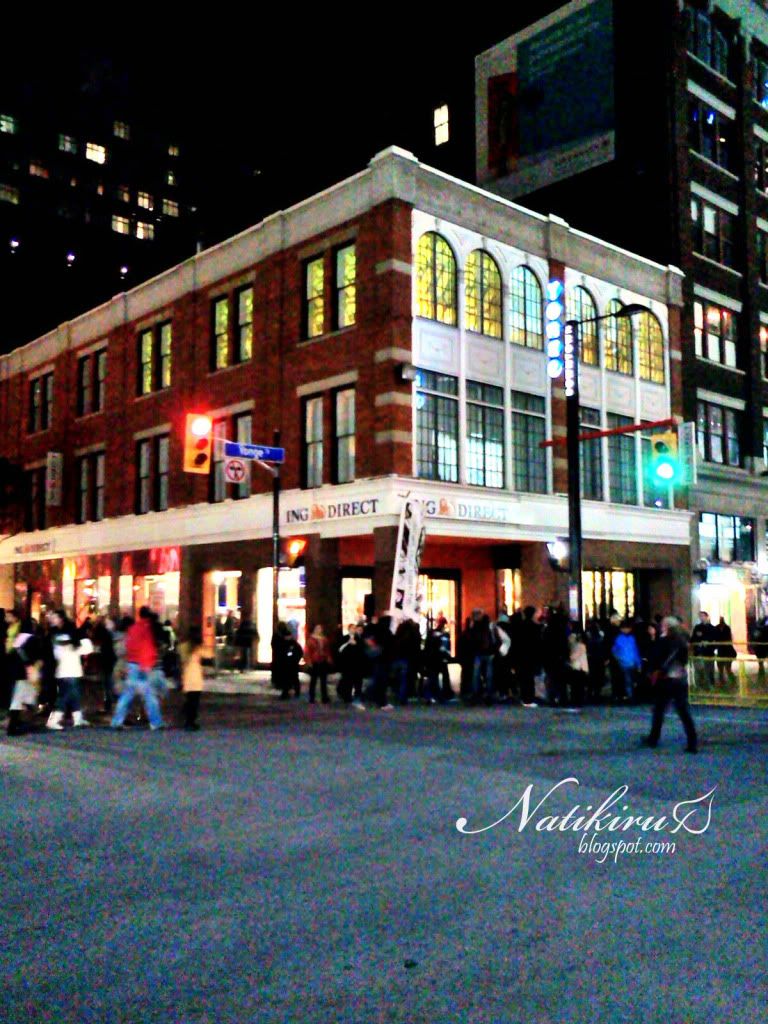 This installation was in the windows of this building coupled with music.
#4 Intra Muros This project delivers a personal and voyeuristic glimpse into an artist's struggle with creative malaise. This animated installation will loop continuously in 12 windows.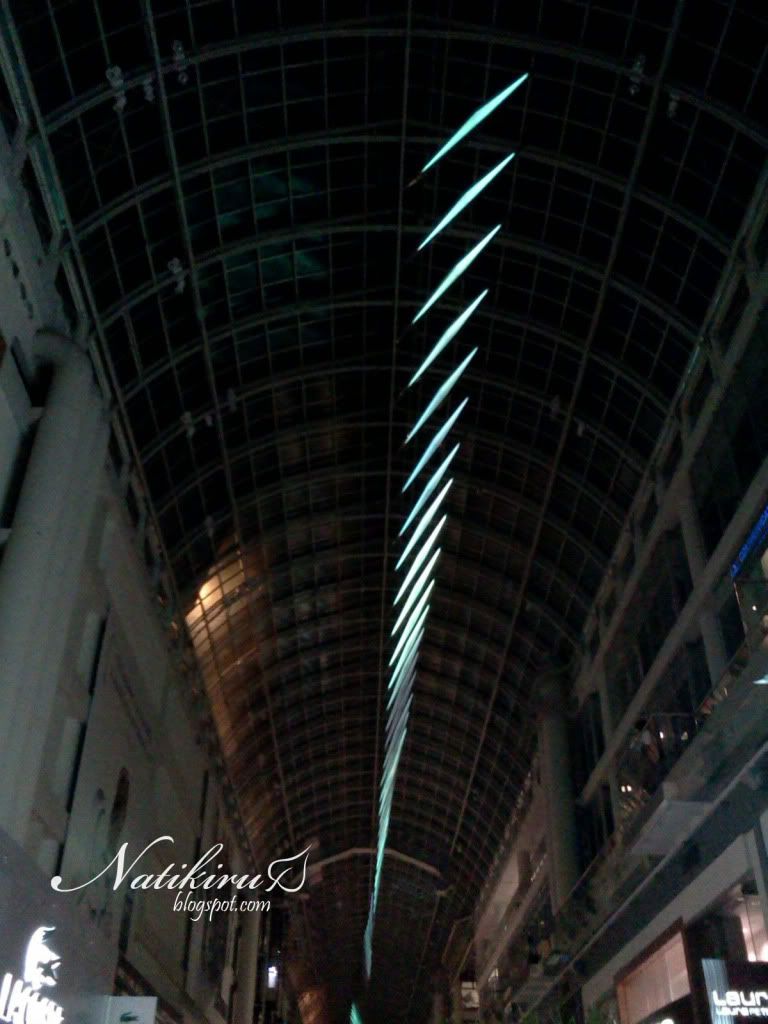 I saw these not lit up in Eatons a week ago and wondered what they were for. Now I know.
Slipstream A sculpture suspended delicately in tension along the axis of the galleria. Reflecting the sun's movements during the day, the work comes to life at night as light animates from within.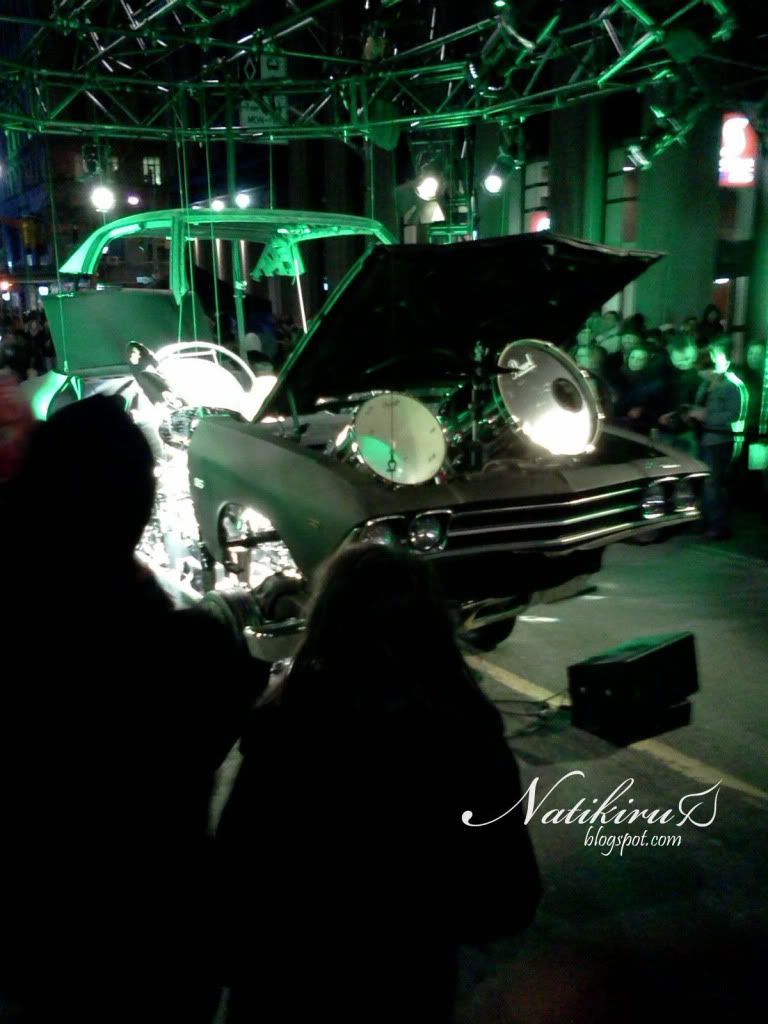 Although this wasn't an installation for Nuit Blanche, it was still part of the event. There was basically a guy playing the drums that's built into the car. I believe it was there because Chevrolet was a sponsor of that zone.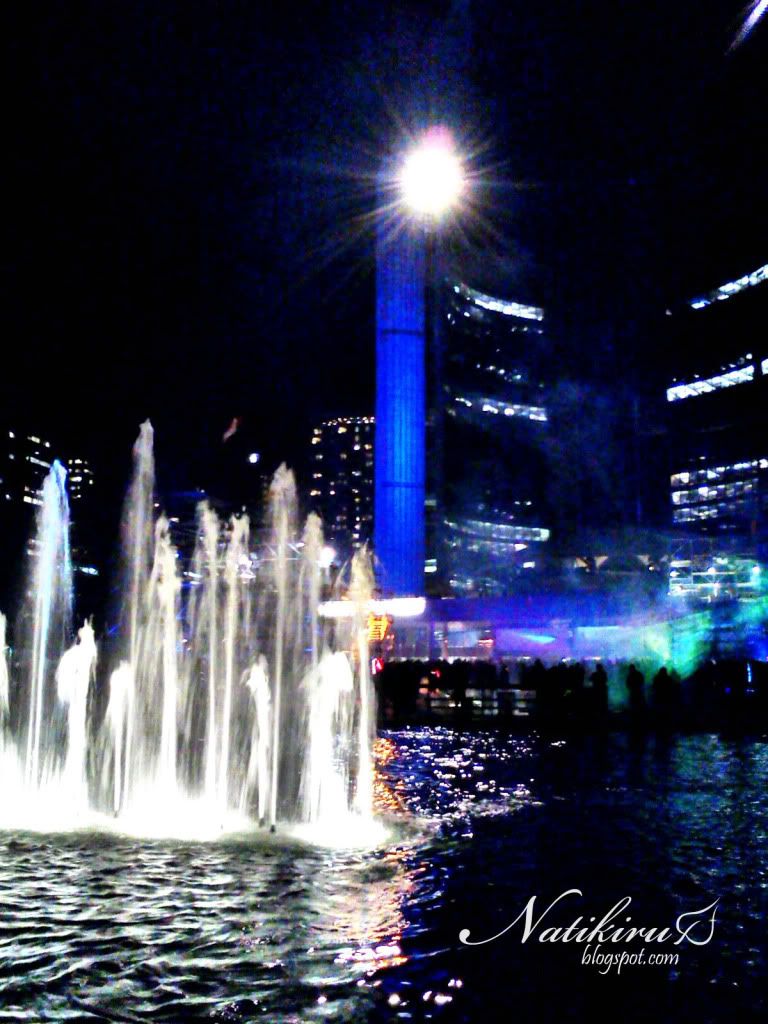 There was loads of activity at City Hall.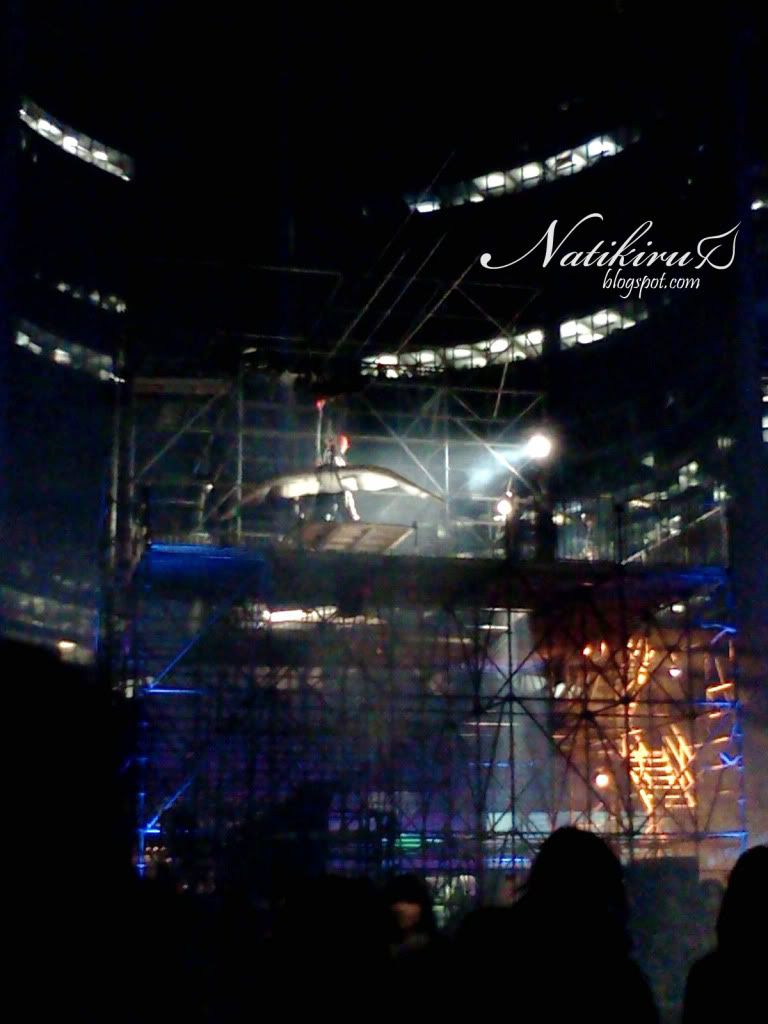 There were these towers surrounding City Hall where spectators had the opportunity to go on the zip line.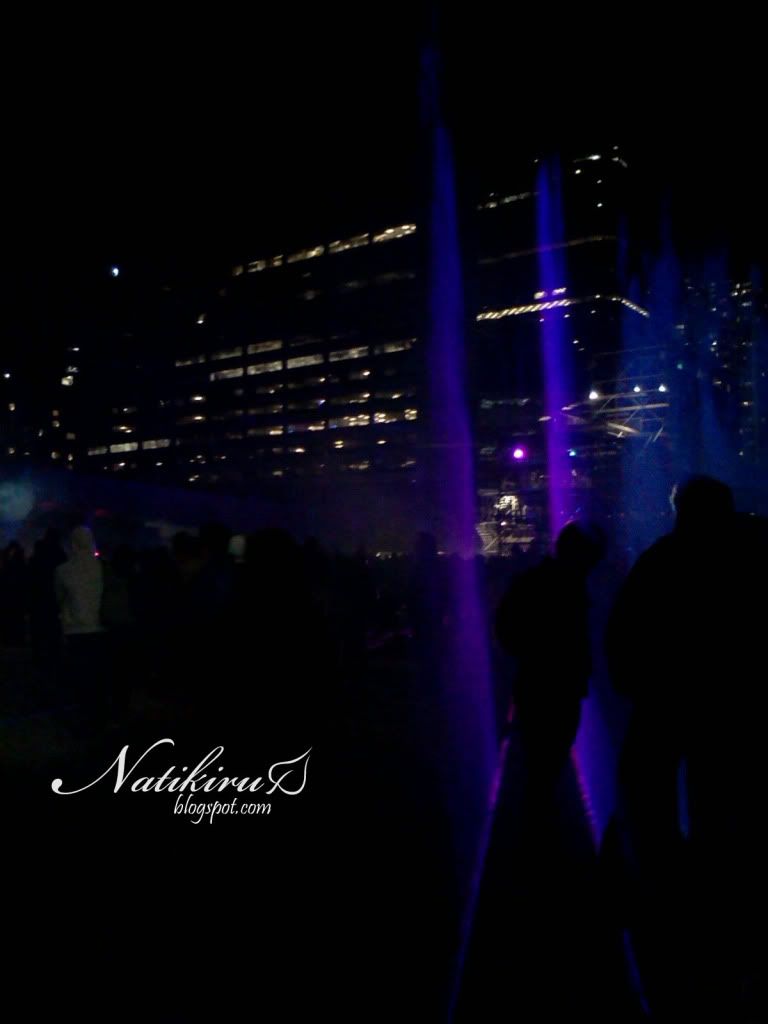 There were a lot of flashing lights going on.
This was the art installation at City Hall.
#6 Through the Gorilla Glass Inspired by Gorilla glass, a scratch resistant glass sits atop City Hall's green roof. As visitors approach the project they discover a device constructed of many simple mechanical arms waving in sequence. Waves of movement are triggered as individuals engage the sculptural interface by setting the arms in motion at different points along the length of the sculpture. As the machine moves and reacts, a series of sensors and lights is triggered responding to specific waves forms creating illuminating dancing patterns.
We got hungry so we headed back to Yonge-Dundas Square to eat at Johnny Rockets.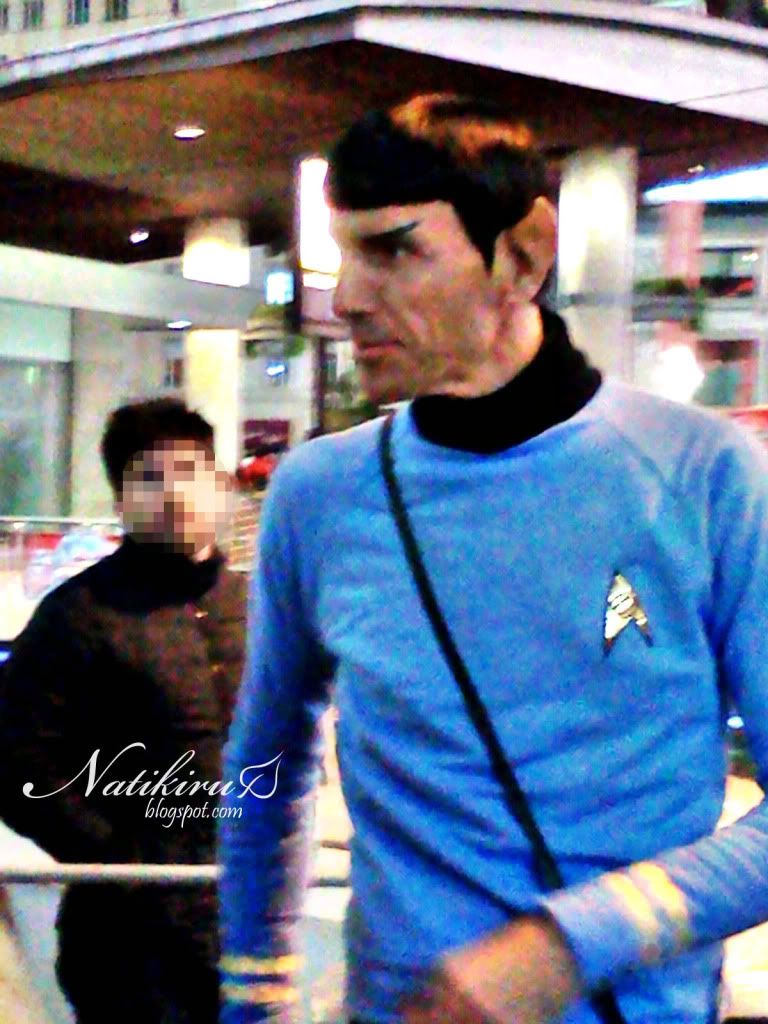 To our surprise, just outside the restaurant was Spock.
@Johnny's! It was mad packed that we had to wait in line for a bit.
I really like their 60's theme.
I always order the half and half.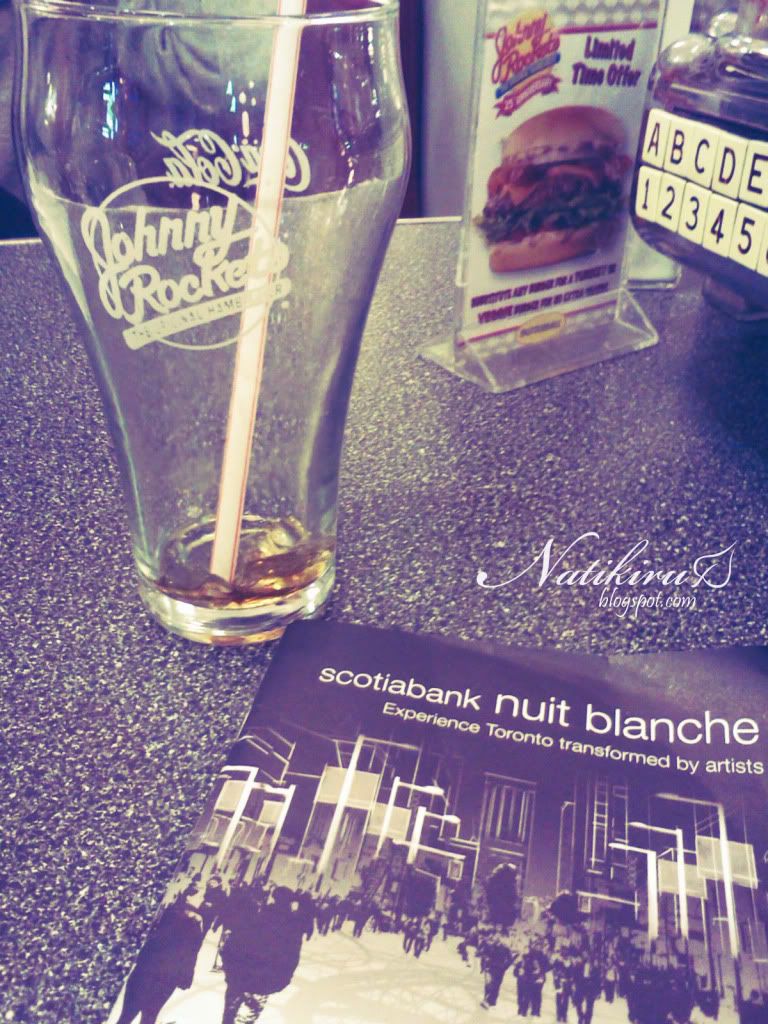 Love me some Johnny Rockets.
It was so packed at Yonge-Dundas square. I've never ever seen it like this before.
While going through the crowd, who do we spot this time?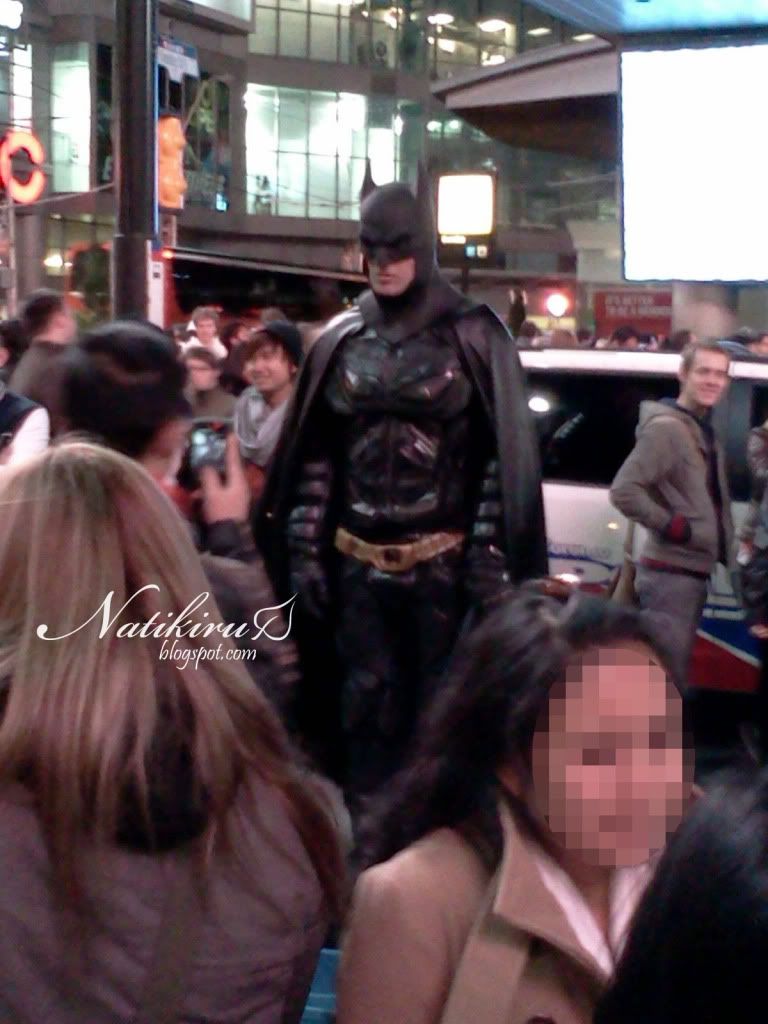 Oh nobody really... just freakin' Batman.
Zone A~
I can't imagine being one of those people.
#10 Erratic A low-key performance using human energy to modestly re-enact not only geographical processes that have shaped the region's lands, but also machine-assisted ones that continue to do so. The artist, with assistance, will take a glacial boulder from Northern Ontario and, over the days of culminating at the event, roll it southward to add it to Toronto's already-engineered waterfront land. Using unassisted human power to do a job easily performed on a larger scale with machinery is a reminder of a monumental yet unremarked movements by which a place is formed.
Next we headed to see the Japan exhibit.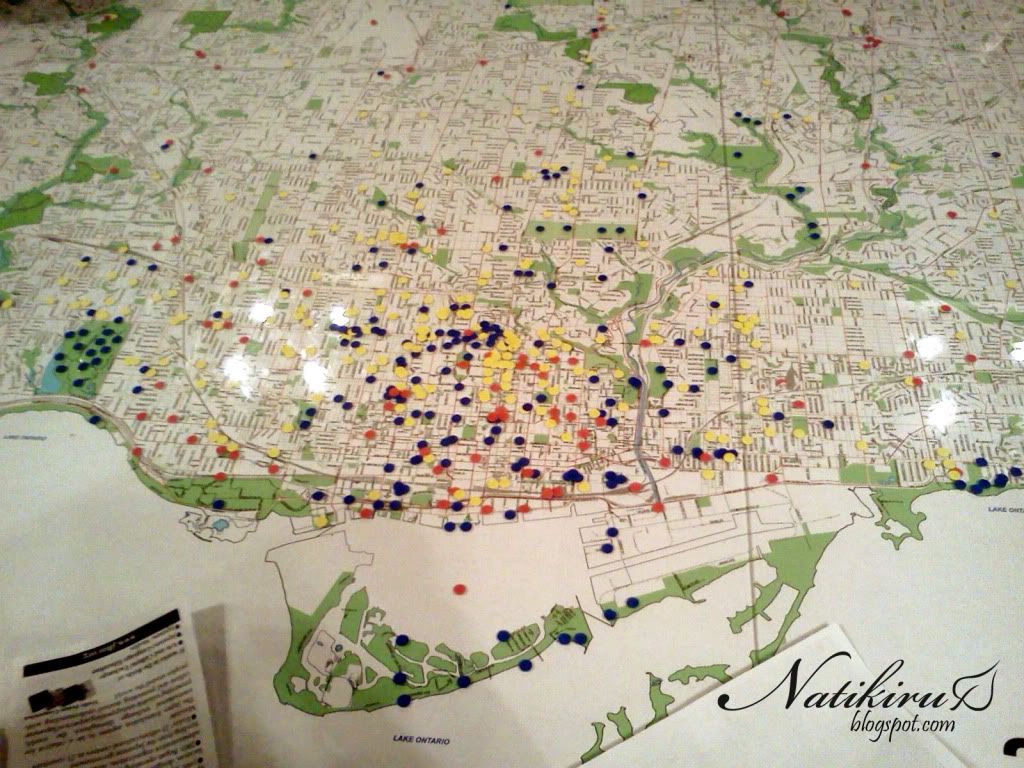 Blue indicates areas people like, red indicates places people do not like. It was interesting to see what people put.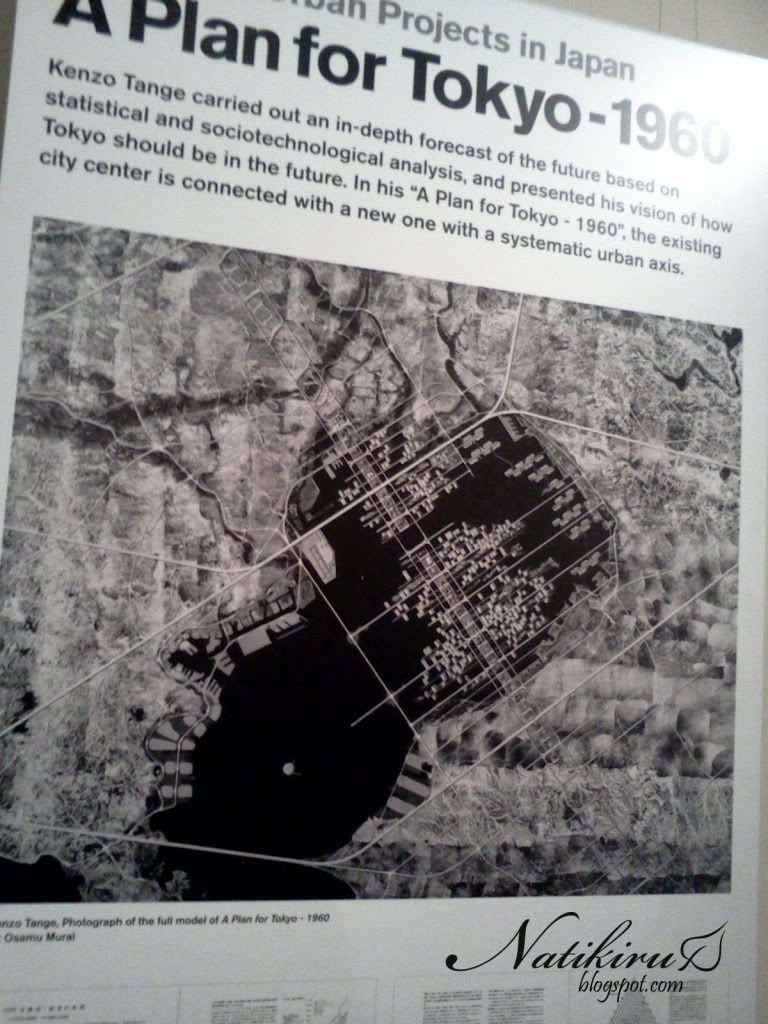 This exhibit shows urban planning ideas for Tokyo in the 1960's.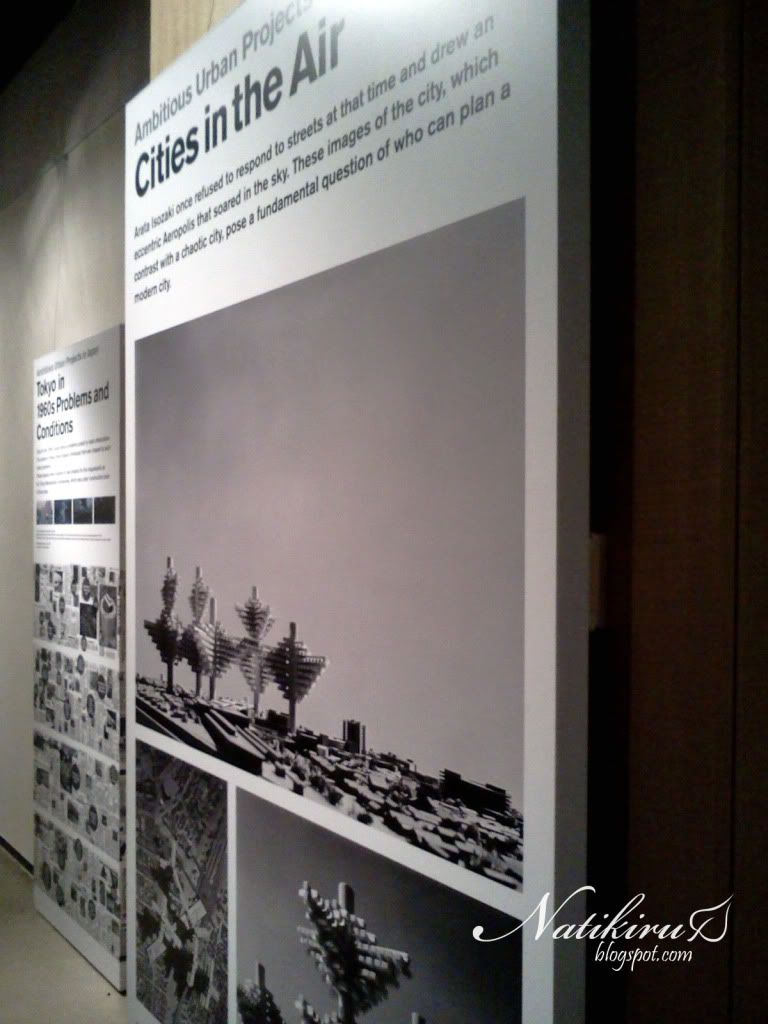 Absolutely incredible. What an ambitious idea for a city. Although, it would be disastrous if an earthquake occurred.
#29 Struggling Cities: from Japanese Urban Projects in the 1960's Explore the experimental ideas on the city that flourished in Japan in the 1960's, through architectural models, photograph and video installations.
I wish we had more time in this exhibit as there was a lot more to see but it was getting late and we had to go.
One day we plan to stay out the
entire
night and see everything. We actually want to do that next year but we'll have to see how our schedules will be like. It's a lot of great fun when you go with your family and friends. A city transformed for one night into a big art galleria. It was nothing short of amazing.
"No matter how different you are, always wear yourself proud." -Unknown